Philly Mayor Wants to Block Immigration Officials Full Access to Arrest Records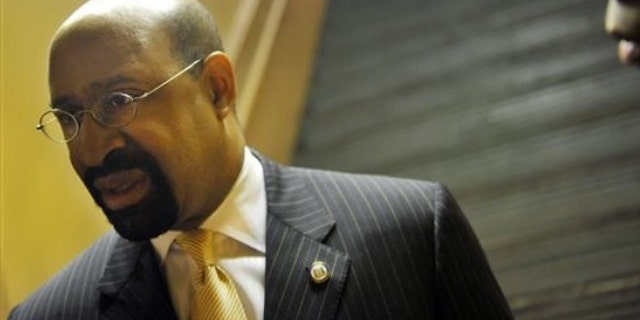 The mayor of Philadelphia is seeking to rally other city leaders behind blocking federal immigration authorities from accessing city arrest records over concerns about the city's agreement with the U.S. Immigration and Customs Enforcement, or ICE.
The agreement to participate in ICE's Preliminary Arraignment Reporting System, or PARS, will expire at the end of August unless the city renews it. Mayor Michael Nutter said he opposes the city's PARS program because the computerized record system automatically releases information about victims and witnesses of crimes along with those arrested on criminal offenses.
Nutter says the program discourages illegal immigrants from reporting crimes out of fear that they will be deported – a notion ICE disputes, saying it is only looking to deport violent criminals.
But Nutter needs to convince District Attorney Seth Williams and Municipal Court President Judge Marsha Neifield, the other stakeholders in the agreement along with Police Commissioner Charles Ramsey.
Williams has not publicly stated his position, nor is it clear where Neifield stands on it. Neifield's office did not return a message seeking comment.
An attorney in the DA's office told FoxNews.com that Williams is "weighing what position to take and will take one which is most conducive to the public safety of Philadelphia residents."
The controversy in Philadelphia is unfolding as a national debate over immigration rages, with Arizona as the central battleground. Arizona's new law cracking down on illegal immigrants is drawing legal challenges and protests from opponents, including the federal government, and praise from supporters, including other states looking to pass similar measures.
In Philadelphia, protesters are descending upon the city looking to sway policy. A coalition of pro-immigrant groups held a rally at city hall on Friday and outside of Williams' office. Williams was on vacation, his office said.
Under the PARS program, federal immigration agents can look at preliminary arrest records for the past year, including cases that are tossed before a trial begins.
Supporters of the program say ending the agreement would make Philadelphia a safe haven for illegal immigrants. But opponents say people arrested for minor crimes already are subject to deportations.
Nutter says he will support renewing the contract only if the program is changed to protect illegal immigrants who are victims of or witnesses to crimes.
An aide to the mayor told FoxNews.com that PARS is no longer relevant because the city participates in ICE's Secure Communities program, which allows authorities to check the immigration status of individuals they arrest through fingerprinting. That program was created in 2008.
ICE said in a statement that it "prioritizes the apprehension and removal of criminal aliens who pose a public safety threat by seeking partnerships with state and local law enforcement agencies and offering many different partnership tools to best fit the needs they identify to keep their communities safe."
"ICE has a good relationship with the Philadelphia Police Department and will continue to support the Philadelphia Police using the programs and resources available," the statement read.
On Thursday, Nutter made it clear he does not consider illegal immigrants who are residing in the city "criminals."
"The immigration system does not work today," he said in a speech at city hall. "We are not protecting criminals. We want criminals out of the city. At the same time, we want victims and witnesses who may have undocumented status whose paperwork may not be completely straight but they have not committed a crime in that particular matter – we want them to feel comfortable in coming forward and giving us information. Otherwise, the system will fall apart."