2020 candidate Pete Buttigieg calls Pence 'fanatical'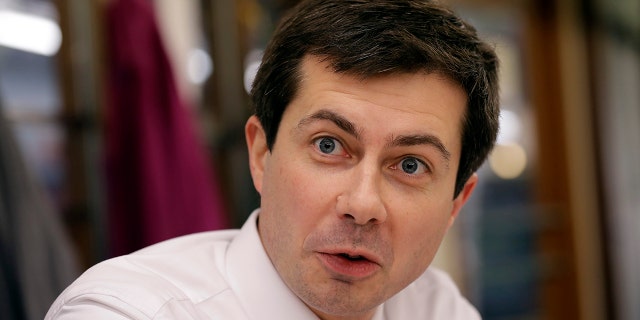 South Bend mayor and likely 2020 candidate Pete Buttigieg slammed Vice President Pence Thursday for what he called his "fanatical" views on homosexuality.
Buttigieg, who launched an exploratory committee last month, stopped by "The Late Show" and described his professional relationship with Pence when he served as the governor of Indiana.
BUTTIGIEG SAYS TRUMP'S ATTACK ON SOCIALISM 'WAS POWERFUL WHEN HE WAS COMING TO AGE'
"It's the job of a mayor to work with anybody who can benefit the city," the 37-year-old veteran said.
"Would I like him?" Stephen Colbert asked.
"He's nice … I mean, if he were here, you would think he's a nice guy to your face, but he's also just fanatical. I mean, he really believes. I mean, he's written that cigarettes don't kill and he seems to think that the universe was created a few thousand years ago and that people like me get up in the morning and decide to be gay," Buttigieg, who is gay, responded. "And the thing about it is if that was a choice, it was a choice that was made way above my pay grade. So what he doesn't realize is he quarrel is with my creator. My marriage has moved me close to God and I wish he respected that."
Buttigieg, who previously campaigned to be the DNC chair in 2016, is a longshot for the Democratic nomination but talked up his resume. He claimed he has "more experience in government" than President Trump, "more executive experience" than Pence, and "more military experience" than any president since George H.W. Bush. He also made the argument that someone his age is better suited to be president.
BUTTIGIEG TOUTS 'FRONT LINE, GOVERNMENT EXPERIENCE' AS HE PUSHES FOR THE WHITE HOUSE 2020
"I don't think you do this because you want to do it someday. I think you run for any office because you think the needs of the office meet the moment and what you bring to the table. And in many ways, I think being from a younger generation is one of the main reasons to do this," Buttigieg told the "Late Show" host. "I belong to the school shooting generation. ... We're the generation that going to be on the business end of climate change.
CLICK HERE TO GET THE FOX NEWS APP
"And if nothing changes economically, we'll be the first generation ever to make less than our parents. So I believe that no one has more at stake right now than younger people coming up."