Pentagon's Top Commander in Afghanistan to be Replaced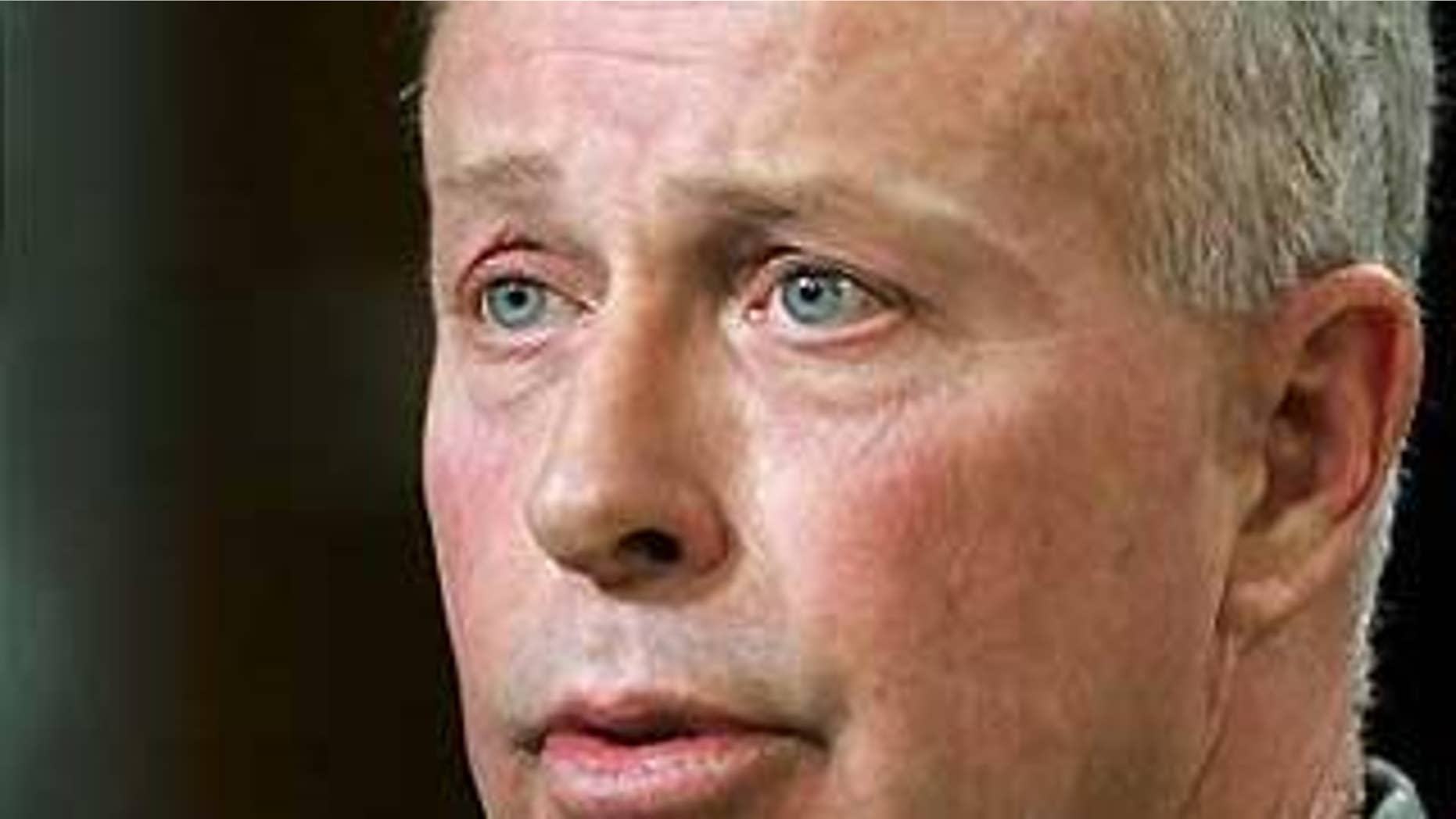 President Obama fired the top U.S. general in Afghanistan on Monday, replacing him with a former special forces commander as the Defense Department implements a new strategy for the country.
Gen. David McKiernan will be likely be replaced by former special forces commander Gen. Stanley McChrystal, director of the Joint Chiefs of Staff and former head of Joint Special Operations Command. Lt. Gen. David M. Rodriguez, Gates' top military adviser, will be named as deputy commander, a new position.
The new strategy for Afghanistan relies on special forces and counterinsurgency tactics, as well as nonmilitary approaches to confronting the Taliban. It would hinge success in the seven-year-old war to political and other conditions across the border in Pakistan.
"I have advised the secretary general of NATO and the minister of defense of Afghanistan of these prospective changes. I made these decisions only after careful consideration of a great number of factors, including the advice of Admiral Mullen and General Petraeus," Gates said in an afternoon briefing.
"In the end, I believe my decisions are in the best interests of our national security and the success of our mission in Afghanistan."
McKiernan has been the top general for NATO and U.S. forces in Afghanistan for less than a year. He was named to his post by former President George W. Bush and had expected to serve into next year, but was told he was out during Gates' visit to Afghanistan last week.
A defense official characterized the decision as one that was not McKiernan's and said McKiernan is not stepping down, but is being replaced.
"It's time for new leadership and fresh eyes," said Gates.
Gates and Joint Chiefs of Staff Adm. Mike Mullen would not say that McKiernan was being fired because his thinking was too Army "old school," but did say that McChrystal's experience in special operations was an asset.
"Let none of this detract from, nor cause us ever to forget General McKiernan's long and distinguished career of military service. For decades, in peace and war, Dave McKiernan has led hundreds of thousands of men and women in uniform with conviction, integrity and courage," Gates said.
Asked if McKiernan's resignation would end his military career, Gates said, "Probably." But he praised the general's long service, and when pressed to name anything McKiernan had failed to do, Gates demurred.
"Nothing went wrong, and there was nothing specific," he said.
In years past, McChrystal has come under scrutiny for his involvement in the Pat Tillman affair, the Army Ranger and former pro football player who in 2005 was gunned down by his own troops during a firefight in Afghanistan. Defense department officials questioned his suitability for promotion because of his connection to that case.
In McChrystal's defense, it was later learned that he was the one who sent an internal letter that waived a red flag over the issue, warning others with knowledge of the incident not to release information before all the facts were known.
McChrystal specializes in black ops, which combines special ops units with intelligence to end up with results like the capture of Saddam Hussein and the killing of Al Qaeda in Iraq leader Abu Musab al-Zarqawi.
"Admiral Mullen just talked about the experience that -- in counterinsurgency that both General McChrystal and General Rodriguez have. I would tell you that those who are speculating on the ingredients in this decision," he said. "Both General McChrystal and General Rodriguez bring a unique skill set in counterinsurgency to these issues."
The White House said the recommended change came from the Pentagon.
"The president agreed with the recommendation of the secretary of defense and chairman of the Joint Chiefs of Staff that the implementation of a new strategy in Afghanistan called for new military leadership," White House spokesman Robert Gibbs said in a statement.
It's the belief of many in the Pentagon that Secretary Gates was looking for leadership willing to work with a smaller number of troops, and that it was McKiernan's constant call for more soldiers that got him in trouble.
Just after President Obama announced the new strategy for Afghanistan and Pakistan -- and the build up of 30,000 troops by the summer of 2009 -- McKiernan told reporters at the Pentagon he had all the troops he needed. And it was at that time that Secretary Gates warned repeatedly that "too large a military footprint" could turn the Afghans against the U.S. mission. But since then McKiernan has asked for an additional 10,000 troops for 2010, a number officials here say likely won't be filled under new leadership.
FOX News' Justin Fishel and the Associated Press contributed to this report.