Pelosi Pushes Ahead With Calls for Government-Run Health Plan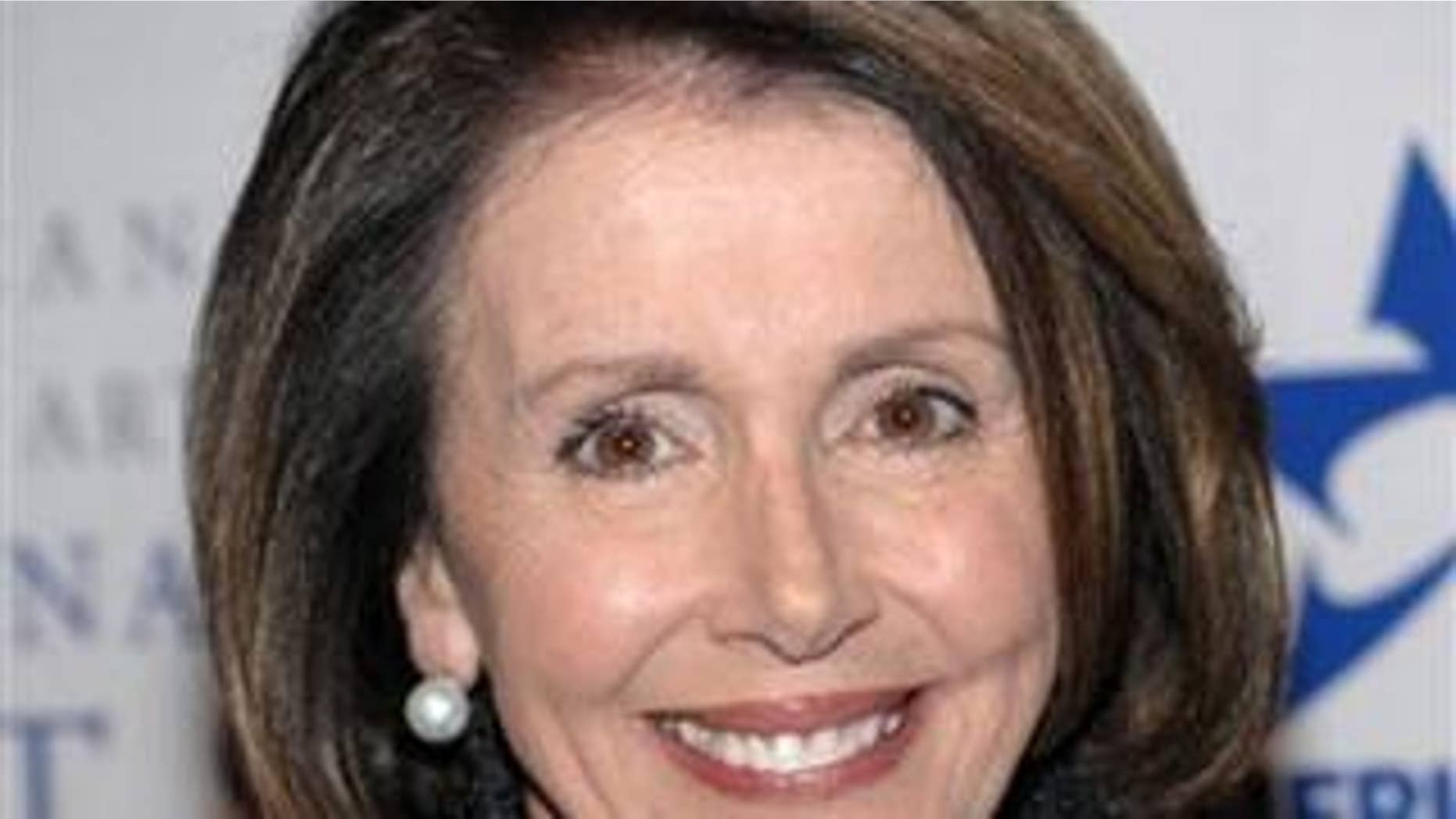 If a government-run health insurance plan winds up in the trash bin when all the debate in Congress is over, it won't be due to any lack of effort on Nancy Pelosi's part.
The House Speaker is standing her ground on demands for a government-run plan, even as President Obama's advisers signaled over the weekend that the "public option" is just that -- desirable, but not mandatory in the massive health care overhaul being debated in Congress.
The inclusion or disappearance of a government plan to compete with private insurers will leave one of the Democratic power-brokers basking in the credit -- or blame -- for the $1 trillion, 10-year government program that has divided Americans for months.
If the "public option" is in the final bill, "Obamacare" could be re-labeled "Nancycare."
Larry Sabato, director of the Center for Politics at the University of Virginia, said inclusion of the option will put Pelosi's stamp on Obama's biggest domestic policy proposal since taking office.
"If the public plan passes, Pelosi has won because it's obvious it's not being pushed in the Senate and the White House," Sabato told Foxnews.com.
Not so, said Democratic strategist Bob Beckel, a Fox News contributor who managed Walter Mondale's 1984 presidential campaign.
"If it ends up being in there in some form, certainly the House was the one that pushed it, but ultimately it ends up in Obama's lap," Beckel said. "Obama is going to [have] ownership of the health care bill, whatever it is."
Pelosi has publicly remained a strong proponent of a government-run plan to compete with private insurance companies -- even as Obama's closest advisers say it is not the most important element of health care reform.
White House adviser Valerie Jarrett said in an interview with NBC's "Meet the Press" on Sunday that Obama believes the public plan is still the "best possible choice," but she said he's not insisting it be included in the final legislation.
Similarly, White House Chief of Staff Rahm Emanuel said the government-run option is "not the defining piece of health care."
Pelosi's views on the necessity of a government-run plan "have not changed," spokesman Nadeam Elshami told Foxnews.com Monday. "The House is committed to passing a public option and we will go to the negotiating table with a public option."
Stephanie Lundberg, press secretary to House Majority Leader Steny Hoyer, Pelosi's lieutenant, also said the House version will include the government-run option.
"We are currently in the process of working out how that will be structured. They're having discussions on the Senate side and it's in one of their bills so it is a possibility that it will be included."
In a conference call with constituents last Thursday, Pelosi trumpeted the need for a "public option," saying, "I think it's very clear from our conversations with the members that the votes are there for a public option." She added that she sent a "a number of versions" of a government-run plan to the Congressional Budget Office for cost estimates.
Aides have said Pelosi is looking favorably upon one variation of a public plan -- a Medicare plus 5 percent reimbursement rate for providers -- but no agreement has been reached yet on the specific type of government program to be included in the House version of the bill.
Pelosi's view may be gaining traction. A majority of Americans now support the so-called public option, according to a Washington Post-ABC News poll released Tuesday.
The survey, conducted from from Oct. 15 to 19, found that 57 percent of respondents prefer some form of a government-run health insurance plan for people who cannot afford coverage, while 40 percent said they oppose it.
The poll, which surveyed a random sample of 1,004 adults and had a margin of error of 3 percentage points, also showed that a government-run insurance plan has gained momentum among two key demographics -- independents and seniors.
While House Democrats appear confident, Senate Democrats are still debating. The Senate Finance Committee voted on a bill last week that does not contain a government-run health insurance plan or require employers to offer insurance to their employees. But a bill approved in July in the Senate Committee on Health, Education, Labor, and Pensions includes the two fundamental provisions that the Finance Committee legislation does not.
Congressional aides say that that Senate Majority Leader Harry Reid will work closely with Senate Finance Committee chairman Max Baucus, D-Mont., as well as health committee chairman Tom Harkin, D-Iowa, in blending the two bills into one that can win in the Senate -- and withstand defeat when the two chambers vote later this year.
In an interview with FOXNews.com Monday, Rep. Joe Sestak, D-Pa., said he is confident Pelosi will aggressively fight for some form of a public option, but is concerned the Senate may triumph over the House.
"We tend to have to default to the Senate too often and I'm fearful that's going to happen in the conference," Sestak said, adding that he wished Reid had been more vocal in his support for a government-run option.
"Too many times the Senate has prevailed on issues over the House. I can't say that in conference we'd prevail," he said.
The uncertainty of a government-run option surviving in Senate legislation is the key factor affecting the Obama's administration's strategy to diminish its necessity, Sabato said.
"They've basically made an internal evaluation that it's very unlikely this will pass because it won't pass in the Senate," he said.
But Jacki Schechner, national communications director for Health Care for America Now, disagreed that the president is backing away at all, leaving Pelosi to steer the government ship.
The White House has "not changed the way they've thought. It's not the only essential element of reform," she said, adding that the officials' remarks this weekend are consistent with earlier support for a public option.
Schechner added that her group doesn't see a distinction between Pelosi's and Obama's stances.
"We support what the president has put forth. We're not lining up behind anyone in particular," she said.
FOXNews.com's Judson Berger contributed to this report.