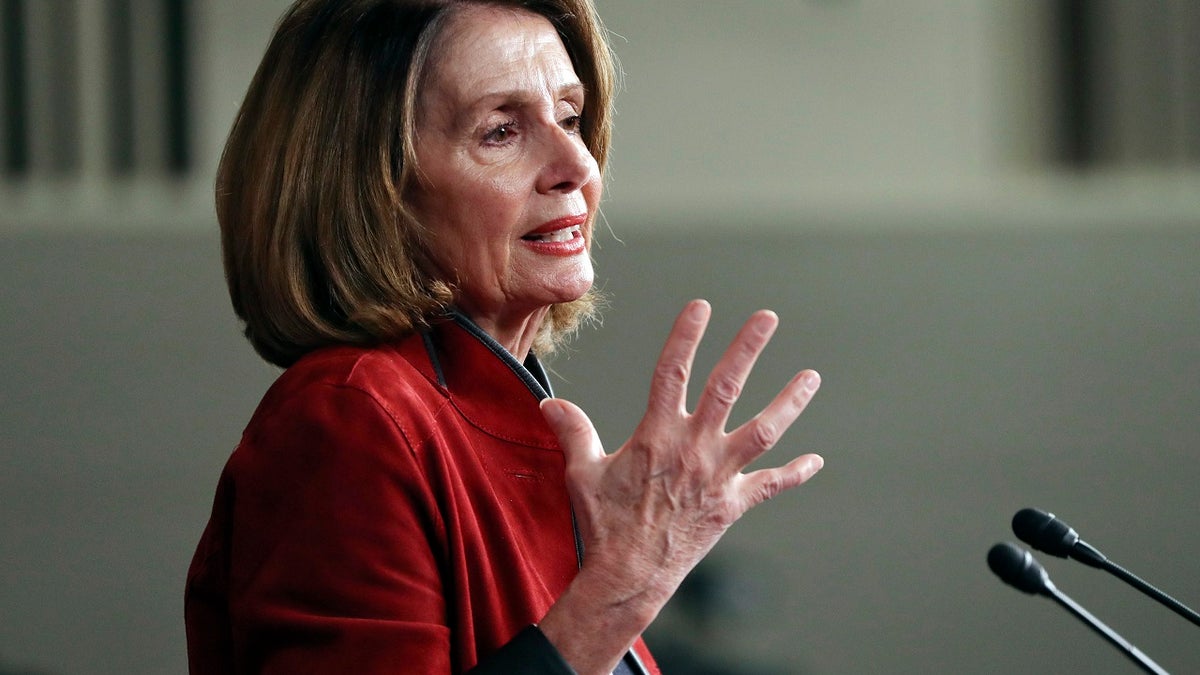 Rep. Nancy Pelosi, D-Calif., on Monday placed blame squarely on Republicans for being forced to pass yet another stop-gap funding bill amid Washington gridlock over immigration and border wall funding.
The fifth stop-gap, which will fund the government until March 23, has to be approved by Thursday in oder tom avert a shutdown.
"The reason Congress is facing a 5th stop-gap budget bill is because the Republican majority is incompetent," Pelosi said in a statement. "And it is their incompetence that is placing in doubt how quickly our men and women in uniform can have the resources they need to keep our country safe."
Rep. Mark Meadows, R-N.C., told Fox News he expects the bill to pass with Republican votes only during the House vote tomorrow. Democrats have conveyed their displeasure with legislation—once again-- that doesn't address former President Obama's Deferred Action for Childhood Arrivals program, which protects young immigrants from deportation.
There is also talks within the Senate to increase spending "caps," providing a boost to domestic and Pentagon programs. It would then be followed by a more detailed spending bill, which would be negotiated over an extended period of time.
"We are making real headway in our negotiations over spending caps and other important issues," said Senate Majority leader Mitch McConnell, R-Ky.
The bill would be paired with a full-year, $659 billion Pentagon spending bill – an idea Minority Leader Chuck Schumer, D-N.Y., quickly shot down, claiming it "would be barreling head first into a dead-end."
Last month, the government briefly shutdown after leaders on Capitol Hill failed to come to an agreement after weeks of finger pointing and casting blame across the aisle for many of the same reasons: DACA and border wall funding.
The two-year deal would increase caps on spending stemming from the failed 2011 budget deal, in which Republicans would seek roughly a $80 billion increase per year in defense spending, while offering Democrats about $60 billion in nondefense programs. However, details are kept close and subject to change.
In addition to hurricane aid funding, health care and money for President Trump's border wall, the final cost would near $400 billion. The total cost of the 2018-19 budget years would mimic the deficit impact of last year's tax measure over that period.
The Congressional Budget Office said Trump's tax reform will account for about $700 billion in the red for 2018, before seeing any fresh increase from the legislation. And, with next year's deficit already estimated to reach $975 billion, the potential agreement would represent the first $1 trillion-plus deficit since Obama's first term.
Fox News' Chad Pergram along with The Associated Press contributed to this report.