Palin Says 'One Nation' Tour on Hold for Jury Duty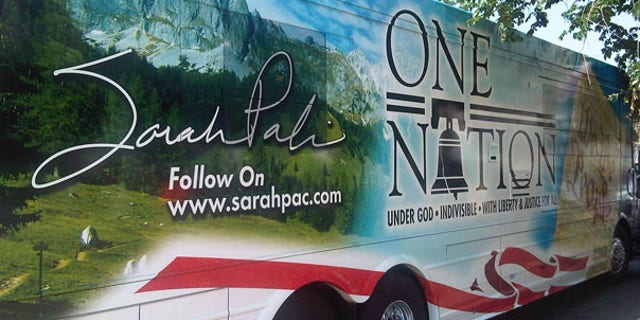 NEWYou can now listen to Fox News articles!
Sarah Palin on Wednesday denied reports that her "One Nation" bus tour is winding down. It is on hold while she returns to Alaska for jury duty, she said, but she is "looking forward to hitting the open road again."
The former Alaska governor responded to the reports on her Facebook page, saying the next leg of the tour will happen "when the time comes" but that nobody should "jump to conclusions."
"Imagine our surprise when reading media reports today that the 'One Nation Tour' has been cancelled. Why didn't anyone tell me? Oh, wait, that's because it hasn't been cancelled," she wrote.
Palin said the "coming weeks are tight because civic duty calls (like most everyone else, even former governors get called up for jury duty) and I look forward to doing my part just like every other Alaskan."
Reports about the tour had surfaced on RealClearPolitics and elsewhere, fueled in part by the fact Palin had not offered any reports about the tour on her SarahPAC website, where she had been tracking the destinations, since June 8. Palin started the tour on May 29.
According to RealClearPolitics, she also has not "reconnected" with key early-state personalities like Iowa Gov. Terry Branstad and South Carolina Gov. Nikki Haley.
But Palin has also shot down reports that an announcement of her political plans was imminent.
Though Palin may disappoint those who want her to run for the presidency, the 2008 vice presidential candidate is not entirely out of the limelight.
"The Undefeated," a documentary about Palin's career in Alaska politics, is set for national release on July 15. RCP notes that Palin's PAC was offering an early-release DVD of the film for a $100 or more donation to SarahPAC.
Lastly, as RCP notes, Palin never said she was on the verge of an announcement, and as a notoriously difficult person to predict, she may just like the curious to remain that way.