Palin calls on Republicans to unify behind Trump candidacy at GOP dinner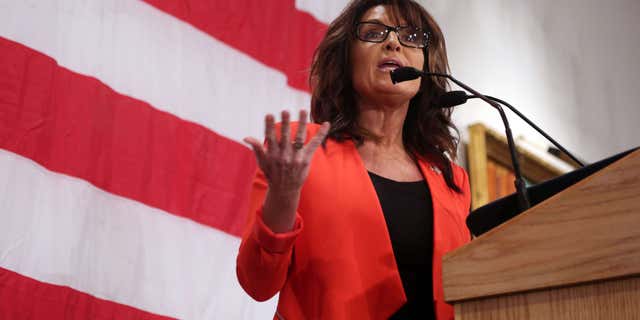 NEWYou can now listen to Fox News articles!
Former Alaska Gov. Sarah Palin went to bat for Republican presidential front-runner Donald Trump at the Milwaukee County GOP dinner Friday night.
Palin called on Republicans to unify behind Trump's candidacy. She said he's the only candidate who understands that "common sense is an endangered species in Washington." She also touted Trump as the only candidate who has created private-sector jobs, saying "He builds big things."
"Donald Trump is the only one who really understands this reality. He's the only one who creates private sector jobs, balances budgets and builds things, he builds big things," she said.
Trump didn't attend the dinner.
Palin also attacked the other Republican candidates on their immigration policies at the dinner. She accused Texas Sen. Ted Cruz and Ohio Gov. John Kasich of "seducing (illegal immigrants) with gift baskets."
There were also some chuckles in the crowd when Palin said Trump is the only one who "talks rationally" about foreign policy and national security.
Cruz received high praise at the dinner from Wisconsin Gov. Scott Walker. He endorsed Cruz Monday and called the senator a "rock star" before Cruz took the stage. Walker is also planning to join Cruz on the campaign trail in Wisconsin Sunday.
Cruz noted that Walker is one of five former Republican presidential candidates who are now backing his campaign. The others are Rick Perry, Carly Fiorina, Jeb Bush and Lindsey Graham.
"That is the very real manifestation of the unity we need across this country," he said. "If we are divided, we will lose the primary and hand the general election to Hillary Clinton."
Cruz said nominating Trump would be a "train wreck."
"That's actually not fair to train wrecks," Cruz said. "Nominating Donald Trump elects Hillary Clinton."
In his speech at the same event, Kasich cast himself as an independent-minded Republican, saying he understands the frustration felt by Trump backers.
"The Republican Party has been my vehicle and not my master," Kasich said. "I've never wanted to be a professional politician — in fact, I don't even like politics."
Kasich, whose only primary victory has come in his home state of Ohio, is hoping to survive the primary season and win the nomination at the GOP convention in Cleveland in July.
"We are going to have a contested convention," said former four-term Wisconsin Gov. Tommy Thompson when he introduced Kasich, noting that Abraham Lincoln won the nomination 156 years ago going into the convention as the underdog.
The anti-Trump forces have been working to stop the billionaire businessman in Wisconsin, a state that will help determine whether he can emerge from the primaries with enough delegates to avoid a contested convention. Wisconsin awards 18 delegates to the statewide winner, and divides 24 delegates among the winner in each eight congressional districts.
If Cruz sweeps all the delegates in Wisconsin, Trump will need to win 57 percent of the remaining delegates in other states to collect the 1,237 he needs to clinch the nomination. So far, he has won 48 percent of all delegates awarded.
In the latest Fox Business Poll, Cruz holds a 10-point lead over Trump in Wisconsin.
The Associated Press contributed to this report.