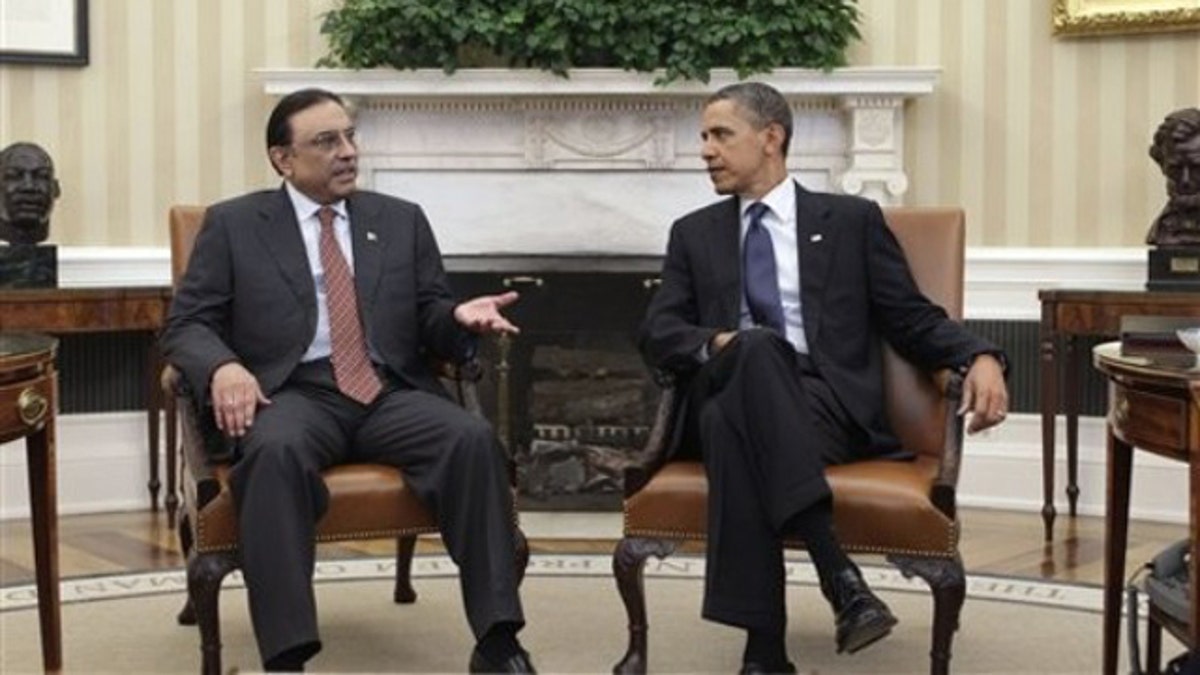 Since the stunning announcement that Usama bin Laden, the world's most-wanted terrorist, was killed by U.S. forces on Monday, American lawmakers and officials have been asking themselves how Pakistani officials missed that the Al Qaeda leader was living in a sprawling complex just 35 miles from Pakistan's capital.
In the nation's first formal response to these suspicions, the Pakistani president has denied suggestions that his country's security forces may have sheltered the terrorist, and said that Pakistan's cooperation with the U.S. helped to pinpoint bin Laden.
The president did say, however, that the operation that raided a sprawling, $1 million complex where bin Laden was hiding was not conducted with Pakistani forces.
"Some in the U.S. press have suggested that Pakistan lacked vitality in its pursuit of terrorism, or worse yet that we were disingenuous and actually protected the terrorists we claimed to be pursuing. Such baseless speculation may make exciting cable news, but it doesn't reflect fact," Asif Ali Zardari wrote in a Washington Post opinion piece.
While U.S. intelligence officials worked furiously to track bin Laden, the notorious terrorist was living in a suspicious $1 million complex surrounded by a privacy wall and security gates just a short walk from a top military training center. The neighborhood where he spent his time was affluent, and filled with retired military, yet he was able to hideout there possibly for years.
This finding fueled concerns in Washington that Pakistan has not done all it can to assist the U.S. despite enormous aid provided to the country.
"How could he be in such a compound without being noticed?" Sen. Lindsey Graham, R-S.C., told Fox News.
Ties between Pakistan and the U.S. are already strained amid accusations that the Pakistanis are supporting militants in Afghanistan and Pakistani anger over American drone attacks and spy activity.
White House counterterrorism adviser John Brennan said the administration is "pursuing all leads" to find out whether bin Laden had "benefactors" and a "support system" inside Pakistan.
"We are looking right now at how he was able to hold out there for so long," he said.
In a possible sign of fraying trust between the two nations, senior Obama administration officials said they shared their intelligence on the compound with no other country "including Pakistan" -- though they also said Pakistani cooperation helped lead America to bin Laden.
Lawmakers were moving quickly to try and answer the nagging question of whether Pakistan is friend, foe or neither. Rep. Patrick Meehan, R-Pa., chairman of a House Homeland Security subcommittee, announced that he will use a previously scheduled hearing Tuesday to discuss Pakistan's role.
"Many questions now remain about Pakistan," he said in a statement.
Sen. Carl Levin, D-Mich., chairman of the Senate Armed Services Committee, said the Pakistani military and intelligence "have a lot of questions to answer."
Former Bush administration officials also said the circumstances of bin Laden's hideaway renew concerns about the country's level of cooperation.
"It certainly raises issues about sympathizers for bin Laden who might have been, at a minimum, turning a blind eye to this," former Homeland Security Secretary Michael Chertoff said.
"We will figure out whether they are true friends or semi-friends or not friends. But the jury is out right now," said retired Gen. Tommy Franks, who led U.S. military operations in Afghanistan and later Iraq after the Sept. 11, 2001, terror attacks.
Britain also said Tuesday it would be demanding answers from Islamabad as to how bin Laden was able to live undetected in a large house in a garrison town.
But in a nod to the complex realities of dealing with a nuclear-armed, unstable country that is crucial to success in Afghanistan, British Prime Minister David Cameron said having "a massive row" with Islamabad over the issue would not be in Britain's interest.
Though relations between Pakistan and the U.S. have been particularly strained over the past several months amid outcry over Predator drone strikes and a CIA operative arrested, and later released, on murder charges, Obama administration officials also stressed the need to keep working together.
Though relations between Pakistan and the U.S. have been particularly strained over the past several months amid outcry over Predator drone strikes and a CIA operative arrested, and later released, on murder charges, Obama administration officials stressed the need to keep working together.
Secretary of State Hillary Clinton on Monday cited "close cooperation with Pakistan" in putting pressure on Al Qaeda, and said that "continued cooperation will be just as important in the days ahead."
Obama called Zardari Sunday night to discuss the mission. He stressed that bin Laden was a threat to Pakistan, just as he was a threat to the United States, and said both nations agree that Sunday was a historic day.
However, a senior administration official said the U.S. is "very concerned" that bin Laden was inside Pakistan.
"This is something that we're going to continue to work with the Pakistani government on," the official said.
Many people in Pakistan were "shocked" to learn of bin Laden's location. But there were concerns that some in Pakistani intelligence could have been aware of his presence.
"That house was obviously a suspicious one," Jahangir Khan told the Associated Press in Abbottabad, the town where bin Laden was hiding. "Either it was a complete failure of our intelligence agencies or they were involved in this affair."
The Associated Press contributed to this report.