Opponents of new Trump golf course put their feet down – and raise a Mexican flag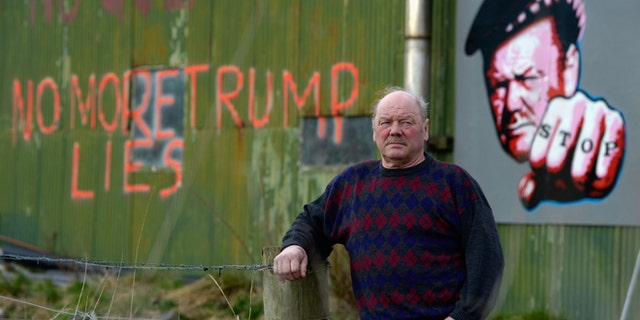 NEWYou can now listen to Fox News articles!
Along with Latinos, Muslims, Native Americans and women, Donald Trump now has another group of people angry at him: the Scots.
Irritated over the presumptive Republican nominee's push to buy up acreage in their homeland for his golf courses – and his divisive language toward Mexican migrants – residents of one Scottish estate have started their own border battle with the boisterous businessman by raising a Mexican flag on the edge of their property abutting Trump's golf course near Aberdeen, Scotland.
"The point of the flag is to show solidarity with the Mexicans and every other group that Trump has decried, derided, insulted, and tried to marginalize," David Milne, who has lived for 25 years in a former coast guard's lookout that is now enveloped by Trump's course, told BuzzFeed.
Milne and over 100 residents of the Menie Estate, north of Aberdeen, have been waging a protracted battle against development and Trump's efforts to buy up land.
The Mexican flag was raised a few days ago by farmer Michael Forbes (a man described by Trump as "living like a pig") near a bunker on the real estate mogul's course. The land where the flag is located is owned by Forbes and 100 others – members of the Tripping Up Trump campaign – in an attempt to thwart Trump's efforts to expand his property.
"We did it as a deliberate block to any compulsory purchase order so that the local authority would have to serve a notice on each owner," said Milne.
This is not the first time that the group has raised a Mexican flag to mock the mogul.
In a previous attempt, Milne raised a smaller one on his own home and said in 2010 an attempt to raise a different flag on a piece of wood was thwarted when it was stolen.
"This time we used a proper flagpole, but I wouldn't be surprised if there were an attempt to take it," he said.
Trump, who has Scottish ancestry, is expected to be in Scotland later this week for the opening of Trump Turnberry, his newer golf course in Ayrshire.