Oink! Group Calls Out Top Congressional Porkers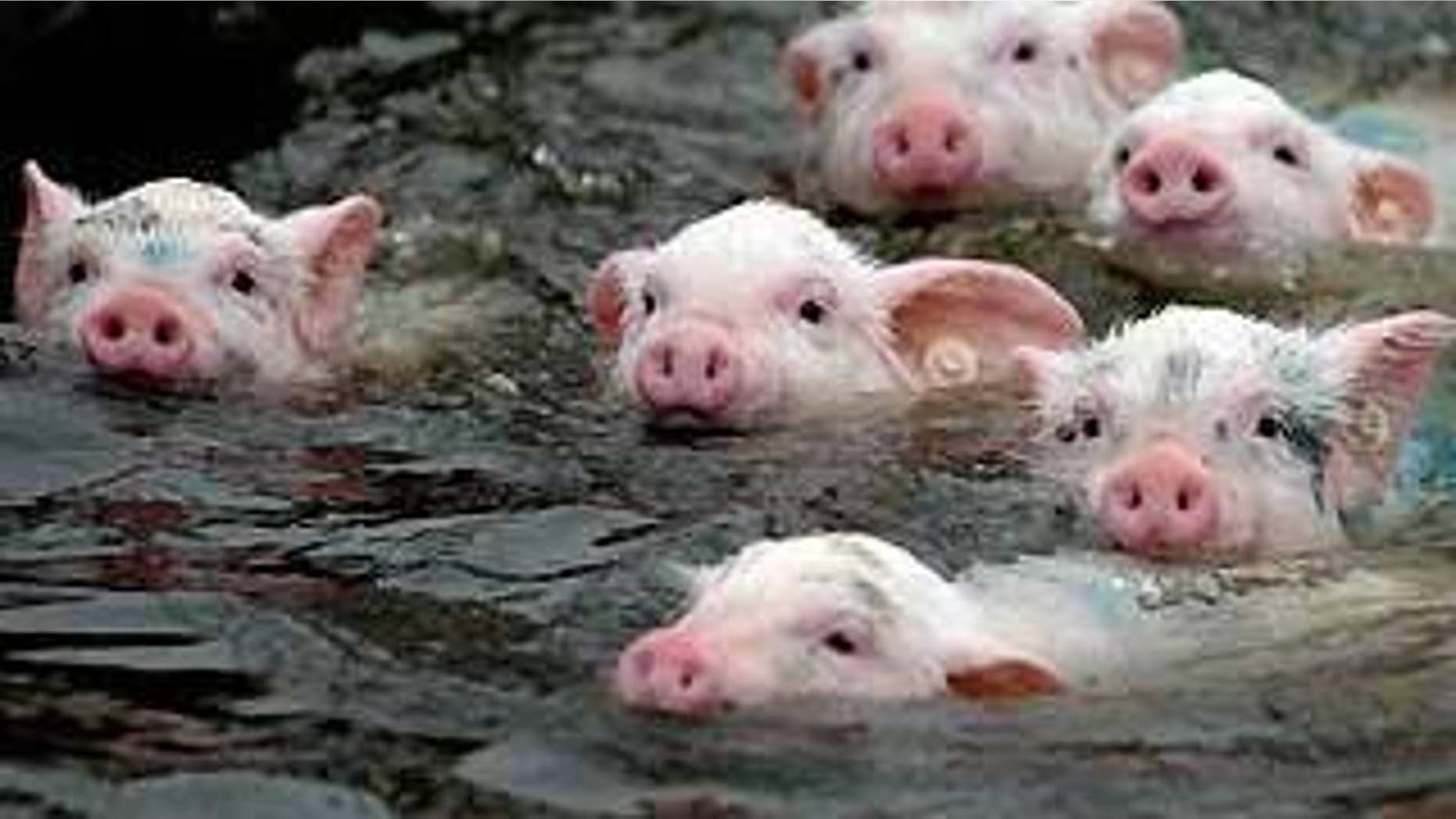 Lawmakers asked for nearly $20 billion in earmarks or "pork-barrel projects" in their homes states in 2009, a nearly 15 percent increase in funding from last year, according to a prominent taxpayer interest group.
At a press conference Tuesday featuring both costumed and live mascots, including two Vietnamese pot-bellied pigs, Citizens Against Government Waste (CAGW) released their annual Pig Book, detailing the thousands of special projects lawmakers requested for 2009.
While the number of earmark projects requests decreased by 12 percent last year from 11,610 to 10,160, the amount of money going to the projects increased by more than $2 billion to 19.6 billion for FY 2009.
"Despite repeated claims by members of Congress that earmarks have been reduced, the Pig Book belies that claim," said CAGW President Tom Schatz, who noted that this year's spending bill also included 221 anonymous earmarks amounting to $7.8 billion of the spending that no lawmakers took credit for.
The book highlights a number of "egregious" projects, including $1.8 million for swine odor and manure management in Ames, Iowa, $3.8 million for the Old Tiger Stadium Conservancy in Detroit, $1.9 million for a water taxi service in Connecticut and $380,000 for a fairgrounds area in Kotzebue, Alaska.
Schatz said the group released the book one day ahead of April 15 IRS deadline to ensure Americans were cognizant of where their tax dollars are being spent.
While GOP leaders have hammered Democratic bills this year for allowing too much wasteful spending and earmarks, CAGW found that House and Senate Republicans account for about 40 percent of the earmark requests.
"Pork has been used by both parties as reelection currency. They use these projects to get reelected every two or every six years. There is no moral high ground here when it comes to pork barrel spending because most of Congress partakes in this process," said CAGW Vice President David Williams.
In the U.S. Senate, Mississippi Sens. Thad Cochran and Roger Wicker, both Republicans, finished first and third respectively in overall earmark requests and brought home more than $1 billion in government cash for their state.
Senate Appropriations Committee Chairman Dan Inouye of Hawaii finished second with $444.9 million in requests. Rounding out the top five were Sens. Robert Byrd, D-W.Va., at $386 million and Tom Harkin, D-Iowa, with $382.7 million.
Over in the House of Representatives, Hawaii Democratic Reps. Neil Abercrombie and Mazie Hirono teamed up to bring nearly $500 million dollars to America's 50th state.
Abercrombie took home the most earmarked dollars -- $256.8 million, followed by South Dakota Rep. Stephanie Herseth-Sandlin with $230 million, Hirono with $202.6 million, Rep. Jim Moran, D-Va., with $183.5 million and Rep. Bill Young, R-Alaska, with $167.5 million.
CAGW representatives attacked Congress and President Obama for not doing more to reduce wasteful spending, noting that the president had a chance to draw a line when it came to earmarks when he received the $410 billion spending bill last month that included all the pork money.
"Vetoing the omnibus would have sent a very strong signal to congress, to the big spenders, to the appropriators, to everyone that change had truly come to Washington, D.C. Unfortunately we are seeing more of the same," Williams said, as a mascot in a pig costume shook its head.
For its part, the White House argued that the 2009 bill was the work of the Bush administration and "last year's business" even though passage finally took place in March and promised earmark reforms for the 2010 budget process.
Congress has approved multiple recent earmark reforms, which require, among other things, legislators to post all of their earmark project requests on their Web sites ahead of time. Additionally, lawmakers have cut the number of earmarks by nearly $10 billion from the 2006 high of $29 billion in requests.
Schatz praised the reforms so far as a positive step but said more needs to be done.
The event was also used to preview Wednesday's "tea parties," which organizers say will draw thousands of anti-tax and anti-spending protesters at rallies across the country.
"This Pig Book is more than just a list of projects. It shows why taxpayers are frustrated, why tomorrow when people have to send in their taxes, why there is this high level of frustration. It's no coincidence that there are going to be tea parties across the country," Williams said. "There is growing divide between members of Congress and the people that pay taxes and this divide is getting bigger and bigger."