Ohio's Kasich to speak at NAACP gathering, Trump skipping it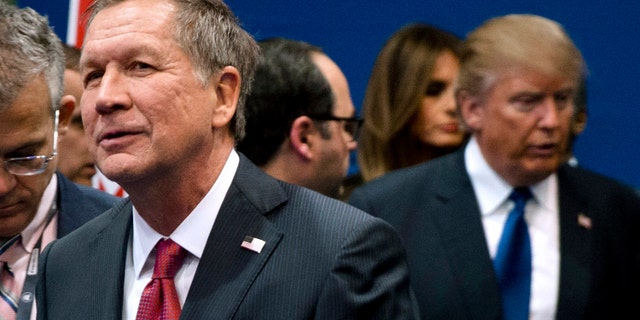 NEWYou can now listen to Fox News articles!
CINCINNATI – Ohio Gov. John Kasich won't speak at the Republican National Convention where Donald Trump is set to become his party's presidential nominee, but he will speak to the NAACP national convention that Trump is bypassing.
Emmalee Kalmbach, a Kasich spokeswoman, confirmed Friday to The Associated Press that Kasich will speak in Cincinnati on Sunday, the day before the RNC begins across the state in Cleveland.
Kasich has declined to endorse Trump and doesn't plan to take part in GOP convention floor proceedings in his home state, where Kasich won the GOP primary and had hoped to challenge Trump in a contested convention before the businessman's delegate lead became insurmountable.
Trump irritated NAACP leaders earlier this week by turning down their invitation, citing scheduling conflicts with the Republican convention. Presumptive Democratic nominee Hillary Clinton is scheduled to speak to the NAACP on Monday.
"The governor considers it a great privilege for Ohio to host the NAACP's national convention, and he is honored to speak at their event," Kalmbach said by email.
Kasich had been listed among speakers invited to the NAACP convention that will open this weekend, but his office had been trying to work out a time for him to address the nation's oldest civil rights organization. The exact time hadn't been decided yet Friday morning.
NAACP President Cornell William Brooks told CNN earlier this week that Trump should have made the time for the civil rights leaders, especially so soon after videotaped killings of black men by police in Louisiana and Minnesota, followed by the killings of five Dallas police officers by a black sniper.
"We represent an occasion for those running for president to speak to the nation's most critical issues at a critical hour in this country," Brooks told CNN. He called the gathering a chance for Clinton and Trump to provide "a window into not only their policies, but into their heart and character as a candidate."
Republican nominees John McCain in 2008 and Mitt Romney in 2012 addressed the NAACP conventions.