Ohio Gov. Mike DeWine recovering after injury in East Palestine: reports
DeWine was in East Palestine, Ohio, last week following toxic train derailment
Ohio Gov. Mike DeWine suffered a displaced distal fibula fracture just above his ankle during his visit to East Palestine last week in the aftermath of the toxic Norfolk Southern train derailment, according to local reports.
DeWine's office confirmed with FOX8 Cleveland that the governor will need to wear a boot for the next few weeks as he recovers.
DeWine told the Columbus Dispatch that his "foot caught on something" while walking down the stairs of the First Church of Christ in East Palestine on Tuesday.
"I'm fine," the governor told the paper Sunday. "I'm just not walking my dog as much."
OHIO MOM CALLS OUT BIDEN, OFFICIALS AFTER EAST PALESTINE TRAIN DISASTER: 'THEY THINK WE'RE ALL DUMB HICKS'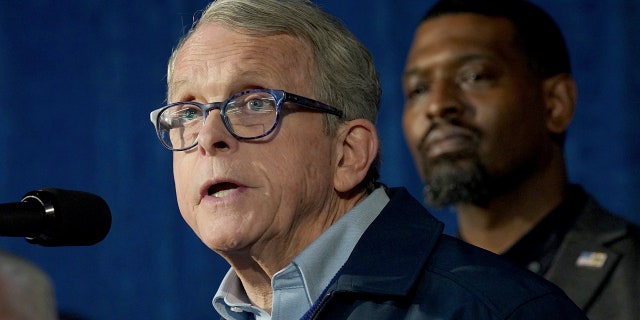 The church is the site of a health assessment clinic that opened in the wake of the freight train derailment on the outskirts of East Palestine on Feb. 3. The freight cars that derailed included 11 cars that were carrying hazardous materials.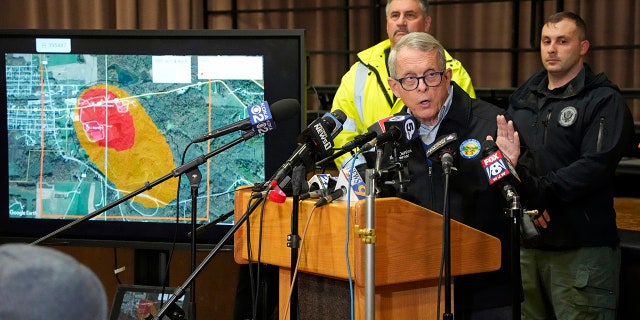 MICHIGAN, TEXAS OFFICIALS UNAWARE OHIO CONTAMINATED SOIL, WATER, TAKEN TO THEIR AREAS: 'WE WERE SANDBAGGED'
In the aftermath, residents have questioned the potential health effects of the toxic spill and its ensuring cleanup.
FOX News Digital reached out to DeWine's office but did not immediately hear back.