Odd Man Out: GOP Congressman On the Brink as District Gains More Dems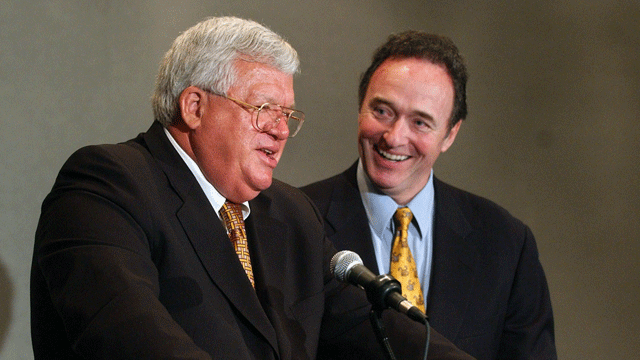 For all the talk of endangered Democrats in Congress this election season, there's at least one House Republican who's also fighting off political extinction.
Rep. Dan Lungren, an eight-term congressman from California, holds one of six House seats that potentially could slip away from Republicans, in a year when Republicans generally are expected to see big gains. But of those six Republican candidates in competitive races, Lungren is the only one who's a longtime incumbent from a conservative district.
In three of the districts, the Republican incumbent isn't running, and two of the other races are in traditionally Democratic districts.
Polls show Lungren is up by 6 percentage points against his Democratic opponent, Ami Bera, a longtime Sacramento doctor and associate dean of admissions at UC Davis School of Medicine.
Bera is the son of Indian immigrants who has relied on a network of Indian-American and medical community donors to outraised Lungren for the past six fundraising quarters.
Bera topped Lungren in the most recent quarter that ended in September, hauling in $550,000 to Lungren's $480,000. Bera has raised a total of $2.1 million compared with Lungren's $1.7 million.
"Our campaign continues to gain momentum thanks to our grassroots support," Bera campaign manager Lucinda Guinn said in an e-mail to FoxNews.com. "Over 3,300 individuals have given to our campaign, while our opponent has taken hundreds of thousands of dollars from corporate special interests and done their bidding in Congress."
Lungren has represented the district since 2005, but he won a tough re-election two years ago. An aide to Lungren told FoxNews.com that Lungren, who wants to repeal the new health care law and replace it, hasn't changed -- but the district has.
The Northern California district, which covers part of Sacramento, has grown more racially and ethnically diverse, allowing Democrats to cut into Republicans' registration advantage. Republicans now only hold a slight advantage. The district narrowly voted for Obama in 2008.
Lungren served in the House in 1980s, representing the Long Beach area in Southern California. Then he served as California's attorney general before capturing his current seat in 2004 with 60 percent of the vote.
Lungren won in 2006 with 62 percent of the vote against Democrat Bill Durston. But Durston made their rematch in 2008 much closer, gaining 44 percent of the vote to Lungren's 49 percent.