Ocasio-Cortez claims she can't afford DC apartment, but records show she has at least $15,000 in savings
Democratic Socialist Alexandria Ocasio-Cortez claims that she's unable to afford an apartment in Washington, D.C., until she begins collecting her congressional salary, but records show she has more than enough to plunk down on an apartment in the U.S. capital.

The 29-year-old congresswoman-elect rose to fame after she defeated 10-term incumbent Rep. Joe Crowley in New York's June primary and was elected to represent the state's 14th Congressional District last week.
ALEXANDRIA OCASIO-CORTEZ SAYS SHE CAN'T AFFORD APARTMENT IN DC UNTIL SHE RECEIVES CONGRESSIONAL SALARY
After months of fostering an image as a working-class Democrat, Ocasio-Cortez told the New York Times shortly after her Nov. 6 general election win that she won't be able to afford an apartment in the Washington, D.C., area until her new $174,000-a-year salary kicks in next year. The median rent in D.C. is $2,700, according to real estate website Zillow.
"I have three months without a salary before I'm a member of Congress. So, how do I get an apartment? Those little things are very real," Ocasio-Cortez told The New York Times.
"I have three months without a salary before I'm a member of Congress. So, how do I get an apartment? Those little things are very real."
Most have taken Ocasio-Cortez' claims at their face value, praising her for drawing attention to the housing crisis and that the electoral system is designed to discourage working-class people from running for Congress.
But it appears that her claims of financial hardship fall short under further scrutiny.
Ocasio-Cortez left her day job as a waitress at a New York bar mid-February and reportedly began living off her savings and her partner's income in a one-bedroom apartment with an estimated rent of around $1,850 a month, so she could focus on her campaign against Crowley.
She reported having between $15,001 and $50,000 in her checking account as of the end of April 2018, according to a Financial Disclosure Report she submitted to the clerk of the U.S. House of Representatives.
The financial disclosure also reveals that she has an investment account valued between $1,001 and $15,000.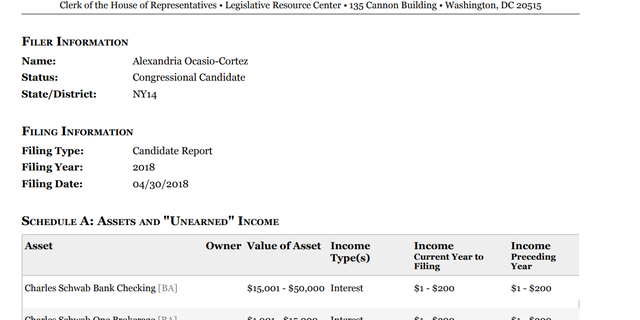 This puts the socialist Democrat well above most American households, whose median checking account balance is $3,400, according to the latest Federal Reserve survey in 2016. Among Millennials, the median balance is about $1,400.
OCASIO-CORTEZ ATTACKS ICE AS A 'DANGEROUS AGENCY'
This also means that for her not to afford an apartment in Washington, she should have depleted all her savings – as potentially ranging up to $50,000 – in just three months when she wasn't receiving any income.
Ocasio-Cortez didn't earn any income up until August, when she began collecting a salary from the campaign, an option many political candidates take as they have to quit their day job for campaigning.
She has taken $6,200 in salary from her campaign coffers since August. Her most recent check was for $1,288.96 in mid-October, just weeks before Election Day.
Ocasio-Cortez has since backtracked from the thrust of the issue, tweeting that her apartment situation is being sorted out and she's "working it out."
The Ocasio-Cortez campaign didn't respond to repeated Fox News inquiries for this article.