Obama's first 2012 ad defends record on Solyndra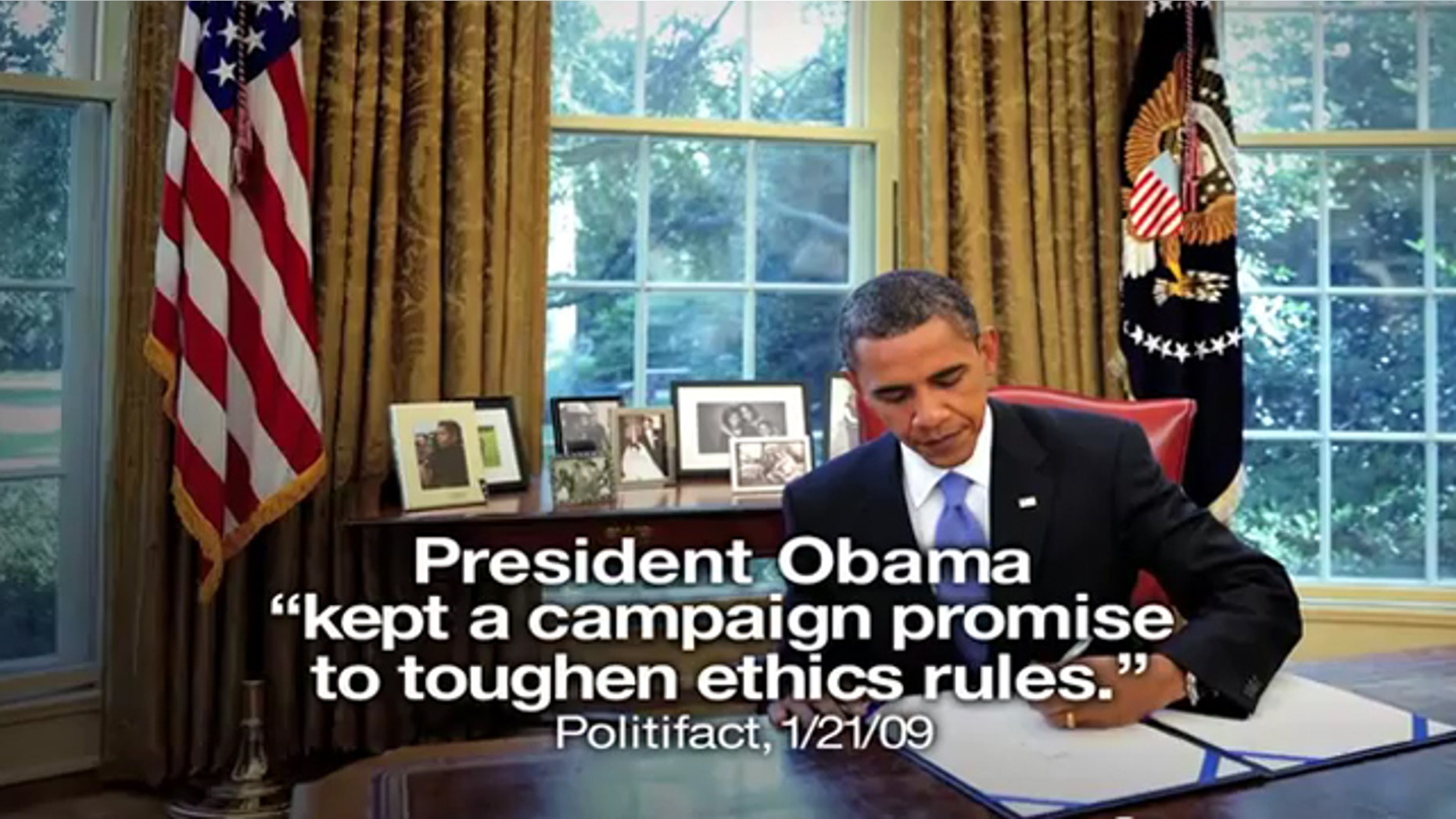 It's "game on" for the President Obama's re-election campaign, which has bought up ad time in several key swing states and will begin to air its first TV ad starting Thursday, a campaign official told Fox News.
The official said the ads will air in Ohio, Michigan, Virginia, North Carolina and Wisconsin -- all states Obama won in 2008.
The first ad seeks to defend Obama's energy record against criticism from a Republican-leaning outside group in a sign that the presidential race is entering a new phase even though Republicans have yet to pick a challenger.
The ad, released Wednesday, responds to a $6 million ad campaign by a group backed by the billionaire Koch brothers accusing Obama of conducting pay-for-play politics in the bankruptcy of California energy company Solyndra, which imploded despite a $528 million federal loan.
Obama's ad opens by citing "secretive billionaires attacking President Obama with ads fact-checkers say are not tethered to the facts." It says that the president has added 2.7 million clean energy jobs while reducing the nation's dependence on foreign oil, calling Obama's record on ethics "unprecedented."
The voiceover ends by saying, "President Obama. Kept his promise to toughen ethics rules and strengthen America's energy economy."
The ad buy signals the beginning of the campaign's on-air message battle against the eventual Republican nominee. And it comes as the president plans to visit a string of battleground states in coming days.
Following the president's State of the Union address on Tuesday, Obama plans to go on a five-state, three-day swing through battleground states. He plans to visit Iowa, Arizona, Nevada, Colorado and Michigan, according to the White House.
While it is customary for presidents to travel around the country in the days after addressing the nation, the five states Obama will visit this month are all swing states vital to his re-election.
Obama also heads to Florida this Thursday for an announcement on boosting tourism. Florida, aside from being a vital battleground state in the general election, also holds the next GOP primary election after South Carolina holds its contest this Saturday.
White House Press Secretary Jay Carney said Wednesday that the schedules "are made with a lot of different considerations well in advance."
Carney said the president's message for the tour will be "fiercely focused on economic growth and job creation."
The campaign's first TV ad directly responds to a spot released by Americans for Prosperity charging Obama's campaign with collecting funds from Solyndra investors in exchange for the large federal loan, which failed to prevent the bankruptcy and the loss of more than 1,000 jobs. "Tell President Obama American workers aren't pawns in your political games," the ad says.
Americans for Prosperity, a conservative group headed by billionaires Charles and David Koch, began airing the 1-minute ad in the same states where Obama's campaign will run its first advertising. The Koch brothers' energy company has bankrolled right-leaning causes and drawn frequent criticism from liberal groups.
Obama has raised more than $220 million for his campaign and the Democratic National Committee through the end of 2011, giving him a strong foundation to run a national campaign across the airwaves and on the ground.
Fox News' Ed Henry and Sarah Courtney and the Associated Press contributed to this report.