Obama welcomes Prince Charles, Camilla to Oval Office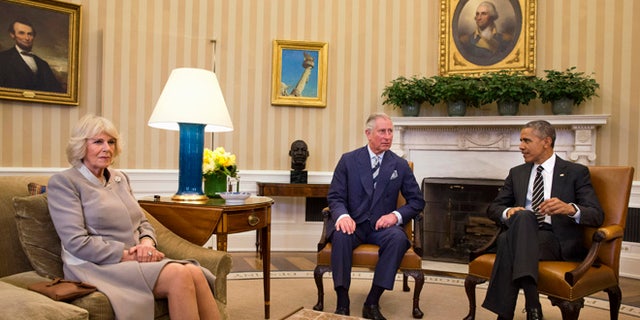 WASHINGTON – President Barack Obama says the American people are "quite fond" of the British royal family and like them more than their own politicians.
Obama whispered that to Prince Charles as they met Thursday in the Oval Office.
The Prince of Wales and his wife, Camilla, the Duchess of Cornwall, are on a four-day tour of U.S. cultural and education sites. They paid a courtesy call on the White House while they were in Washington.
"I think it's fair to say that the American people are quite fond of the royal family," Obama told the prince as they sat side by side in brown leather chairs in front of the fireplace. "They like them better than they like their own politicians."
Prince Charles replied that he didn't believe that and proceeded to tell Obama about his Wednesday visit to Mount Vernon, the Virginia estate of America's first president: George Washington.
"I went there 45 years ago, in 1970," he told Obama. "So it was fantastic. It is very special there."
Vice President Joe Biden also participated in the Oval Office meeting.
The couple arrived in the U.S. on Tuesday.