Obama tries to keep 'promise' on poverty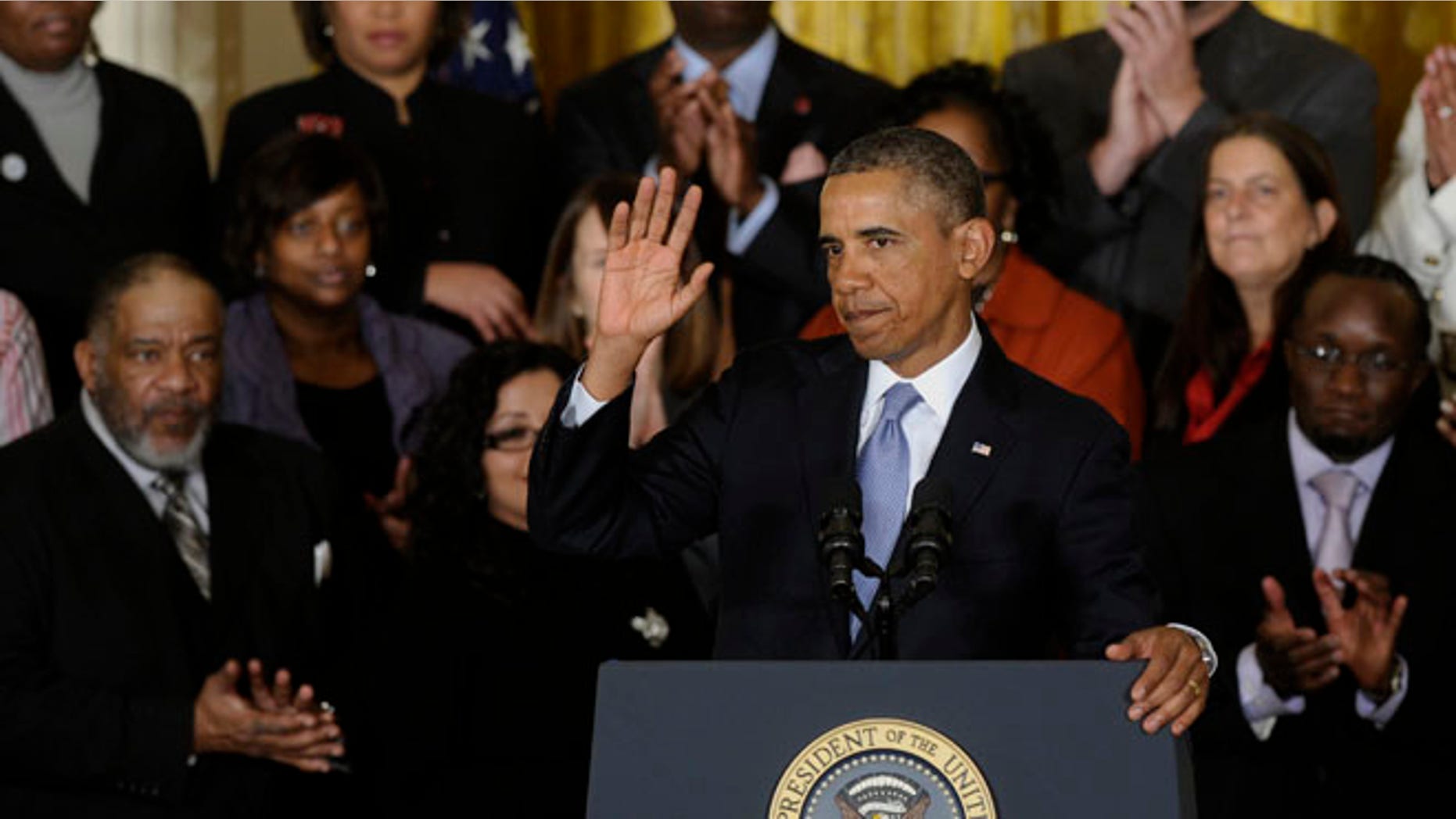 ** Want FOX News First in your inbox every day? Sign up here. **
Buzz Cut:
• Obama tries again to keep 'promise' on poverty
• Rubio leads counterattack
• Baier Tracks: Christie's traffic jam spares Hillary…
• Kelly File: Outrage over Obama DOJ nominee
• Kentucky's version of a gun control debate
OBAMA TRIES AGAIN TO KEEP 'PROMISE' ON POVERTY - President Obama announced the creation of Promise Zones, a Democratic version of the Jack Kemp/Ronald Reagan Empowerment Zones during the president's last State of the Union address. With time running out until this year's address, Obama is getting busy on last year's "Promise." Obama today will re-tout the plan for tax incentives and targeted government spending for Southeastern Kentucky and the Choctaw Nation of Oklahoma, as well as blighted portions of San Antonio, Philadelphia and Los Angeles. Fox News has more.
PASS NOW, PAY LATER - Pass the $6.4 billion unemployment benefits extension now and negotiate ways to offset it later, that's the message Senior White House Adviser Dan Pfeiffer is giving to Republicans. Pfeiffer told USA Today that President Obama is willing to negotiate a 'pay for' if both the House and Senate are willing to pass the measure that would extend unemployment benefits for another three months. "That will give us three months to work out how to do it for the whole year," Pfeiffer said. However, even if Senate Majority Leader Harry Reid does allow amendments many House Republicans are signaling they may not find the offsets palatable. Others are willing to make concessions in exchange for progress on The Keystone Pipeline XL.
[Watch Fox: Sen. Jack Reed, D-R.I., discusses his unemployment bill in the 11 a.m. ET hour]
"Transitional living fund" - Rep. Sheila Jackson Lee, D-Texas, thinks welfare is a dirty word. In a floor speech, the Lone Star State Democrat said  "...There are elements that many discard, the earned income tax credit, supplemental nutrition program, the huge job training and educational investment that President Johnson made on the war on poverty. Medicare and Medicaid. Huge safety nets, not handouts, but safety nets. Maybe the word welfare should be changed to something of a transitional living fund. For that is what it is, for people to be able to live."
[NYT examines how both parties are dealing with the issue of income inequality ahead of the 2014 midterms.]
Opportunity in opposition? – Washington Examiner's David Drucker points out why House Republicans are reluctant to support an extension of jobless benefits. "If Republicans can successfully reframe the debate over unemployment benefits for voters, a crucial component of the Democrats' election-year strategy could be upended…Republicans argue that Obama's strategy won't box them into a political corner. Instead, they said, the president's insistence on the dire need for additional jobless aid sends the message to voters that five years of his Democratic stewardship has failed to revive the economy."
RUBIO LEADS COUNTERATTACK - As Democrats are making the president's call for higher taxes and increased government spending to combat income inequality the centerpiece of their 2014 strategy, Sen. Marco Rubio, R-Fla., criticized what 50 years of President Lyndon Johnson's War on Poverty has meant. During a Wednesday speech, Rubio declared the war on poverty lost saying, "Five decades and trillions of dollars after President Johnson waged his War on Poverty, the results of this big-government approach are in, we have four million Americans who have been out of work for six months or more." In a far reaching policy speech, the potential 2016 contender offered a proposal to consolidate welfare programs into one agency and provide those funds to the states. Rubio also announced he would he would introduce legislation that would that would eliminate the earned income tax credit and replace it with a federal wage enhancement for qualifying low-wage jobs. Hitting at Democratic proposals to raise the minimum wage Rubio stated, "Raising the minimum wage may poll well, but having a job that pays $10 an hour is not the American Dream." WaPo has more.
You have a seat on the panel, next to Marco Rubio - Sen. Marco Rubio, R-Fla., took the center seat on Wednesday's "Special Report with Bret Baier" All-Star panel. As measured by Bing Pulse, Republicans, Democrats, and independents strongly agreed when Rubio's stated, "The problem is Washington right now is not conducive to doing big pieces of legislation." The Florida Republican cited several reasons why the middle class is struggling. Among them, he noted, is the disappearance of low-skilled jobs and lack of skills training. Men and women agreed when the first-term Senator pointed out that the erosion of marriage and family, with 70 percent of families in poverty being headed by single parents, is a result of "cultural and social changes."
Discussion of the administration's Iraq and Afghanistan strategy drew heightened viewer engagement. Rubio said returning boots to the ground in Iraq, "was not a viable option." He added, "Iraq, at the end of the day, can't be saved if it doesn't have a government that can function."  Rubio's assertion that the War on Terror is not over and that "it's spread in a way that makes it even more dangerous," saw a spike in viewer votes. On that point, viewer votes soared to 21,000 per minute. Take a deeper data dive and see the full results here and don't miss your opportunity to take a seat on the panel.
["The president's focused on income inequality…that's the wrong focus…The issue isn't whether the cashier at Burger King makes less than the CEO, the issue is whether that cashier gets stuck being a cashier for five, ten, fifteen , twenty years and can't move up"—Sen. Marco Rubio, R-Fla., today on Fox & Friends]
GATES GRATES ON WHITE HOUSE - During Wednesday's press briefing, White House Press Secretary Jay Carney joked, "Read any good books lately?" Carney was referring to a new memoir to be released by former defense Secretary Robert Gates that criticizes top administration officials on their handling of the wars in Afghanistan and Iraq. It is most critical of Vice President Joe Biden, claiming he was wrong on nearly every major foreign policy and national security issue in the past 40 years. Carney defended Biden saying he was leading statesman and key counselor to the president. The White House spokesman shot down charges that Team Obama was propping up Sheriff Joe by opening his weekly lunch with the president to press photographers calling it a "coincidence."
Now you tell us? - From the WSJ: "The Gates book may be most troubling for what it says about the three long years left in Mr. Obama's second term – which also makes us wonder why he didn't go public sooner, at the time he left office. He describes a President who knows he must invoke the traditional rhetorical markers of U.S. foreign policy -- a strong defense, credibility with allies, democracy and human rights -- yet whose every impulse is to leave the world to its own devices."
BAIER TRACKS: CHRISTIE'S TRAFFIC JAM SPARES HILLARY…"No word yet from Team Hillary about the quote in former Defense Secretary Robert Gates' book about his characterization of then Secretary of State Hillary Clinton confessing her purely political motivations for her Iraq surge vote. But the focus on that line has been eclipsed, not by other revelations in the book, but by traffic manipulation for political payback on the George Washington Bridge by aides to Governor Chris Christie. [See full coverage below] We'll see how it all plays out but odds are it turns out pretty favorably, press-wise, for the 2016 Democratic frontrunner." – Bret Baier
OBAMACARE'S HIGH COSTS HIT EMPLOYEES - A survey of corporate bean counters concludes many are increasing insurance costs paid by workers and blaming ObamaCare for the hikes. The survey from consulting firm Deloitte finds 42 percent of CFOs blame ObamaCare for already shifting additional health costs onto workers. The number rises to 63 percent for financial executives who plan to pass on the extra costs in the coming year.
Employees agree - A survey by finance news aggregator BankRate Inc. finds 47 percent of respondents with employer-based health care plans say more money is being taken out of their paychecks each month for health insurance than was a year ago.
[Quinnipiac's latest poll shows President Obama stopping his slide and settling at a job approval rate of 41 percent. Some 56 percent of respondents held unfavorable views of his signature health law.]
Chamber vows mandate end - While ObamaCare's employer mandate has been delayed for a year, the U.S. Chamber of Commerce is vowing to see it eliminated altogether. In his annual address, the group's CEO, Thomas Donohue said, "in 2014, we will work to repeal onerous health care taxes; repeal, delay, or change the employer mandate; and give companies and their employees more flexibility in the choice of health insurance plans." Calling the troubled health law a "massive tax bill" Donohue acknowledge the law is here to stay, vowing to work with candidates who want to "work within the legislative process." Fox News has more.
OBAMA SUMMONS KEY LAWMAKERS ON SPYING - President Obama will seek to win over lawmakers from both parties to his plan to reform the National Security Agency in the wake of damaging revelations about his administration's expansion of domestic spying. on his controversial spying program. Obama has been reviewing a task force report on the NSA and is expected to adopt some of its recommendations as early as next week, AP reports. Heads of Senate and House Judiciary and Intelligence committees will be in attendance. Sen. Rand Paul, R-Ky., who is spearheading the lawsuit to block government data trawling, will also attend.  –Watch Fox:  Chief Intelligence Correspondent Catherine Herridge reports on the gathering.
[The Department of Justice is asking Judge Richard Leon, who ruled the administration's spy program unconstitutional, to halt the disclosure of classified information as it seeks an appeal. Politico has the details.]
The Judge's Ruling: Silence speaks volumes - Judge Andrew Napolitano hits the National Security Agency's refusal to answer whether or not it spies on Congress for Fox News Opinion. From Spying on Congress:  "Just as disturbing as the revelation that the NSA is spying on members of Congress is the fear of what the NSA does with the information it collects… The lawlessness continues. The president's NSA spies remain out of control. They are spying on Congress and the courts; the military and the press; the CIA and other spies; friends, foes and the Pope. If we fail to stop this soon, the next generation of Americans will not even know what privacy is."
OBAMA TAPS DEM DONOR TO LEAD PROBE OF IRS TARGETING OF CONSERVATIVES - From Breitbart: "[Barbra Bosserman] The attorney heading the internal investigation into potential unfair targeting of conservative groups by the IRS is a frequent and significant donor to both the Democratic National Committee and President Obama, Rep. Darrell Issa revealed… in what he calls a 'startling conflict of interest' that jeopardizes the investigation."
[Watch Fox: Rep. Darell Issa, R-Calif., appears in the 1p.m. ET hour]
HOUSE HITS WASTE - The House Oversight and Government Reform Committee tackles the issue of government waste in a hearing today. Sens. Tom Carper, D-Del, and Tom Coburn, R-Okla., are slated to testify before the panel. Coburn released his annual "Wastebook" in December detailing $30 billion in frivolous spending. –Watch Fox: Correspondent Molly Henneberg is following the progress the federal government is making in addressing spending issues.
[As Sen. Tom Coburn, R-Okla., awaits tests that will give him a clearer prognosis for future treatment of a return of his prostate cancer, he is telling reporters he's "plenty healthy to serve out my term." Coburn added, "I can have a heart attack and drop over, but my heart is pretty good." Sen. Richard Burr, R-N.C., a close friend of the Oklahoma Senator, tells Politico Coburn is responding "remarkably well" to his latest round of chemotherapy.]
WITH YOUR SECOND CUP OF COFFEE... Columnist George Will slams President Obama's liberal agenda of mandates, bailouts and "devotion to equality" in Liberalism by Gesture. "Americans who exercise consumer sovereignty wherever Barack Obama still tolerates it are constantly disappointing him… It has nothing to do with real insurance, which protects against unexpected developments — car insurance does not pay for oil changes. The [ObamaCare birth control] mandate covers a minor expense: Target sells a month of birth control pills for $9 . The mandate is, however, a gesture affirming liberalism's belief that any institution of civil society can be properly broken to the saddle of the state."
Got a TIP from the RIGHT or LEFT? Email FoxNewsFirst@FOXNEWS.COM
POLL CHECK
Real Clear Politics Averages
Obama Job Approval: Approve – 42.4 percent//Disapprove – 53.6 percent
Direction of Country: Right Direction – 30.4 percent//Wrong Track – 63.3 percent
Generic Congressional Ballot:  Democrats – 42.3 percent// Republicans 42.2 percent
STAFFERS' DIRTY TRICKS PUT CHRISTIE IN A JAM - Gov. Chris Christie, R-N.J., will hold a press conference this morning to answer the media uproar over newly revealed emails that show members of his staff intentionally caused traffic nightmares as payback to one of Christie's political foes. In a statement, Christie said he was misled by a member of his staff and is "outraged and deeply saddened" after newly released emails appear to show his Deputy Chief of Staff Bridget Anne Kelly tried to create traffic gridlock in Fort Lee, N.J.. The string of e-mails published by the NYT reveal gleeful discussions Kelly had about the success of lane closures on the George Washington Bridge last September in retaliation for Fort Lee Mayor Mark Sokolich's refusal to endorse Christie's 2013 re-election bid. Christie maintains the behavior was "unsanctioned" and promises to hold people "responsible for their actions." Fox News has more.
[Watch Fox: Christie meets the press at 11 a.m. ET today.]
The swarm - Like a New York pro athlete, Christie has a much higher profile nationally because of his proximity to the pulsating core of American media. But like the sometimes sensations over the Yankees or Jets, there can be a high price. The New York area media is in overdrive over the bridge flap, the NY Daily News calling it "Christie's Waterloo" and declaring conclusively that it will end Christie's career as a national figure, one way or another. Democrats have wasted no time jumping on the opportunity to use the issue to taint the potential 2016 GOP presidential contender's image as a bipartisan problem solver. But as long as the popular New Jersey governor isn't personally connected to the alleged local dirty tricks and his outrage is proven sincere, this will more likely be a data point in his rivals' inevitable character attacks on the brash boss.
[Watch Fox: Correspondent Eric Shawn is following the latest developments in the Bridge-gate controversy.]
Will it stick? - GOP Strategist Mike Murphy weighs the potential long term damage to Christie's nascent presidential campaign in a NY Daily News OpEd, "The story is irresistible to the political press… because the idea of New Jersey's bombastic governor dropping the gridlocking equivalent of a nuclear weapon on a small-time mayor easily fits a lazy narrative about Christie having a vindictive side… My prediction? The whole thing will blow over. Sure, the media will howl for a week and the mayor of Fort Lee will spend the next two years darkly plotting ways to poison Christie's good name in New Hampshire. But Christie has already blasted the main chortling staffer in question. The circus will move on."
History repeating - Fox News Radio's White House Correspondent Mike Majchrowitz points out the historical precedent for bridge battles in the New York region's politics. Majchrowitz shares Mason William's work "City of Ambition" which details a doozy of a battle involving President Franklin Roosevelt and New York Mayor Fiorello LaGaurdia over the Triborough Bridge during the Depression. LaGaurdia had appointed a bitter personal enemy of Roosevelt, Robert Moses, to a board that oversaw the construction of the construction of the bridge. Things got so tense that Public Works Administrator Harold Ickes summoned LaGaurdia to Washington to push Moses' removal from the board or risk federal funding that would put the project in jeopardy. The incident later prompted Roosevelt to say, "Isn't the president of the United States entitled to one personal grudge?"
PRO-CORNYN PAC SMACKS STOCKMAN AS 'SHADY' - Texans for a Conservative Majority, a political action committee with close ties to Sen. John Cornyn, R-Texas, has launched a new ad calling Rep. Steve Stockman, R-Texas, "shady." From the ad: "Lies. Shady deals. Ethical failings. It's everything that's wrong with Washington. And it's Congressman Steve Stockman's troubling record…Congressman Steve Stockman…just another shady Washington politician."
PICK SIX: BRANDSTAD A BOOST FOR GOP SENATE HOPES - November could shift control of the Senate back into Republican hands. So which seats held by Democrats will flip? That's what Fox News First is asking you. The consensus among readers so far (in order of your choices): Arkansas, Montana, Louisiana, West Virginia, South Dakota and North Carolina.  However, Iowa's popular Republican Governor could produce a favorable down-ballot effect in the race for the open Senate seat in the Hawkeye State. Reader Tim Tippit observes, "Current Gov. Terry Branstad is leading by double digits and could have nice coattails in the November election."
Share your top six picks. Email them – just your top six, please – to FOXNEWSFIRST@FOXNEWS.CCOM or tweet @cstirewalt
FP1 + 1 - Republican ad and strategy firm FP1 Strategies is beefing up ahead of the 2014 midterms with the addition of Ricky Diaz. Diaz served as press secretary for Gov. Pat McCrory's, R-N.C., and is a former member of Gov. Chris Christie's, R-N.J., staff. Diaz oversaw Christie's digital efforts during the New Jerseyan's first campaign in 2009.
MCDONNELL: IT WAS ALL LEGAL - In his last State of the Commonwealth address, Gov. Bob McDonnell, R-Va., maintained that he broke no laws and gave no special treatment in accepting gifts from the head of a nutritional supplement firm. McDonnell did apologize to lawmakers for leaving an "adverse public impression" adding he was "deeply sorry" for the pain he caused the state. The Richmond Times-Dispatch has more.
KELLY FILE:OUTRAGE OVER OBAMA DOJ NOMINEE - The wife of murdered police officer Daniel Faulkner told Megyn Kelly she is outraged that President Obama would nominate Debo Adegbile, the lawyer who defended her husband's killer, to a civil rights post at the Department of Justice. In an appearance Wednesday on "The Kelly File," Maureen Faulkner told Kelly, "To have a man who defended a murderer, someone who murdered a police officer with premeditation and malice - is a radical, is a Black Panther... And to give him an appointment, to nominate him to the Department of justice, is a disgrace." The Fraternal Order of Police has written the administration to voice their opposition to Adegbile's nomination. Watch the full interview from the "Kelly File" here.
MUST BE CONTRACT TIME AT NBC AGAIN… Real estate mogul and reality star Donald Trump is heading to New Hampshire at the end of the month to participate in Saint Anselm College's Politics and Eggs series, an ancient rite of candidacy in the early primary state. Washington Examiner has more.
DE BLASIO RIPS CANTOR ON SCHOOL CHOICE - New York City's Democratic Mayor Bill de Blasio had a scathing answer for House Majority Leader Eric Cantor's call for nationwide school choice and support for charter schools. In an e-mail de Blasio slammed Republican efforts to expand school choice saying ,"it's a dangerous philosophy that turns its back on public education." WaPo has more.
Let's move? Nah. - A new survey from the Centers for Disease Control and Prevention shows first lady Michelle Obama's Let's Move campaign in U.S. schools hasn't caused much of a ripple. AP reports, "Only 1 in 4 U.S. kids aged 12 to 15 meet the recommendations — an hour or more of moderate to vigorous activity every day."
Smoked salmon, man - Some Colorado restaurants are offering meal and marijuana pairings. Time reports patrons of Hapa Sushi can enjoy Pakalolo Shrimp with Pakistani Kush or Honey Miso Salmon with Sour OG.
KENTUCKY'S VERSION OF A GUN CONTROL DEBATE - Kentucky Democratic state Rep. Leslie Combs, who represents a district in the southeastern part of the commonwealth, caused quite the scare in Frankfort Wednesday when she accidentally fired a gun in her capitol office. Combs' colleague Rep. Jeff Greer told AP, "She was emptying the weapon and she thought that it was empty and pointed it away and down and pulled the trigger and it went off… Thankfully, no one was hurt. I know she feels terrible about it. ... It's just an unfortunate event."
[Ed. note: As an Eastern Kentucky politician told me a long time ago, "Politics in Kentucky are more civil. We're better armed."]
Chris Stirewalt is digital politics editor for Fox News. Want FOX News First in your inbox every day? Sign up here. To catch Chris live online daily at 11:30 a.m. ET, click here.