Obama Tries to Break Down Rising Resistance Over Budget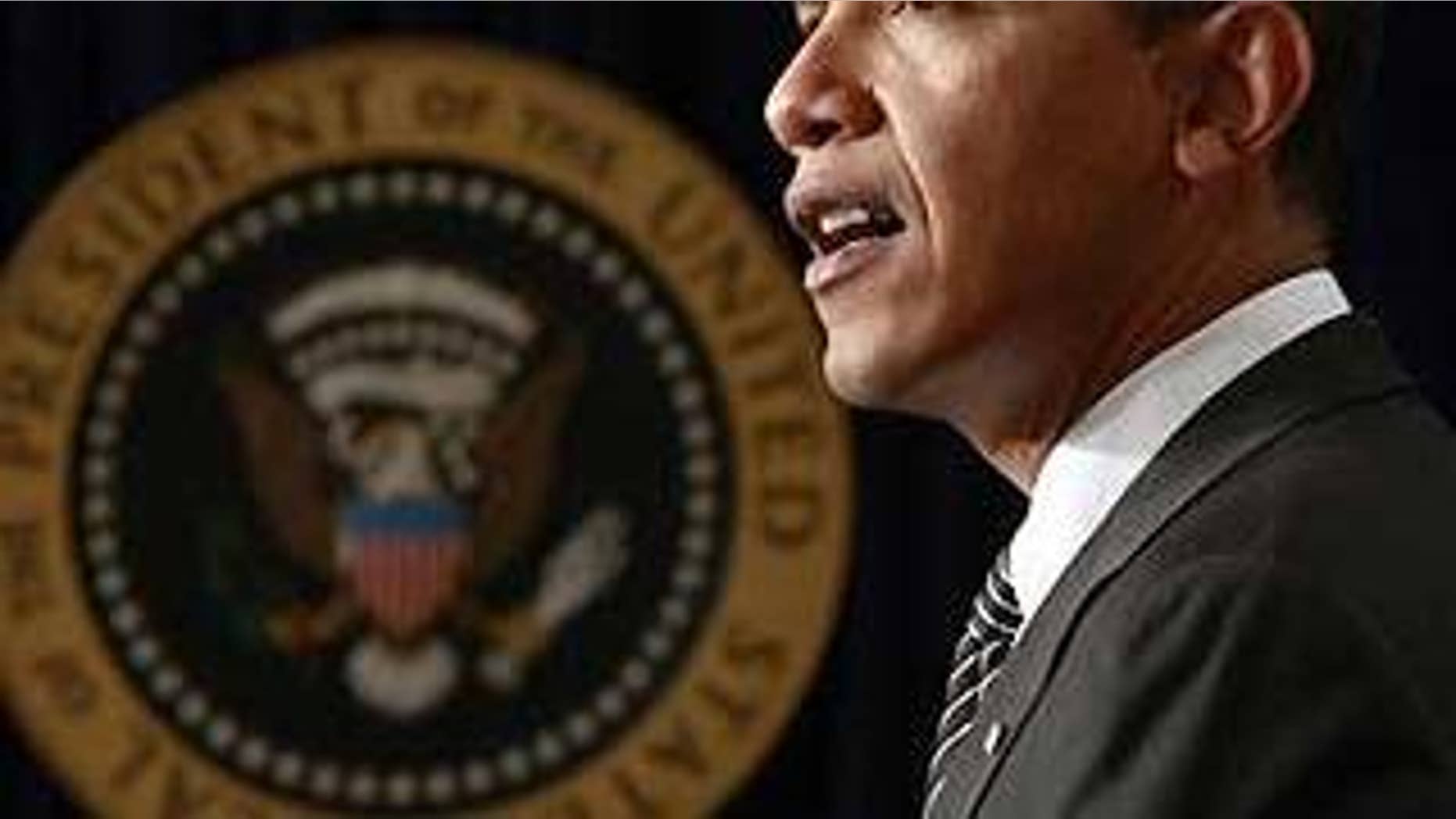 WASHINGTON, D.C. -- President Obama, trying once again to reach over a wall of resistance on Capitol Hill, will make a direct appeal on Tuesday night to the American public to support his economic policies.
But that wall of resistance seems to get higher and harder every day.
Obama, who held a prime-time press conference last month in an effort to build confidence in his $787 billion stimulus package, is holding another one to promote his $3.6 trillion budget proposal.
The proposal, Obama says in prepared remarks, is part of a comprehensive strategy to attack the economic crisis "on all fronts." He says the plan is "inseparable from this recovery" because it lays the foundation for a "secure and lasting prosperity."
Watch President Obama's press conference on FOX News Channel and FOXNews.com starting at 8 p.m. ET Tuesday. 
The president's attempt to sell his budget, though, was complicated over the weekend by a fresh estimate that found the president's financial roadmap would produce $9.3 trillion in deficits over the next decade -- or $2.3 trillion more than the administration anticipated. Either estimate would translate into staggering increases to the national debt, triggering high anxiety in Washington.
Though Treasury officials are mired in a discussion over how to relieve failing banks of their so-called toxic assets, the president's fiscal 2010 spending plan is quickly becoming the toxic budget -- at least to the GOP.
Republicans over the past few days have slammed Obama's blueprint, finding creative ways to express how devastating they say the proposal will be to the nation's financial standing.
"They are taking the United States down the road of destruction with the debt and the interest on the debt that our children and our grandchildren are going to have to pay," Sen. John Ensign, R-Nev., said Tuesday.
After Sen. Judd Gregg, R-N.H., called the budget akin to "banana republic" fiscal policy on Monday, Republicans argued Tuesday that it would run up deficits so high that the United States would not even qualify for membership in the European Union.
"This creates for us a higher deficit than Cuba's," Senate Minority Leader Mitch McConnell said referring to the communist nation's deficit in 2008 equaling 6.7 percent of GDP. "This is not the kind of position we want to put the United States in."
Gregg railed on the spending plan over the Congressional Budget Office estimate that the deficits will end up doubling the country's public debt to 82 percent of its gross domestic product by 2019.
"To try to put it in a different context, if you take all the presidents since George Washington through George Bush and add up all the debt that they've put on the books for the American people, President Obama's proposal actually equals and exceeds that amount of debt in his first term," Gregg said Monday. "Staggering numbers when you think about it, just plain staggering numbers."
If the borrowing continues as projected, U.S. interest payments will climb rapidly -- eventually reaching annual levels comparable to the whopping stimulus package passed last month.
After three years of deficit spending at projected levels, the interest payments would hit $367 billion in 2013. They would hit more than $500 billion in 2015, soar to $734 billion in 2018, and be more than $800 billion in 2019.
Sen. Lindsey Graham, R-S.C., noted that the interest costs would total more than what Obama plans to spend on defense.
Another concern is that China and other nations have been loaning the United States much of the money it needs -- and the Chinese recently questioned their investments in U.S. treasury bonds out of concern the U.S. is getting over-extended.
Senate Democrats are making key changes to Obama's budget, trimming spending and dropping some parts entirely, to keep it alive on the Hill.
Tuesday night's press conference is the president's way of keeping as much of his budget intact as possible as he turns his attention to a new roadmap for the Afghanistan war and to next week's trip to the G-20 and NATO meetings in Europe.
The press conference, like the one in early February, will be about economic salesmanship. The pitch gained momentum last week as Obama appeared on "The Tonight Show With Jay Leno," and later on "60 Minutes."
Obama plans Tuesday to point to historic investments he wants to make in education, health care and energy as critical to economic stability.
But his budget message got lost last week in the outcry over the $165 million in bonuses for executives at American International Group. The controversy seemed to obscure Obama's Web video message, sent out to 13 million Americans on his campaign e-mail list, urging them to hit the streets to drive up support for his budget.
Obama volunteers knocked on doors in all 50 states last weekend. But organizers wouldn't say how much support they heard -- only that they tried to contact 1 million people with calls and personal visits.
Back on Capitol Hill, parts of the president's budget have already been stripped.
Senate Budget Committee Chairman Kent Conrad, D-N.D., said his budget proposal provides no additional financial bailout money to the Treasury Department -- jettisoning its $250 billion request.
"To pass the budget you have to have the votes," Conrad said.
Conrad, who had lunch with Vice President Biden at the White House Monday, said he and staff have "done our best to preserve the President's key priorities. It will cut the deficit by two-thirds in the fifth year to 3 percent of GDP." The chairman said he asked "for significant savings from every committee here."
Senate Majority Leader Harry Reid said Tuesday that Conrad "did the right thing."
The press conference Tuesday night comes after an intense two weeks of finger-pointing over AIG's bonuses.
Though more than a dozen bonus recipients apparently have agreed under pressure to give back their bonuses, Treasury Secretary Tim Geithner and Federal Reserve Chairman Ben Bernanke faced a grilling Tuesday during a hearing on Capitol Hill.
At the same time, Geithner asked Congress for new powers to seize and oversee non-bank companies that are in danger of failing and damaging the economy.
Obama said he hopes Congress approves the authority in short order.
FOX News' Jim Angle, Major Garrett and Trish Turner contributed to this report.