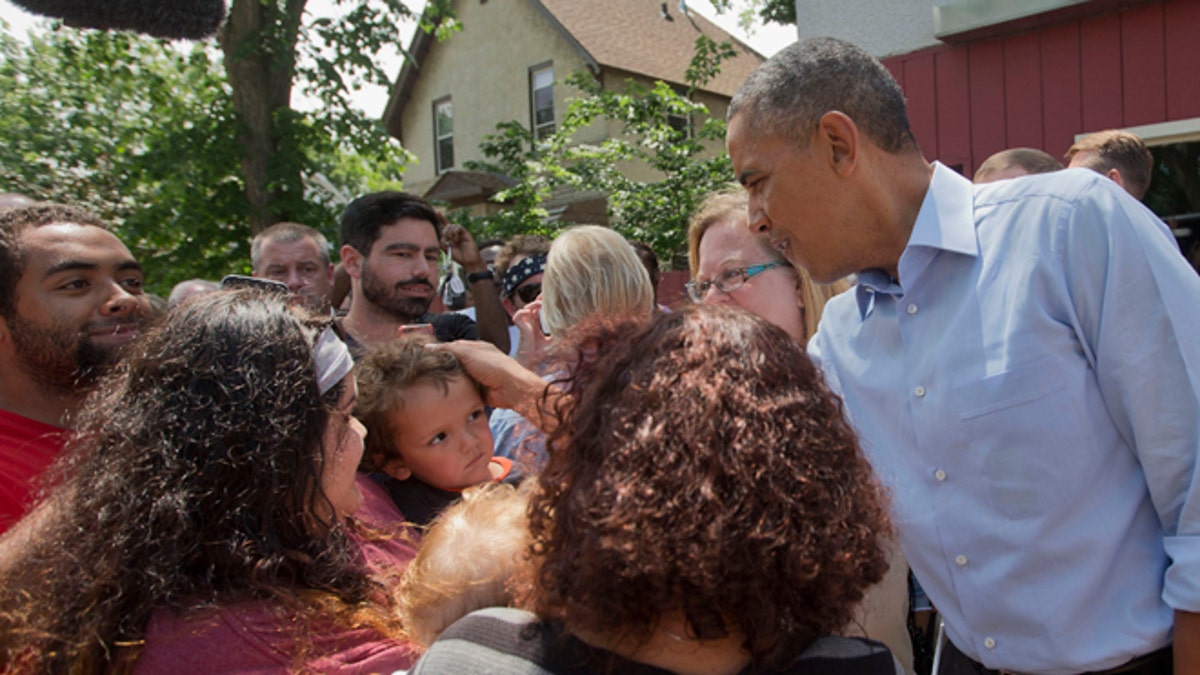 MINNEAPOLIS – President Barack Obama is pitching his ideas to boost the American middle class in Minnesota, a state that already has embraced a key component of the president's economic agenda by moving to raise its minimum wage.
Obama was closing a two-day trip to the Minneapolis area on Friday with a speech on the economy at a castle-shaped bandshell on picturesque Lake Harriet. He'll seek to frame his agenda in terms that resonate for Americans still struggling financially despite the recovery, reinforcing a populist "on your side" economic push that Obama and Democrats are making in the run-up to the 2014 midterm elections.
"It must feel kind of discouraging, because it doesn't feel like what's being talked about in Washington has anything to do with what's going on in your lives day today," Obama said Thursday during a town hall meeting in a Minneapolis park. "And it must feel as if sometimes you're just forgotten."
Minnesota offers Obama a prime opportunity to argue that Democrats have not forgotten the middle class. Although his push to get Congress to raise the federal minimum wage to $10.10 an hour has sputtered, a half-dozen states have responded to Obama's call to action by raising state wages on their own.
Lawmakers in Minnesota recently approved raising the state's minimum wage from $6.15 an hour to $9.50 an hour by 2016, and added protections for women in the workplace. Obama's aides say increasing momentum on the state level can put pressure on Congress to ensure all Americans are paid a wage that lets them live middle-class lives if they work full time.
Obama opened his Minnesota swing Thursday by launching what the White House has dubbed a "Day in the Life" tour whereby Obama will spend time this summer with Americans across the country who are fighting uphill battles to enter or stay in the middle class despite their best efforts to be responsible and productive citizens.
The poster child for his first such visit was Rebekah Erler, a 36-year-old accountant and mother of two. Erler was invited to join Obama for burgers after writing a letter to the president detailing the challenges she and her husband face in reaping the benefits of a recovery from recession that so far has disproportionately benefited those at the top of the income scale.
"We actually have something to offer that young lady," Obama said Thursday evening as he revved up donors at a fundraiser for House Democrats in Minneapolis. "And if she wins, then the country wins, and our kids and our grandkids win."