Obama To Heckler Angry About Record Deportations: We Are On The Same Side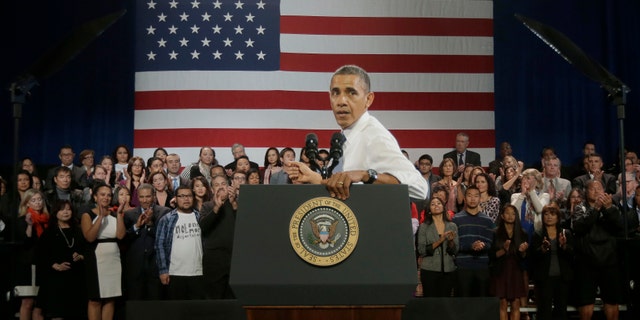 SAN FRANCISCO – President Barack Obama invoked the Thanksgiving spirit Monday in search of an immigration deal with Congress, making a pitch for a legislative priority amid a West Coast fundraising swing.
As he wrapped up his speech in San Francisco, the President was interrupted by a heckler standing on the stage behind him who shouted at the president to stop deportations that split up families. When security tried to remove the demonstrator from the event, Obama said he could stay, noting that they're on the same side.
The demonstrator who apparently inspired other hecklers, 24-year-old Ju Hong, shouted: "I need your help. My family will be separated on Thanksgiving. Please use your executive order. You have the power to stop deportation."
The president turned around and looked at him.
"It won't be as easy as just shouting. It requires us lobbying," Obama said.
Others joined Hong and shouted: "Stop deportation, yes we can."
To which the president also had a response.
"I respect the passion of these young people," Obama responded after a few tense moments, "but we're also a nation of laws, that's our tradition."
The president added: "The easy way out is to yell and pretend I can do something. It's not just a matter of us saying we're going to violate the law."
Hong, who came to the U.S. from South Korea at age 11, was the subject of a UC Berkeley Campus Life YouTube video in 2012, titled "Ju Hong, UC Berkeley Undocumented Student."
The Democratic-controlled Senate has passed a comprehensive bill that includes border security and a path to citizenship for millions of immigrants illegally in the United States. Obama prefers that approach but says he's willing to go along with House Republicans who want to break immigration reform into pieces.
"It's Thanksgiving. We can carve that bill into multiple pieces," Obama said to laughter at the Betty Ann Ong Chinese Recreation Center in San Francisco's Chinatown neighborhood.
Obama said a quarter of the foreign-born population in the United States in 2011 came from Asian countries, and more than a million of the 11 million immigrants in the U.S. illegally are from Asia.
Facing opposition from many rank-and-file Republicans, House GOP leaders don't plan to hold any votes on immigration during what remains of this year.
At the San Francisco Jazz Center hours later, Obama reflected in personal terms about his own family's struggles as he continued a fundraising swing he started the night before in Seattle.
He said he starts each morning thinking about how he found himself in public service in the first place: The difficulties for his grandmother, who as a woman hit a glass ceiling in her career; his mother, who relied on scholarships as a single mom; and his wife's father, a blue-collar worker who never went to college. Obama said he thinks about his family's trajectory and what the U.S. has done for his family.
"I travel around the country and I see that story repeated over and over again," Obama said, adding that he feels privileged to be president "because in some small measure every single day I have an opportunity to advance that story."
After the pair of fundraisers in San Francisco on Monday, Obama was headed to Los Angeles to raise money for House and Senate Democrats. One event will be held at the home of Earvin "Magic" Johnson, the former NBA star and now co-owner of baseball's Los Angeles Dodgers.
Based on reporting by The Associated Press.
Follow us on twitter.com/foxnewslatino
Like us at facebook.com/foxnewslatino