Obama: Suspending Deportations Of Parents 'Not An Option'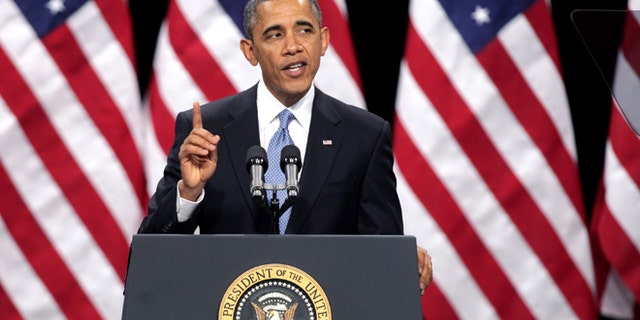 With immigration legislation held up in Congress, advocates have called for President Barack Obama to expand the suspension of deportations he offered to undocumented children last year.
On Tuesday, the president said he would back a more piecemeal approach toward swiftly passing immigration reform. But, he added, offering deportation protection to undocumented parents of immigrants brought here illegally as children was "not an option."
The president told tells Spanish-language TV network Telemundo that broadening the policy would essentially be ignoring the law. And he says he would have a tough time defending it legally.
Immigration advocates have lauded the Obama's administration's Deferred Action For Childhood Arrivals or DACA, which in a little more than a year has granted permission to nearly 300,000 young adults, previously living illegally in the United States, to stay and work through the program. Some 200,000 more undocumented youth have submitted applications.
However, advocates point out that DACA does not protect those who arrived to the U.S. after their 16th birthday or those who are 31-years-old or older – leading to the deportation of about 200,000 parents of children who are U.S. citizens between 2010 and 2012, according to immigration experts. Advocates say the continued deportation of parents leaves thousands of children in foster care.
A study by the Applied Research Center estimated that 15,000 more children would end up in foster care by 2016 if high numbers of detention and deportation continued under the Obama administration.
A new little-noticed directive by the Obama administration in August does call on immigration authorities to exercise discretion when dealing with undocumented immigrants who have minor children.
A record 1.5 million people were deported under Obama's first term in office from 2008 to 2012 - including an unprecedented 409,849 last year.
Obama said in the Telemundo interview that he backed a piecemeal approach to immigration reform. But he said reform legislation had not passed because of House Speaker John Boehner's refusal to put a Senate-passed overhaul to a vote.
"The only thing that's preventing it is – you know, Speaker Boehner's decided that – he doesn't wanna call it right now," he said. "I'm happy to let the House work its will as long as the bill that ends up on my desk speaks to the central issues that have to be resolved."
Obama said he is less concerned about process, and more concerned about getting it done – as long as the bill "speaks to the central issues that have to be resolved" including stronger border security, pathway to citizenship for immigrants who live in the country illegally, and penalties for employers who hire and take advantage of undocumented workers.
Boehner's spokesman said he welcomes a piecemeal approach to immigration reform.
"If immigration reform is going to work, it is essential that we have the confidence of the American people that it's done the right way," Brendan Buck told Reuters. "That means a deliberate, step-by-step approach, not another massive Obamacare-style bill that people don't understand."
Based on reporting by the Associated Press.
Follow us on twitter.com/foxnewslatino
Like us at facebook.com/foxnewslatino