Obama Suggests His Stance on Gay Marriage Could 'Evolve'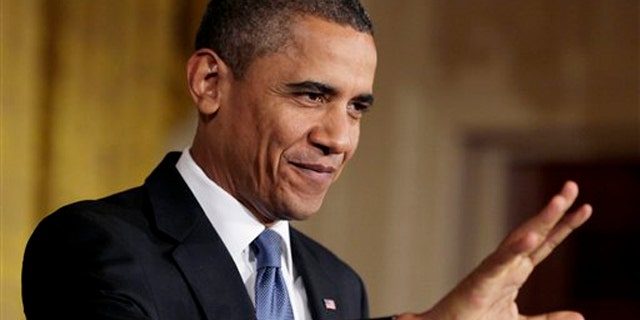 President Obama suggested Wednesday that his opposition to gay marriage is not set in stone, telling a group of bloggers he's thought a lot about the issue as more and more states expand the definition of marriage.
The president stopped short of reversing his public stance, which so far has been in support of civil unions only. But he said pointedly that attitudes, including his, change.
"I have been to this point unwilling to sign on to same-sex marriage primarily because of my understandings of the traditional definitions of marriage," Obama said. "But I also think you're right that attitudes evolve, including mine. And I think that it is an issue that I wrestle with and think about because I have a whole host of friends who are in gay partnerships."
According to a transcript posted by one of the bloggers in attendance, the president joked that he wasn't going to "make big news" during the interview, but noted his opposition to California's Proposition 8, which outlawed gay marriage until it was struck down by a federal judge.
"The one thing I will say today is I think it's pretty clear where the trend lines are going," Obama said.
The president, who has been reaching out to key voting blocs who supported him in 2008 in a bid to drive up turnout in next week's election, also said Wednesday that he wants to push a congressional vote during the lame-duck session to overturn "don't ask, don't tell" before the end of the year.
Obama pushed back on complaints that the White House has not been forceful enough in its opposition to the policy banning gays from serving openly in the military, saying he's taken a "systematic and methodical" approach to ultimately gather the 60 votes needed to pass the repeal in the Senate.
"And my hope is that will culminate in getting this thing overturned before the end of the year," Obama said. The repeal has already cleared the House.
Though Obama's Justice Department is fighting a court ruling against "don't ask, don't tell," the president said he's working within the constraints of the law.
"I'll be honest with you, I don't think that the disillusionment is justified," he said. "So I don't begrudge the LGBT community pushing, but the flip side of it is that this notion somehow that this administration has been a source of disappointment to the LGBT community, as opposed to a stalwart ally of the LGBT community, I think is wrong."
He added that the repeal stands a better chance of passing than comprehensive immigration legislation.
Asked about the trouble the president has had building consensus with Republicans in Congress, Obama said: "I'm president and not king."