Obama slams Rubio for 'running away' from immigration reform bill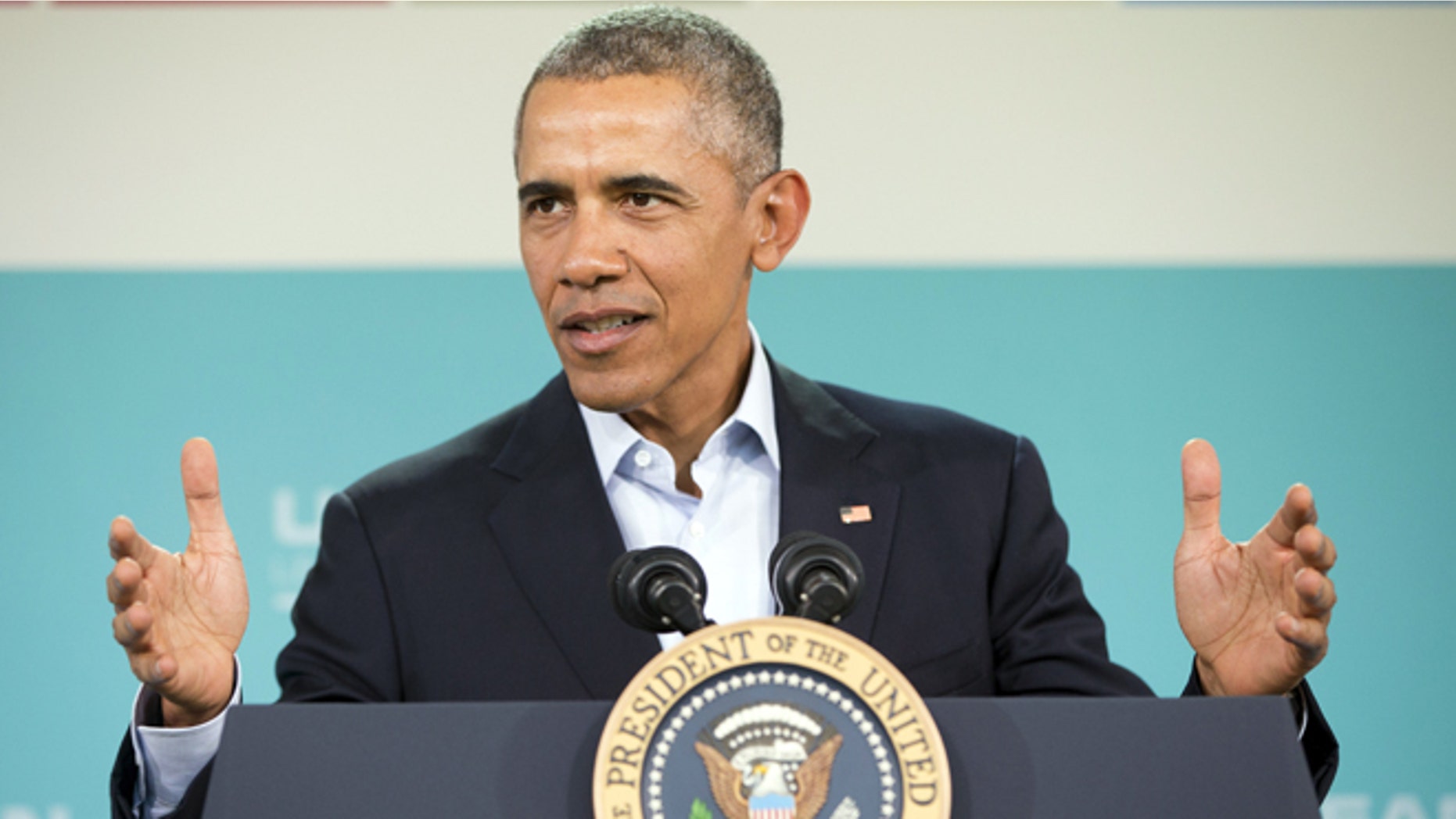 President Barack Obama on Tuesday called out Republican presidential candidate Marco Rubio for changing his position on immigration.
Referring to the 2013 bipartisan immigration reform bill that Rubio helped spearhead, Obama said the Florida senator was now "running away" from his previous position on the issue as immigration becomes a major focal point of the election season.
"You've got a candidate who sponsored a bill that I supported to finally solve the immigration problem, and he's running away from it as fast as he can," Obama said during a press conference in California, according to the Hill.
Rubio was one of the sponsors of the 2013 so-called Gang of Eight immigration bill that passed the Senate. It was sent along to the House, but was never brought up for a vote.
Rubio's participation in the bill has made him a major target for criticism among his GOP presidential rivals. Texas Sen. Ted Cruz has been the most vocal critic of Rubio's involvement in the it – calling the legislation "the Rubio-Schumer Gang of Eight bill" and argued it called for amnesty.
New York Sen. Chuck Schumer, a Democrat, was another co-sponsor of the legislation.
Rubio has backtracked on his support of the bill, saying that the bill was "never intended to become law" and that he hoped his conservative colleagues in the House would make the bill "even better."
The Florida lawmaker wasn't the only Republican candidate that Obama criticized on Tuesday. The president said that all the GOP hopefuls had extreme views when it came to immigration, but that front-runner Donald Trump expresses them in "more interesting" ways.
"He may express strong anti-immigration sentiment, but you've heard that from the other candidates as well," Obama said of the billionaire businessman.
Trump's stance on immigration wasn't the only issue that drew Obama's criticism.
"I continue to believe Mr. Trump will not be president," Obama said, according to ABC. "And the reason is because I have a lot of faith in the American people."
Obama added that being president is "a serious job."
"It's not hosting a talk show, or a reality show. It's not promotion, it's not marketing," Obama said. "It's hard and a lot of people count on us getting it right."
Trump, who said that Obama has done a "lousy job" as president, responded that Obama would have lost his reelection bid in 2012 if the real estate magnate had run against him.
"For him to say that is actually a great compliment," Trump said of Obama's criticism, according to the Los Angeles Times.