Obama Seeks $1.1 Trillion in Deficit Reductions Over Next Decade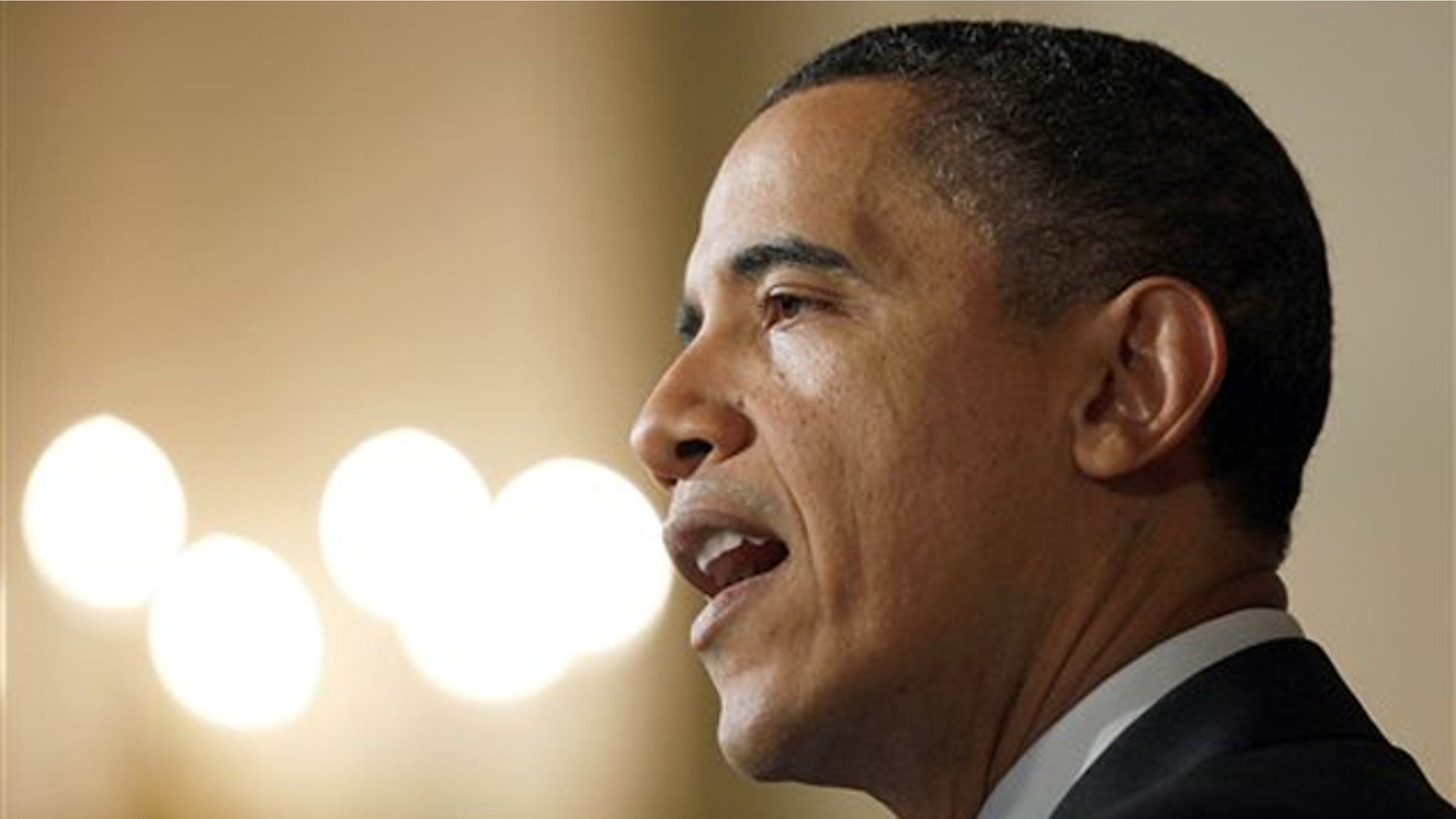 President Obama plans to unveil a budget Monday that aims to cut the deficit by $1.1 trillion over the next decade, a goal that will require deep domestic spending cuts but almost certainly be deemed too meek by Republicans.
As part of the 2012 budget plan, Obama intends to call for a five-year freeze in domestic spending, as promised in his State of the Union address, Fox News has learned. The freeze is estimated to save $400 billion over the next decade and, combined with other cuts and savings, will make up about two-thirds of the $1.1 trillion in deficit reductions.
"After a decade of rising deficits, this budget asks Washington to live within its means, while at the same time investing in our future," Obama said in his weekly radio address Saturday.
Among the proposals, Obama's budget plan would cut $100 billion from Pell Grants over a decade through belt-tightening, but use the savings to keep the maximum college financial aid award at $5,550, an administration official said.
Most of the projected savings, more than $90 billion, would be achieved through two changes, which Congress would have to approve.
The first proposal would end the "year-round Pell" policy that let students collect two grants in a calendar year, with the second grant used for summer school. The official said the costs exceeded expectations and there was little evidence that students earn their degrees any faster.
The change would save $8 billion next year and $60 billion over a decade, the official said.
A second proposal would reduce loan subsidies for graduate and professional students. That would free $2 billion next year and save $29 billion over 10 years, according to the official.
Other cost-saving measures include a two-year freeze on wages for civilian federal workers. The budget also would make cuts in some cherished programs such as the Low-Income Home Energy Assistance Program, which could be trimmed in half -- by about $2.5 billion. The Energy Department plans to propose cutting the Office of Fossil Energy by 45 percent, or $418 million.
The Pentagon's budget would see reductions of $78 billion.
At the same time, Obama has proposed a series of new spending initiatives: Education Secretary Arne Duncan said Friday the administration is looking to spend on new early learning programs, on educational overhauls and on making college more affordable.
Obama also wants to spend $53 billion over six years on high-speed rail.
Republicans signaled in their radio address Saturday that they were ready to push for deeper cuts.
"Next week, a great debate will begin," Sen. Orrin Hatch, R-Utah, said. "The president will send his budget to Congress. And once more Americans will face a time for choosing. Do we accept a future where our children and grandchildren are left holding trillions in IOUs? Or do we get our fiscal house in order, cut spending, and reduce tax burdens on all Americans?"
Despite the deep cuts Obama is seeking, congressional budget analysts estimate this year's budget alone will carry a $1.5 trillion deficit.
Republicans, while preparing to engage Obama over the 2012 plan, are trying to trim that figure by seeking cuts of their own in the 2011 budget. Under a proposal they've crafted, Republicans claim they'll save $100 billion as compared to Obama's budget request for this year -- which was never enacted.
While Republicans are pressing Obama for deeper cuts, some congressional Democrats want Obama to resist that degree of belt-tightening, warning that crucial programs could be at risk.
The Pell Grant program Obama is targeting is the primary college financial aid program for low-income students. The program helps more than 8 million students attend college each year, according to the White House, and under Obama the maximum award was increased to $5,550.
Demand for the grants -- which don't have to be repaid -- has increased sharply since the economic slump because more job seekers are returning to school to learn new skills and they need help paying the tuition, the administration official said.
The administration is projecting a $20 billion shortfall in the program next year.
The Associated Press contributed to this report.