Obama returns to US to meet with France's Hollande, confront world terror threat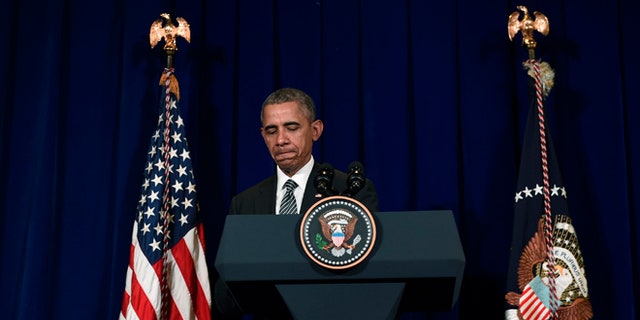 President Obama returned early Monday to Washington where he'll meet with French President Francois Hollande, following the deadly terror attacks in Paris that have dominated world politics including sharp debate in the U.S. about how to stop Islamic extremists believed responsible for the strikes.
"Our coalition will not relent," Obama said Sunday in Malaysia, the final stop in his roughly one-week overseas trip. "They cannot beat us on battlefield, so they'll try to terrorize us into being afraid. … As president, I will not let that happen. I will not give into fear."
The president is scheduled to host Hollande in an Oval Office meeting Tuesday.
The world leaders have spoken several times since the Nov. 13 attacks in Paris. They were supposed to meet at a summit last weekend in Turkey, but Hollande cancelled in the wake of the attacks.
The White House says this meeting will focus on coordinating effort in the French-led investigation into the attacks that killed 130 people and for which the Islamic State terror group has claimed responsibility.
Obama and Holland also plan to discuss efforts as part of a 65-member coalition to stop the Islamic State. And they will reiterate their "shared determination to confront the scourge of terrorism," the White House also said.
Though Obama has made clear his intentions to stop the group, he has faced criticism about not doing enough and lacking a solid plan of attack.
The president has made clear that he doesn't want to send soldiers into Syria to fight the group and risk getting the United States into a war. And he has so far stuck with a strategy of leading the coalition air-strikes in Syria and sending roughly 50 Special Forces members into that country.
Reports that at least one of the Paris attackers slipped through Europe's vetting process for Syrian refugees and entered France has also raised concerns about resettling more Syrian refugees here and abroad.
The president has said the country will continue to meet its humanitarian obligation and help refugees from war-torn Syria.
However, Americans appear nervous about the thoroughness of the vetting process.
In fact, a Fox News poll released Sunday found that 67 percent of those surveyed opposes the president's plan to take in at least 10,000 more Syrian refugees through next year.
And 49 percent responded that it was "very likely" that at least one person coming into the country through the process would be a terrorist who will succeed in carrying out an attack on U.S. soil.
Also on Sunday, Republican presidential candidate Sen. Marco Rubio called for more foot soldiers in Syria -- mostly Arab Sunnis with some American "special operators."
"It's the only way to do it," he told "Fox News Sunday."
Rubio also backed the bill passed Thursday by the GOP-led House that would increase the vetting of refugees from Syria's 4-year-long civil war, calling it an "appropriate response."
He also argued the existing vetting process appears adequate but the problem is that officials don't have a good database on applicants from which to work.
"It's not that the vetting isn't happening," Rubio said. "It's that the vetting does have the reliable data."
Over the past several weeks, and in addition to the Paris attacks, suicide bombers thought to be connected to the Islamic State killed roughly 50 people near a mosque outside of Beirut. And the group has claimed responsibility for the downing of a Russian jetliner over the Egypt's Sinai Peninsula late last month.
Islamic terrorists are also claiming responsibility for the attack Friday on a luxury hotel in Mali that killed 19 people, including one American, 41-year-old Anita Datar of suburban Washington.
Also on Sunday, California Democratic Sen. Dianne Feinstein said she supports the president's efforts toward defeating the Islamic State and removing Syrian President Bashar Assad. But she argued more must be done more quickly.
"Assad has got to go, but the question is how and where and over what period of time. … He's killed 250,000 people," Feinstein, vice chairwoman of the Senate Select Committee on Intelligence, told CBS's "Face the Nation.
"I'm concerned that we don't have the time, and we don't have years. We need to be aggressive now, because ISIL … has 30,000 fighters. It's got a civil infrastructure. It's got funding. It's spreading in other countries. And it's a big, big problem."