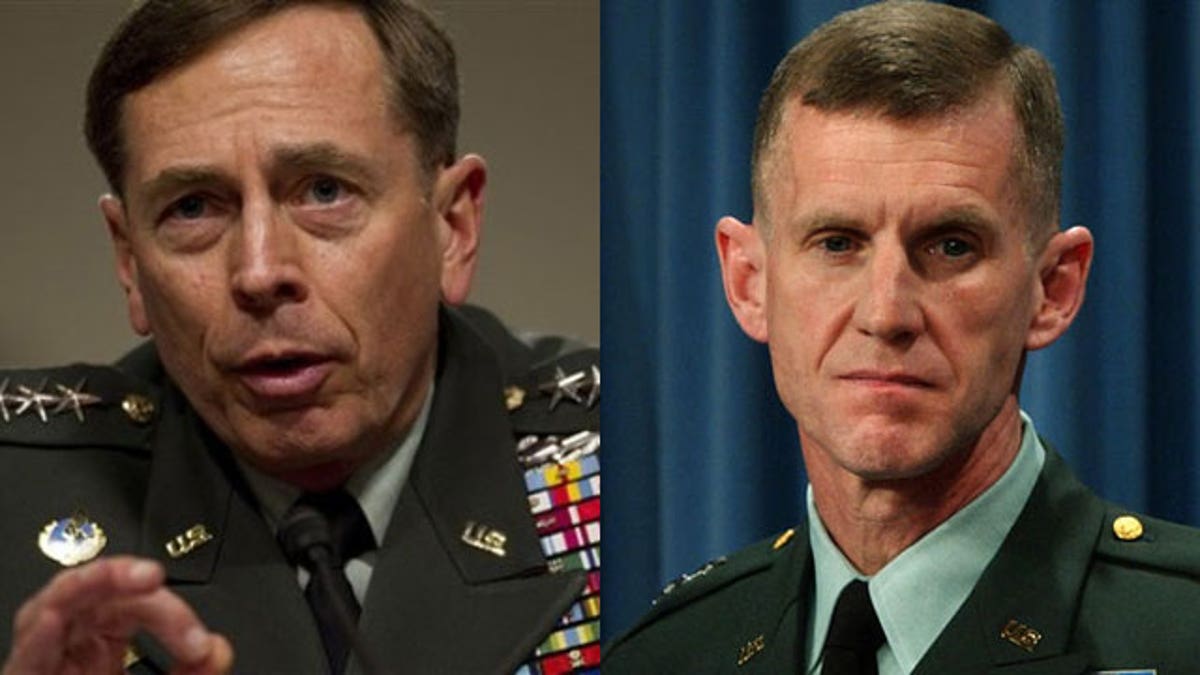 President Obama said Wednesday he feels no "personal insult" from Gen. Stanley McChrystal but accepted his resignation as the commander of U.S. forces in Afghanistan because he couldn't abide scathing comments by McChrystal and his aides that appeared in an article out this week in Rolling Stone magazine.
"The conduct represented in the recently published article does not meet the standard that should be set by a commanding general. It undermines the civilian control of the military that is at the core of our democratic system. And it erodes the trust that's necessary for our team to work together to achieve our objectives in Afghanistan," Obama said.
In Rose Garden remarks, Obama nominated Gen. David Petraeus, the head of U.S. Central Command and the former commanding general in Iraq, to replace McChrystal. Petraeus' confirmation hearing in the Senate could come as early as Thursday.
The president said he had no disagreements with McChrystal's policy or conduct in the war in Afghanistan, and the change in personnel does not mean a change in policy. He said the two were on the same page in terms of war strategy, but no "diversion" to the mission was acceptable.
"I don't make this decision based on any difference in policy with General McChrystal, as we are in full agreement about our strategy. Nor do I make this decision out of any sense of personal insult. Stan McChrystal has always shown great courtesy and carried out my orders faithfully. I've got great admiration for him and for his long record of service in uniform," he said.
Flanked by Petraeus, Vice President Joe Biden, Defense Secretary Robert Gates, Joint Chiefs of Staff Chairman Adm. Mike Mullen, Obama said he relieved McChrystal "with considerable regret, but also with certainty that it is the right thing for our mission in Afghanistan, for our military and for our country.
"War is bigger than any one man or woman, whether a private, a general or a president," he said.
According to administration officials, McChrystal did not fight to keep his job. He offered his resignation immediately during a face-to-face meeting with Obama Wednesday morning in the Oval Office and the president accepted it without hesitation, though "regretfully and sorrowfully."
After meeting for 30 minutes with McChrystal, Obama summoned his top advisers to discuss the situation. He afterward met with Petraeus for 40 minutes and asked him to accept the vacant position -- Petraeus was aware ahead of time that he could be asked to assume the job, according to officials. The general will bring in his own staff once, as expected, the Senate confirms him as head of U.S. forces in Afghanistan.
Before announcing the decision, Obama called Afghan President Hamid Karzai. McChrystal was originally scheduled to join in on a national security team strategy session in the Situation Room on Wednesday via teleconference, but he was summoned to Washington amid concern over the article.
If not insubordination, the remarks in the Rolling Stone magazine article were at least an indirect challenge to civilian management of the war in Washington by its top military commander. Military leaders rarely challenge their commander in chief publicly, and, when they do, consequences tend to be more severe than a scolding.
The president won bipartisan support for his decision Wednesday. Republicans, while praising McChrystal for his service, said he had crossed a line.
"General McChrystal's recent comments were entirely inappropriate," Rep. Peter King, R-N.Y., said in a written statement.
Karzai said through a spokesman that he hoped for a different outcome but respected the decision.
Gates hand-picked McChrystal to take over the war last year, calling him a driven visionary with the fortitude and intelligence to turn the war around. Obama fired the previous commander at Gates' recommendation.
In Kabul on Tuesday, McChrystal issued a statement saying: "I extend my sincerest apology for this profile. It was a mistake reflecting poor judgment and should never have happened." He later fired his press aide.
In the Rolling Stone article, McChrystal and his staff described the president as unprepared for their first one-on-one encounter.
McChrystal also said he felt betrayed and blind-sided by his diplomatic partner, Ambassador Karl Eikenberry. Eikenberry remains in his post in Kabul, and although both men publicly say they are friends, their rift is on full display. McChrystal and Eikenberry, himself a retired Army general, stood as far apart as the speakers' platform would allow during a White House news conference last month.
The Rolling Stone story characterized the general as unable to convince some of his own soldiers that his strategy can win the nation's longest-running war, and dejected that the president didn't know about his commendable military record.
The article says that although McChrystal voted for Obama, the two failed to connect from the start. Obama called McChrystal on the carpet last fall for speaking too bluntly about his desire for more troops.
"I found that time painful," McChrystal said in the article, on newsstands Friday. "I was selling an unsellable position."
It quoted an adviser to McChrystal dismissing their early meeting last year as a "10-minute photo-op."
"Obama clearly didn't know anything about him, who he was. The boss was pretty disappointed," the adviser told the magazine.
Some of the strongest criticism was reserved for Richard Holbrooke, Obama's special envoy to Afghanistan and Pakistan.
"The boss says he's like a wounded animal," one of the general's aides was quoted as saying. "Holbrooke keeps hearing rumors that he's going to get fired, so that makes him dangerous."
McChrystal also said he felt "betrayed" by Eikenberry for expressing doubts about his proposed troop buildup last year and accused the ambassador of giving himself cover.
"Here's one that covers his flank for the history books," McChrystal told the magazine. "Now, if we fail, they can say 'I told you so."'
Obama agreed to dispatch an additional 30,000 U.S. troops to Afghanistan only after months of study that many in the military found frustrating. The White House's troop commitment was coupled with a pledge to begin bringing troops home in July 2011, in what counterinsurgency strategists advising McChrystal regarded as an arbitrary deadline.
The profile, titled "The Runaway General," emerged from several weeks of interviews and travel with McChrystal's tight circle of aides this spring.
It includes a list of administration figures said to back McChrystal, including Gates and Secretary of State Hillary Rodham Clinton, and puts Vice President Joe Biden at the top of a list of those who don't.
The article claims McChrystal has seized control of the war "by never taking his eye off the real enemy: The wimps in the White House."
Fox News' Major Garrett and The Associated Press contributed to this report.