Obama push to arm rebels throws wrench into bid to keep gov't running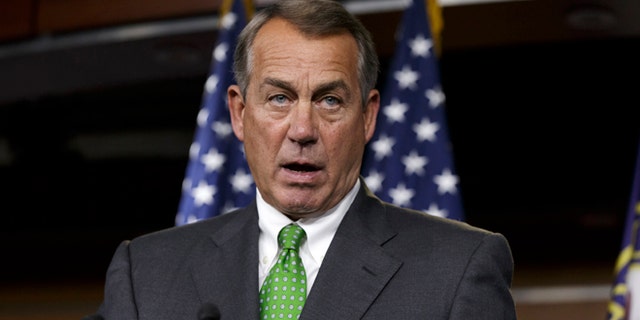 President Obama's push for new authority to arm and train Syrian rebels, while earning him rare bipartisan praise, could also imperil congressional efforts to pass a stopgap spending bill and avoid a partial government shutdown.
House Republican leaders, who want to move the bill before lawmakers hit the campaign trail, had already prepped a straightforward version to fund the government beyond the current fiscal year – which ends Sept. 30 -- when the president complicated matters by lobbying leaders to tack on additional authorities to confront the Islamic State.
That threw a wrench into plans for the chamber to pass the so-called "continuing resolution" as early as Thursday and give the Senate at least one full week to consider it before leaving town later this month.
Now some lawmakers are voicing concerns about whether there is a "vetted group" in Syria that the U.S. can work with – and whether there's enough time to figure that out.
"It's a complicated big-time change in policy," House Appropriations Committee Chairman Hal Rogers told reporters prior to the president's speech. "I'd hate to see this attached to a continuing resolution at the very last minute. This is a complex, complicated policy change that needs to be fully vetted by the Congress."
Indeed, Obama's last-minute maneuvering has lawmakers on all sides split over the issue of whether the president even needs to come to Congress for permission, much less the wisdom of attaching the contentious provisions to a must-pass government funding bill. The House GOP resisted initial attempts to tie the two matters together but decided to reconsider that strategy after it became clear Obama would use his Wednesday night address to publicly request the new authorization.
For their part, House Republican leaders hit the "pause" button and halted the procedural wheels in a bid to take the temperature of their caucus Thursday morning. Following that meeting, House Speaker John Boehner told reporters they stand ready to work with the president but are not convinced his strategy will be sufficient.
"A lot of our members don't feel like the campaign that was laid out last night will accomplish what needs to be done," the Ohio Republican said, adding that "somebody's" boots will have to be on the ground.
Boehner pledged to give Obama additional authorities to train and equip members of the opposition in Syria but did not commit to attaching it to a government funding bill.
Even if the chamber were to incorporate the request into the CR and adopt the bill, things could get bumpy in the Senate, where Majority Leader Harry Reid has largely shielded a number of vulnerable Democrats from controversial votes ahead of crucial midterm elections.
While Senate Republicans have been virtually united in calling on Obama to seek congressional approval to confront ISIS, Reid's caucus has been splintered on the issue. The Nevada Democrat has been outspoken that he doesn't believe Congress needs to sign off on new airstrikes. Other members, like Sen. Tim Kaine of Virginia, have argued that Obama needs the body's blessing for ongoing airstrikes against ISIS in Iraq, let alone new action in Syria.
Democratic senators up for re-election this fall haven't been afraid to distance themselves from the president's strategy. In a statement, Sen. Mark Begich of Alaska panned his proposal to arm rebels in Syria, worrying the weapons could wind up in the hands of extremists down the road, while Sen. Mark Udall of Colorado said that any action beyond airstrikes requires new legal authority.
However leaders navigate a possible Islamic State provision to the CR, the specter of military action isn't the only hurdle for leaders trying to pull the spending bill across the finish before the end of the fiscal year.
Conservatives are also pushing back against plans to set the bill's expiration date in mid-December, leaving a post-election, lame-duck Congress to set new spending levels.
"It would be a serious mistake for House Republicans to pass a Continuing Resolution that would ensure that Harry Reid and the Senate Democrats would come back to Washington, after many of them will have likely lost their seats, for a no-holds barred lame duck session where they will be free to pass legislation that the American people will never be able to hold them responsible for," Texas Sen. Ted Cruz said, calling for an expiration date sometime after a new session of Congress is sworn in.
Beyond the end date, reauthorization of the Export-Import Bank is another hot-button aspect of the CR as drafted by Rogers. Conservative groups like the Club for Growth have called on lawmakers to vote down the spending bill in part for that reason, while GOP leaders have said it will be easier to phase out the bank next year. The institution helps finance foreign purchases of American exports.
Capitol Attitude is a weekly column written by members of the Fox News Capitol Hill team. Their articles take you inside the halls of Congress, and cover the spectrum of policy issues being introduced, debated and voted on there.