Obama meetings with Congress few and far between, as post-election challenges loom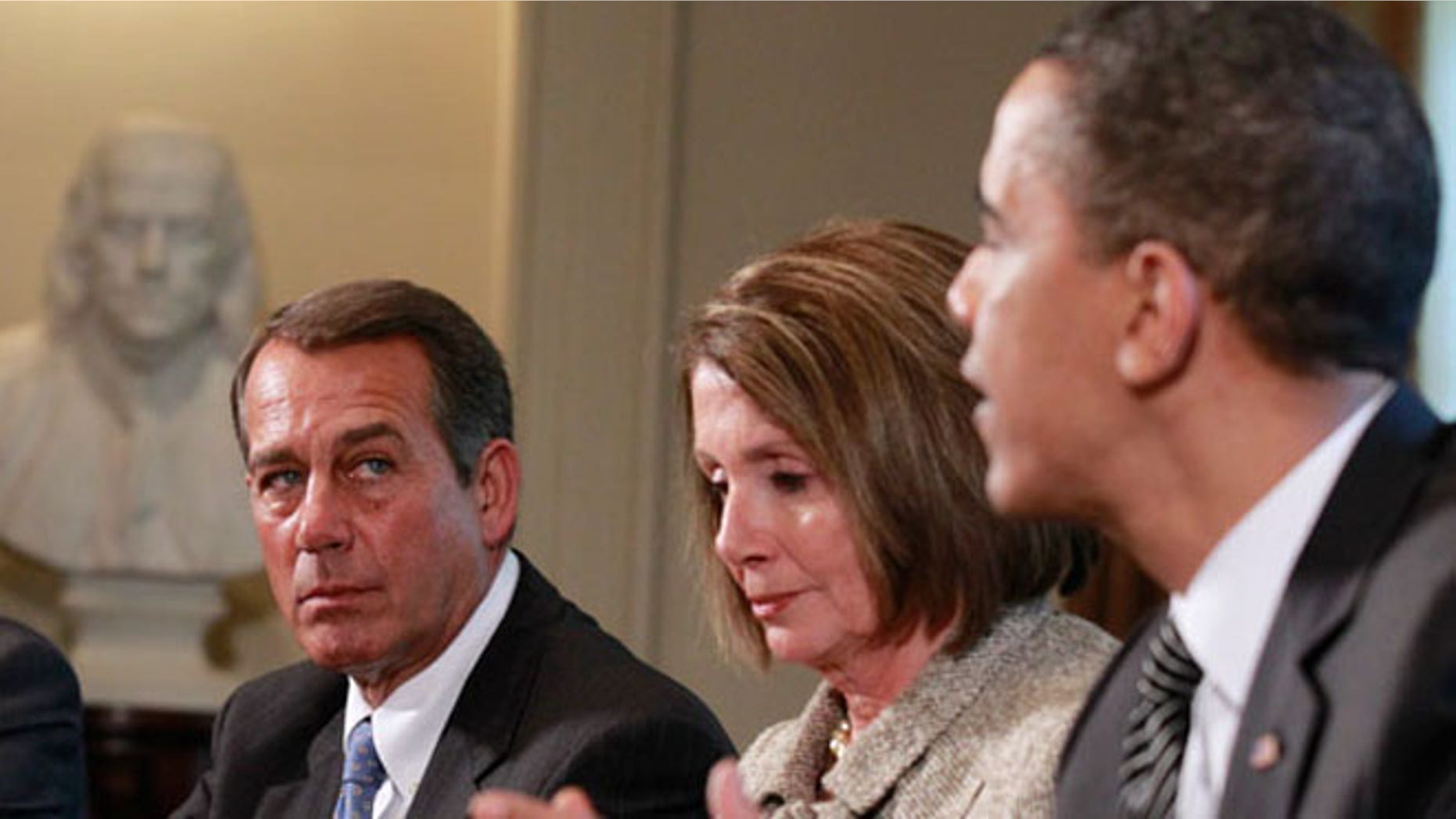 President Obama teased Mitt Romney last week when the Republican challenger called for regular meetings with congressional leaders.
The president noted Romney's call to repeal "ObamaCare" wouldn't sit too well with Democratic participants.
But the president's skepticism toward meetings with lawmakers -- particularly at the height of an election year -- is reflected not just on the debate stage, but in his schedule in Washington.
Over the past six months, the president has held just one formal meeting with the top four congressional leaders. Since the beginning of the year, he's held two.
The light schedule underscores how lawmaking in Washington has drawn to a near standstill this year, with Obama maintaining an aggressive campaign itinerary and lawmakers jockeying for the majority on the far side of Election Day.
It has long been the assumption that some of the most pressing business won't be tackled until the post-election lame-duck session. But the move to push off everything -- from looming tax hikes to crippling defense cuts to another possible debt-ceiling showdown -- runs the risk that Congress and the White House won't be able to fix it all in just two months.
"You only get a certain number of legislative days," John Ullyot, Republican strategist and former longtime Senate staffer, said.
With so much lost time and Congress currently out of session, Ullyot predicted lawmakers will end up pushing for a short-term extension of current policy -- and then try and hash everything out early next year, though a few have started to sketch the outlines of what could be accomplished.
Ullyot said Obama faced a choice this year. The president could have pushed early on for a deal with House Speaker John Boehner, or wait until the election. He chose the latter, Ullyot said, because of pressures from his own party, hoping to get a "mandate" for the changes they want after the election. Republicans are hoping for the same.
"The optics aren't great to have a president not sitting down (to work with lawmakers), but the politics of his own party push him in that direction," Ullyot said.
The "optics" have been used against him.
Republicans have started to ramp up claims that Obama has been missing in action in Washington this year. He took heat for departing last month on a string of campaign stops in the immediate aftermath of the deadly attack on the U.S. Consulate in Libya.
Romney seized on the theme at last Wednesday's debate. He vowed to bring leaders together, citing his record of meeting every Monday with legislators when he was Massachusetts governor.
"As president, I will sit on day one -- actually, the day after I get elected -- I'll sit down with leaders, the Democratic leaders, as well as Republican leaders," he said.
"We have to work on a collaborative basis. ... And Republicans and Democrats both love America. But we need to have leadership -- leadership in Washington that will actually bring people together and get the job done and could not care less if it's a Republican or a Democrat. I've done it before. I'll do it again."
Obama swiftly countered by suggesting Romney was getting off on the wrong foot with Democrats with his plan to repeal the health care law. "First of all, I think Gov. Romney's going to have a busy first day, because he's also going to repeal ObamaCare, which will not be very popular among Democrats as you're sitting down with them."
He went on to say, "I will take ideas from anybody" so long as they're "advancing the cause of making middle-class families stronger."
He claimed "progress even under Republican control of the House" but said being a leader means describing "exactly what it is that you intend to do" and not just saying "I'll sit down."
Indeed, Obama's been doing more of the former than the latter.
His last formal meeting was May 16, when he brought in Boehner, House Democratic Leader Nancy Pelosi, Senate Republican Leader Mitch McConnell and Senate Democratic Leader Harry Reid to talk about the looming debt-ceiling fight. It was preceded by Boehner threatening to hold up a debt-ceiling increase unless the administration once again consents to spending cuts. Obama warned congressional lawmakers not to stage a repeat of last summer's showdown that brought the nation to the brink of default.
Since then, though, little public progress has been made between the Executive and Legislative branches on that and other issues.
Obama hosted congressional leaders on June 27 for the annual congressional picnic, but the event was mostly social. Obama urged lawmakers to take off their ties and "enjoy the barbecue" but didn't discuss the debt ceiling or tax hikes in his public remarks.
The only other meeting this year was on Feb. 28, when he and Vice President Biden met for lunch with the four congressional leaders to talk about jobs.