Obama Looks to 'Bundlers' for 2012 Re-Election Campaign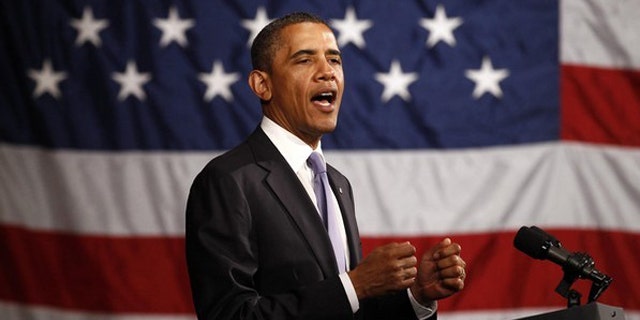 NEWYou can now listen to Fox News articles!
Despite the recent public lashing President Obama gave millionaires and billionaires, in private, Team Obama is once again diving into the pockets of the super rich to fund its campaign.
With the 2012 campaign barely under way, Obama has already raised some $35 million from the biggest donors -- so-called 'bundlers' who collect money by the truckload from the wealthy elite.
"A bundler is someone who collects checks from other people," said Susan Estrich, a former Democratic campaign manager. "They may be people who work for him, who hired him as a consultant or in many cases, want to do business with them."
Some of the high-profile bundlers Obama signed up this year include former New Jersey Governor and Goldman Sachs CEO Jon Corzine, Vogue editor Anna Wintour, Dreamworks' studio head Jeffery Katzenberg, and David Cohen of Comcast, the new owner of NBC-Universal.
Wall Street, including the hedge fund managers blasted by Obama, gave the president's 2012 campaign $7 million, followed by lawyers at $6 million and businesses at $4 million.
"We're going to see a different mixture of fundraisers and bundlers this time," said Bob Stern with Los Angeles-based Center on Governmental Studies. "In 2008, it was about ideology. It was people who were committed to Obama the person. What we see now are the Wall Street types, business types -- people who want something from government."
That's not to say Obama's 2008 bundlers didn't want something. Obama rewarded half of his top money men plum government appointments. Matthew Barzun, who raised $500,000, was named Ambassador to Sweden. Bill Eacho, who bundled a similar amount, received the Ambassadorship to Austria.
"When you call up the White House and you've raised $500,000, I can guarantee you your call will go through," said Stern.
Yet some of Obama's 2008 bundlers have yet to join the president's 2012 team. Some are disillusioned, others are busy. In Los Angeles, just 55 of Obama's 97 top bundlers are back, according to figures from the Center for Responsive Politics. In Chicago, only of 11 of the campaign's 84 bundlers returned.
"There are a lot of disappointed Democrats today," said Estrich. "So you're going to see a little bit of coolness in the short run. But in the long run, California Democrats will be with Barack Obama."
It's still early in the campaign, and some don't have the stomach for another year of phone calls and fundraisers. And while Obama may win the money war, Stern said it doesn't mean he'll win the election.
"If he can't get the liberals excited, if he can't get his base excited, he could be in real trouble, no matter how much money he spends," he said.