Obama Going Personal in Bid to Sell Economic Plan, Lift Political Spirits Toward Party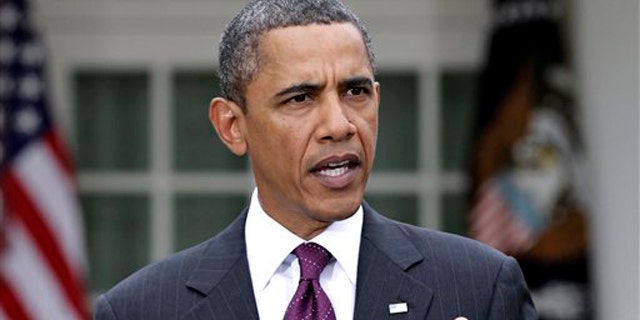 President Obama, once again hard on the campaign stump trying to sell his economic agenda, plans to return to the kind of intimate and inspiring vibe that carried first his autobiography, then his breakout 2004 DNC speech and ultimately his juggernaut presidential campaign.
White House Press Secretary Robert Gibbs said that when Obama takes the stage in Cleveland Wednesday to discuss his latest economic proposals, his personal story will start to make its way back into the rhetoric.
Obama's personal story has a proven track record of resonating, at the polls and in book sales. His book, "Dreams From My Father," told the story of his unique upbringing, opening with Obama as a young man receiving the news from Africa about his father's death and taking the reader through his childhood in Indonesia and Hawaii. The book traces his eventual journey to Kenya to meet his extended family from his father's side.
This back-story informed his presidential campaign. Gibbs said Tuesday that Obama has tried to "walk people through" what they're experiencing by reflecting on what he's experienced, and that, "I do anticipate you'll hear more."
But voter attitudes this year are so skeptical toward Democrats and down on Obama's performance on the economy, it's unclear whether audiences will be receptive to a new-found personal touch from the president. A new Wall Street Journal/NBC News poll pegged his approval rating on the economy at 39 percent.
Several administration officials told Politico.com that the president is planning to make a conscious rhetorical shift, eschewing the professorial role for an approach that would allow Obama to once again tell his story and try to connect that with the hardships Americans are facing. This narrative, according to the officials, will guide audiences through his family past, including anecdotes about his grandparents and his mother, who raised Obama in a single-parent home and at one point had to go on food stamps.
Pennsylvania Gov. Ed Rendell, a loyal but blunt-talking Obama ally, told Politico.com that "substance" is more important than "messaging," but at this point the White House might as well try a new tack.
"The 'I feel your pain' message worked for Bill Clinton, so it's good to see him doing it. At this point, there's nothing to lose, so let it all roll," Rendell said.
Obama is on the road to both build confidence in congressional Democrats and support for a $180 billion set of new economic proposals. They include a $50 billion infrastructure investment, a $100 billion permanent extension of the research and development business tax credit and a tax break for capital investments said to cost about $30 billion net over the next decade.
The president is balancing his personal story with an increasingly aggressive tone toward congressional Republicans. One administration official said Obama will focus on the "divergent paths" the two parties are proposing this fall for the economy.
"What's being offered on the other side offers absolutely no hope for recovery -- it's basically a going-back to some of the old nostrums that got us into this problem and sitting down and hoping for a better result," one official said. "That's not what we can afford to do as a country"
Officials blamed Republicans for "repeatedly" blocking Obama's economic proposals.
Obama plans to once again endorse extending the Bush tax cuts for the middle class -- and not for the top tier of wage earners, despite Republican criticism that doing so will cut into the profits of small businesses and job creators.
Senate Republican Leader Mitch McConnell called the move a "massive tax hike on small businesses in the middle of a recession."
"It's no surprise that most Americans think the country is on the wrong track and that Democrat policies have failed to do anything to fix their top concern, the economy," he said in a statement.
House Republican Leader John Boehner said the president has better things to do than go after his statements.
"The American people are asking the question, 'where are the jobs?' and yet here's the White House worrying about what I've got to say," he said in an interview on ABC's "Good Morning America."