Obama Brings Home the Bacon From India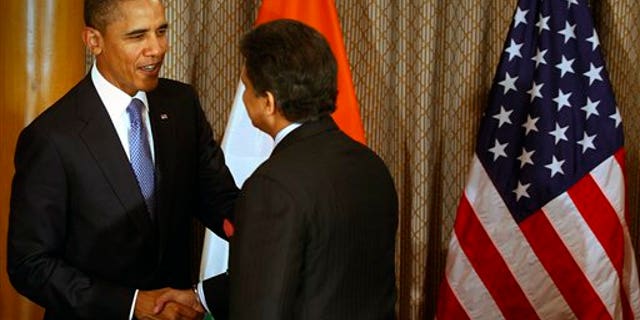 On his first trip to India, and just days after receiving a "shellacking" in the midterm elections, attributed in part to continued high unemployment, President Obama announced several "landmark" trade deals the White House says will create tens of thousands of jobs back home.
"For America, this is a jobs strategy. As we recover from this recession, we are determined to rebuild our economy on a new, stronger foundation for growth. And part of that foundation involves doing what America has always been known for: discovering and creating and building the products that are sold all over the world," said President Obama.
Several of the 20 deals - worth $10 billion and expected to create 53,670 U.S. jobs - were already in the works, but the White House says the president's visit to India helped solidify them.
"A presidential visit to any country is an action-forcing event," said Mike Froman, Deputy National Security Advisor for International Economic Affairs. "It helps concentrate the minds of decision-makers. And I think particularly with regard to deals that involve governments in the case of defense procurement, et cetera, he can help finalize deals that have been under discussion for a long time before. So I think that's the case in some of these areas."
The commercial deals include: the purchase of 33 737s from Boeing by India's SpiceJet Airlines; the preliminary agreement between Boeing and the Indian Air Force on the purchase of 10 C17s; the Indian military's plans to buy aircraft engines from General Electric; and plans for Harley-Davidson Motor Company, to open a new assembly plant in India.
In the wake of midterm election losses attributed to the still sluggish economy, the president was eager to communicate his 10 day, four country Asia trip is focused on both the creation of U.S. jobs and the domestic economy. But will Americans - many of whom think their jobs were stolen from them by workers in India - make the connection? It's a topic the president took head on.
"There are many Americans whose only experience with trade and globalization has been a shuttered factory or a job that was shipped overseas. And there still exists a caricature of India as a land of call centers and back offices that cost American jobs. That's a real perception," admitted the president. "But these old stereotypes, these old concerns ignore today's reality: In 2010, trade between our countries is not just a one-way street of American jobs and companies moving to India. It is a dynamic, two-way relationship that is creating jobs, growth, and higher living standards in both our countries. And that is the truth."
As far as shipping jobs overseas, U.S. companies have invested a total of $18.6 billion in direct investment in India's economy to date. That is less than 1% of what U.S. companies have invested in Europe - $1.98 trillion.
But President Obama says the deals are significant for both countries.
"Our trade relationship is not just about what America sells India. It's also about [what] Indian investment in America is doing," said Obama. "Indian investment in America is among the fastest growing of any country. In recent years, Indian companies have invested billions of dollars in the United States -- in American machinery, manufacturing, mining, research, technology. Today, these investments support tens of thousands of American jobs."
The president announced the deals in remarks to U.S and Indian business executives, after having meet with entrepreneurs, and then with American CEOs, including Jeffrey Immelt of General Electric. Immelt, whose company also worked a deal to provide 2400 megawatts of gas turbine technology, the largest gas-turbine order in the history of India, told reporters globalization is not a "zero sum game." It's sentiment the president was keen to publicize Saturday in a country he described as an indispensable partner sharing common values, but which many back home see as taking jobs away via outsourcing.
"Folks back home in the US need to embrace the possible partnership with India, as a democracy, one that appreciates human rights, pluralism, one that has an entrepreneurial culture," Mr. Obama told reporters.
Experts agree.
"In a globalized economy, we increasingly have people and functions moving around, and the U.S. has benefitted," said Teresita Schaffer of the Center for Strategic & International Studies.
"Business people have been the best ambassadors we have," said Dan Griswold of the CATO Institute in Washington." There is a positive aspect to big companies like IBM and GE investing in India, there is nothing wrong with that," Griswold argues.