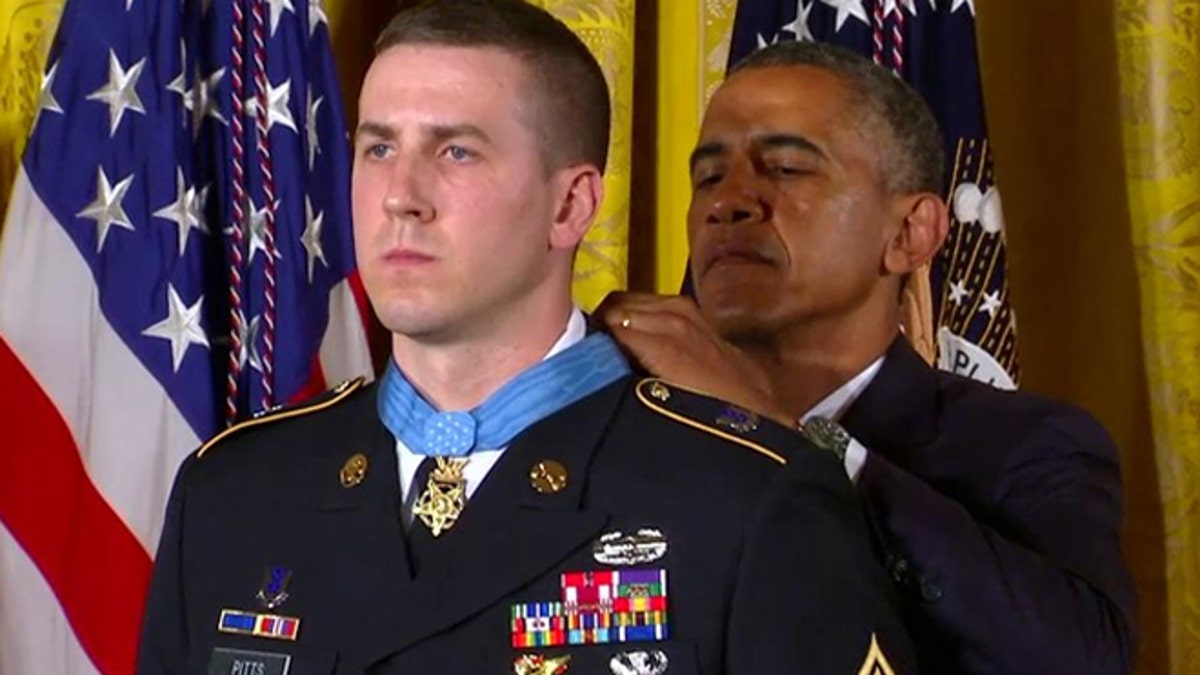 President Barack Obama bestowed the Medal of Honor Monday on a former Army staff sergeant who fought off enemy fighters during one of the bloodiest battles of the Afghanistan war.
Ryan M. Pitts is the ninth living recipient of the nation's highest decoration for battlefield valor for actions in Iraq and Afghanistan.
Obama says Pitts displays "the humility and loyalty" that define America's men and women in uniform. Obama noted that the 28-year-old Pitts has said his honor belongs to everyone who was with him during the July 13, 2008 attack in Wanat, Afghanistan.
Obama described how Pitts defended an observation post after the eight other soldiers providing security alongside him were killed in a well-organized attack by about 200 insurgents. Obama said Pitts was bleeding, hit by shrapnel in his arms and legs and sure he would die, as he lobbed grenades and pulled himself to his knees to man a machine gun against approaching insurgents.
"That little post was on the verge of falling, giving the enemy a perch to devastate the base below," Obama said in a White House ceremony. "Against that onslaught, one American held the line."
He called in for air support that helped repel the attack and prevented the enemy from taking his fellow soldiers who had been killed.
Obama honored each of those killed in battle with Pitts by name, and asked their families to rise and be recognized, including two of their children who have grown up without a parent. He also noted it was the second wedding anniversary for Pitts and his wife, who have a 1-year-old son.
"It's going to be tough topping this one, as anniversaries go," Obama joked. But he advised Pitts, "You should try. Don't rest on your laurels after just two years."