Obama assailed media's disrespect over first lady 'fat butt' story, ex-aide says in tell-all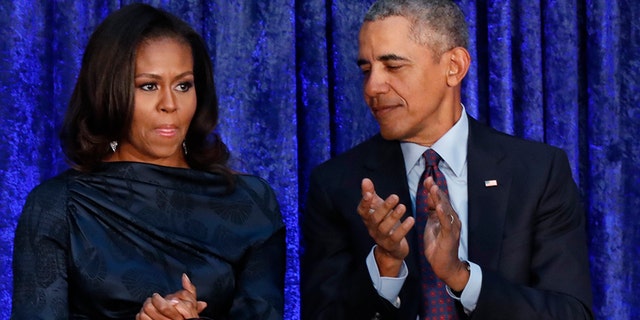 While president, Barack Obama slammed the press for being "totally disrespectful" after The Washington Post ran a story in 2013 about a high school football coach calling the first lady "fat butt Michelle Obama" while ranting about her efforts to promote healthier school lunches.
In a book set to be released on April 17, Pat Cunnane, senior writer for the Obama administration, wrote about the time the president "steamed" over the Post story titled, "Michelle Obama's posterior again the subject of a public rant."
"Totally disrespectful," Obama said when he read the news about the secret recording of Coach Bob Grisham, who was criticizing the first lady for her efforts to involve the federal government in local businesses, Cunnane wrote in his book, according to the Daily Mail.
"Fat butt Michelle Obama," Grisham was heard saying in the recording. "Look at her. ... She's overweight."
OBAMAS WON'T BE ATTENDING MEGHAN MARKLE AND PRINCE HARRY'S WEDDING
Cunnane also wrote about other times when the president's love for golf became a nightmare for him early on in his time as a press wrangler, the Daily Mail reported.
"The man had become somewhat obsessed with the game," Cunnane wrote.
Obama was constantly being photographed playing while on his vacations to Hawaii and Martha's Vineyard. As a press wrangler, Cunnane was responsible for what the president's press pool knew or didn't know.
When Obama played back in Washington, the press was told "he just enjoyed the chance to take a walk outside," the Daily Mail said citing Cunnane's book.
"A duffed chip or missed putt could draw out trite, stretched analogies to a failed policy or flawed rollout from a bored press pool," Cunnane wrote.
A good game could've meant the president was spending too much time on the links.
MICHELLE OBAMA CALLS BARACK THE 'GOOD PARENT,' SLAMS TRUMP SUPPORTER FOR GOING 'FUN' ROUTE
The former aide also wrote about his time at "Hollywood East," a term he says popularly described the White House during Obama's two terms because of all the celebrity visitors.
From Hollywood's most sought-after -- like George Clooney and Leonardo DiCaprio -- to the pope himself, Cunnane said "you never knew who you would run into on the way to the mess, or who was waiting for you to exit the restroom. ... We had no shortage of high-profile guests at the White House," the Daily Mail reported.
In his book, "West Winging It: An Un-Presidential Memoir," Cunnane details his time working for Obama and how he learned that the former president was more than just a "rhetorically gifted robot."
"I was learning that Obama was something more complicated and much more impressive."