Obama administration defends holiday-season deportation raids amid backlash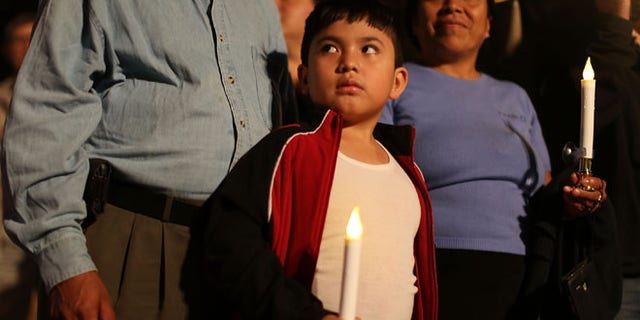 WASHINGTON (AP) – Facing rising outrage among its allies, the White House on Friday defended its deportation policies and suggested it had no plans to shift course after a series of holiday-season raids seeking Central American immigrants angered activists and Democratic lawmakers.
President Barack Obama was aware of the outrage over the raids, White House spokesman Josh Earnest told reporters Friday, but "the enforcement strategy and priorities that the administration has articulated are not going to change."
Earnest said the raids reflected the administration's top priorities for deportation — people with criminal convictions and people caught crossing the U.S.-Mexico border illegally. Homeland Security officials have said the raids targeted 121 people with final order of removal.
The raids riled some Democratic lawmakers and activists, groups long critical of the administration's deportation policies. Lawmakers said the searches were ill-timed and disruptive, spreading fear across immigrant communities and breaking apart families.
White House officials met Thursday with lawmakers on Capitol Hill to try to quell the criticism, with no apparent success.
On Friday, No. 2 House Democrat Rep. Steny Hoyer of Maryland, who earlier in the week struck a cautious tone when questioned on the raids, appeared at a press conference with the Congressional Hispanic Caucus to denounce them.
"We need to respect our values, and those are not the actions that ought to be followed," Hoyer said. He said the raids "were presumably designed to send a message to those in Central America, but ... sent a terrifying message to those here in America."
The deportations come amid concerns that growing immigration from Central America may be signaling a repeat of the crisis of 2014, when a surge of women, children and families stole headlines and consumed Congress' attention.
Leaders of the Hispanic Caucus called on the administration to halt the raids and said they had requested a meeting with Obama to discuss getting temporary protected status for those targeted. Lawmakers insisted the people in question should be viewed not as immigrants but as refugees, fleeing horrific violence in El Salvador, Guatemala and Honduras.
"This must stop and it must stop today," said Rep. Nydia Velazquez of New York. "Immigrants and their families are terrorized. ... These are some of the most vulnerable members of society and we are treating them like criminals."
Earnest said the administration's policies follow due process, allowing immigrants to make asylum claims and to exhaust their legal options.
But the lawmakers argued that not all the immigrants had been properly represented.
"Instead of deporting these people we should be fixing our broken asylum system," said Rep. Linda Sanchez of California, the Hispanic Caucus chairwoman. "It has caused this wave of terror."