Obama: 2012 campaign still about 'hope' and 'change'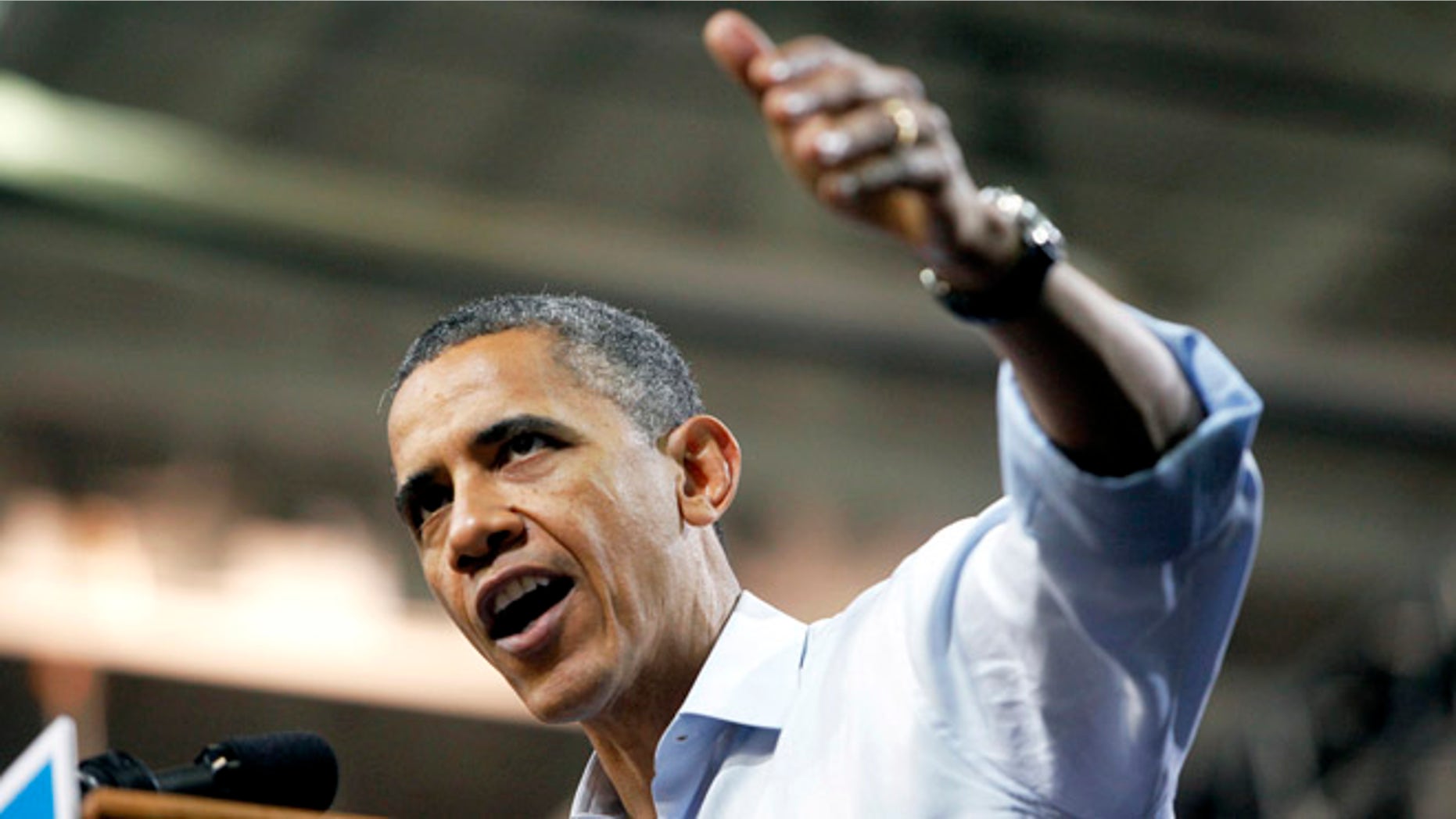 Trying to rekindle the fire of his historic 2008 campaign, President Obama told supporters this weekend that his re-election bid is still about "hope" and "change."
The president returned to those watchwords as he held his first official re-election campaign rallies Saturday in Ohio and Virginia. His team has unveiled a new campaign slogan, "forward," but the incumbent candidate stressed that he still stands for the big ideas he promoted four years ago.
"If people ask you what's this campaign about, you tell them it's still about hope. It's still about change," Obama said.
Republicans have mocked the Obama campaign's "forward" slogan, as well as the 2008 slogan. The Republican National Committee has even started selling bumper stickers emblazoned with the words "hype and blame."
The president, though, aggressively went after Republican policies in his two lead-off stump speeches and cast presumptive Republican nominee Mitt Romney as the Republicans' ticket to enacting those policies nationwide.
"Republicans in Congress have found a nominee for president who's promised to rubber-stamp this agenda," Obama said.
The president described 2012 as a "make-or-break moment for America's middle class," before incorporating the theme of moving "forward."
"We've got to move forward, to the future that we imagined in 2008. We've got to move forward to that future where everyone gets a fair shot, and everyone does their fair share, and everyone plays by the same rules," Obama said.
He was introduced in Columbus and again in Richmond by first lady Michelle Obama, and walked in to the cheers of thousands, many of them waving campaign-provided placards that read "Forward."
While the president is notably grayer than he was four years ago, he and his campaign worked to rekindle the energy and excitement among students and other voters who propelled him to the presidency in 2008.
The president's campaign chose Ohio State University and Virginia Commonwealth University for the back-to-back rallies. Obama won both states in his successful race in 2008, although both have elected Republican governors since, and are expected to be hotly contested in the fall.
Romney had no public events Saturday after spending much of the week campaigning in Virginia and Pennsylvania.
A campaign spokeswoman, Andrea Saul, responding to Obama's speech in Ohio, said, "While President Obama all but ignored his record over 3 1/2 years in office, the American people won't. This November, they will hold him accountable for his broken promises and ineffective leadership."
The Associated Press contributed to this report.