NY GOP Rep. King unsure about White House run, but campaign message appears fully formed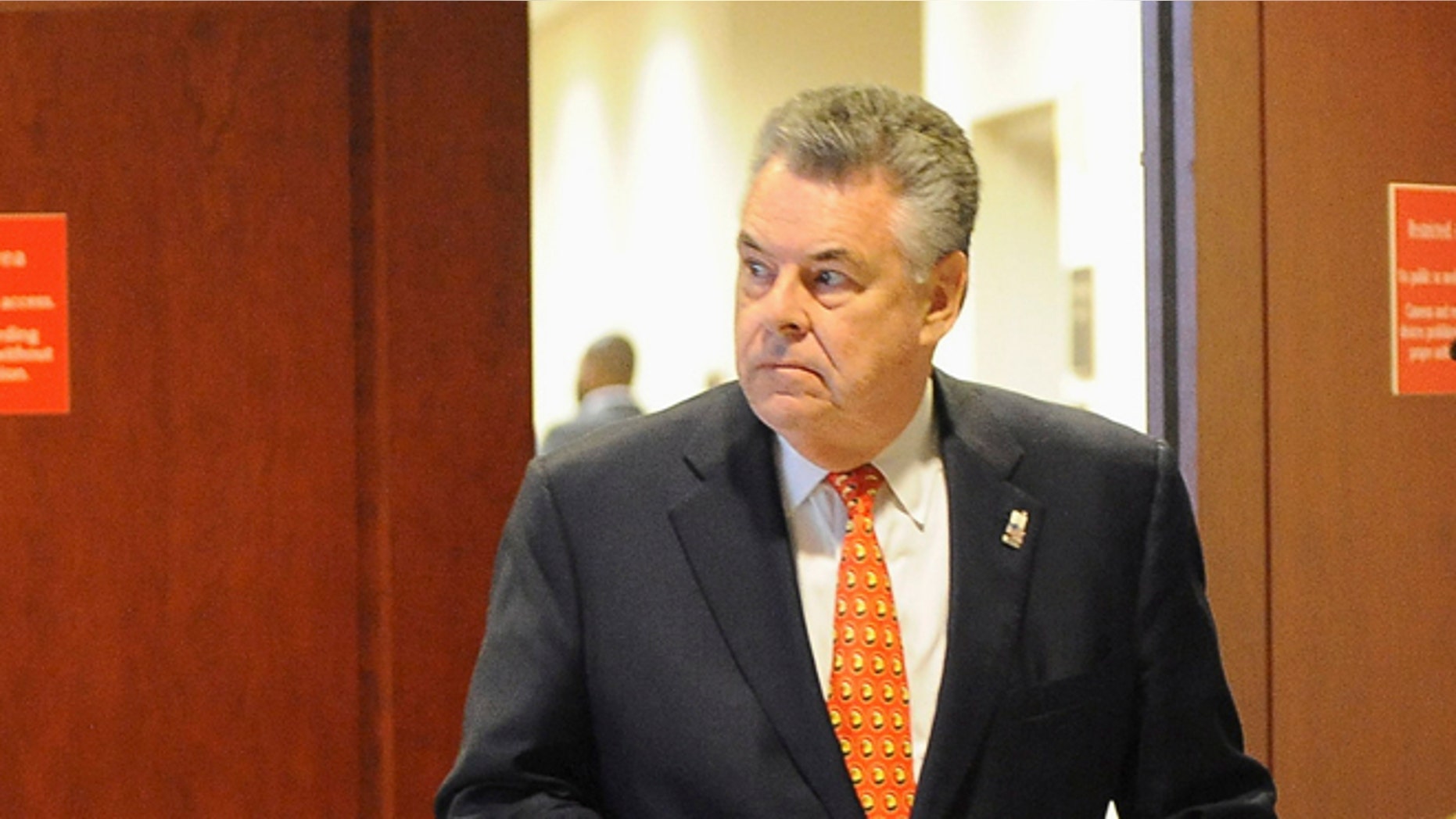 New York GOP Rep. Peter King is undecided about a 2016 presidential run and starkly behind the presumptive front-runners when it comes to fundraising and organization.
But the 11-term congressman clearly has a full-fledged campaign to convince Americans the government must remain vigilant against the constant threat of terror and to warn them about the GOP being overtaken by what he considers the party's isolationist wing -- led by likely White House hopefuls Sens. Rand Paul and Ted Cruz.
"I don't want them to become the dominant view," he told FoxNews.com this week. "They are dangerous to the country and the [Republican] Party. At the very least, this has given me an opportunity to keep the party from becoming so isolationist. There needs to be another voice out there."
King didn't use Congress' spring break to revisit the key presidential-campaign state of New Hampshire, but he still had a busy week on the national stage -- unapologetically pressing his points about the United States needing to remain tough on foreign policy as well as national security and intelligence.
King tweeted on Monday that The Washington Post and The Guardian were "enablers" for publishing the NSA secrets leaked by American Edward Snowden and that awarding them a Pulitzer Prize was a "disgrace."
He also participated in an ESPN radio show to talk about security at major American events like the Boston Marathon -- one year after the terror bombings.
"We know from listening to the chatter how terrorists want to attack major iconic events," he said.
On Tuesday, the first anniversary of the Boston Marathon bombing, King appeared twice on the Fox News Channel, arguing that better information sharing between the FBI and the local police might have prevented the fatal bombings. But he assured Americans that U.S. intelligence agents will "drill down" on whatever speck on information they might get.
King, a University of Notre Dame University law school graduate, also was at Harvard University this week, where he talked to students in a study group with visiting fellow Ed Davis, the Boston police chief at the time of the bombing, which killed three people and injured an estimated 264 others. And he scheduled a visit to nearby Watertown, Mass., where police hunted down the bombing suspects.
King is certainly politically astute enough to know he faces tough odds in trying to win the 2016 GOP nomination.
He's not included in the early polls that consistently put Cruz, Texas, and Paul, Ky., near the top. And he has history on his back, considering only one House member has ever left his seat to run a successful presidential campaign. That was James A. Garfield back in 1880.
"Peter King knows how to get attention in the media and he has that fire in the belly that I like," says David Payne, a Republican strategist and digital public affairs specialist at Vox Global. "And his case that data matters and big government protects can play in the primaries as a good juxtaposition to Rand Paul. But he has nowhere near the resources. That's why I think he's really a long shot."
Still, the 70-year-old King seems sincerely interested, forming a political action committee, American Leadership Now, and talking about how his message has a cross-party appeal to public servants such as police and fire-fighters and the public unions that represent them.
He's also made six or seven trips to New Hampshire, by his own recollection, and plans to return in late June.
"I'm still looking at it," King, a member of the House Homeland Security Committee, told FoxNews.com Tuesday. "And I'm not being coy. I'm not saying I'm 'exploring' a campaign because that has legal implications. But my name is out there."
His decision was recently complicated by Michigan GOP Rep. Mike Rogers' announcement last month that he will leave Congress and his post as chairman of the House Permanent Select Committee on Intelligence.
It is a job in which King, a former chairman of the Homeland Security committee, immediately expressed interest.
In addition to King lagging behind in fundraising and mounting a major campaign operation, he also faces the challenge of garnering party support -- in large part because of views about the popular Cruz and Paul and his support for tighter gun-control laws.
And his calls for national security might likely fail to resonate among general election voters weary after two Middle East conflicts and more recently concerned about the extent of National Security Agency spying.
"I think it's true that he goes too far in attacking members of his party," Payne said.