New Jersey Rep. Leonard Lance in biggest battle of his political career
MARTINSVILLE, N.J. – Leonard Lance's name is synonymous with New Jersey's 7th Congressional District. The five-time incumbent has dominated the polls since he was elected. His voting record, civility, and his stance as a moderate Republican have fared favorably in his well-educated, affluent district.
But that could change on November 6.
The Battle
With Democrats energized like never before, and Republican voters in the Garden State looking for a check on President Donald Trump, Lance is in the battle of his career against Democrat Tom Malinowski. Malinowski a former State Department official in the Obama administration and for some represents a much-needed change.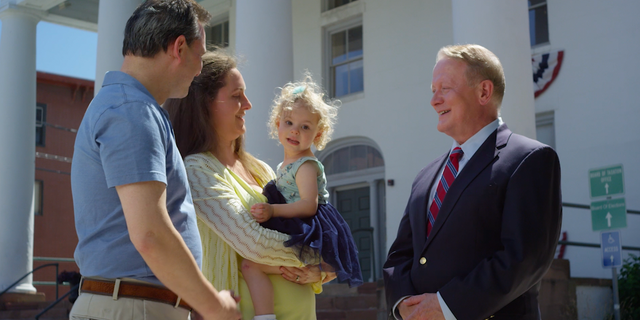 "I'm a pro-military, pro-defense, pro-free-trade Democrat," Malinowski said. "But I also believe it's crazy and irresponsible to be demonizing immigrates, and adding trillions of dollars to the national debt."
Lance sees how his opponent connects with independent voters who are frustrated with the conflicts and logjams in Washington. But he is proud of his record and defended his conservative credentials.
"I think my views are the views of the district," Lance said. "My constituents above all favor bipartisan cooperation on issues of health care, tax policy, and the international situation and immigration."
The two candidates face off in a region divided. The 7th district, which stretches from Essex County in North Jersey to the Pennsylvania border, was once GOP friendly but narrowly backed Hillary Clinton in 2016. And in the final weeks before Election Day, polling has shown a close race between Lance and Malinowski, often within the margin of error.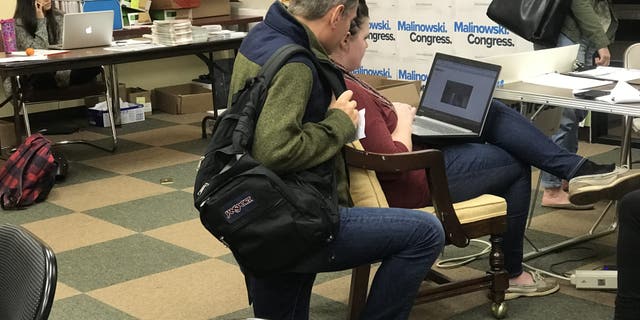 "I have had tough races before," said Lance, who has spent the last several months hosting more than 30 town halls, canvassing, and meeting his constituents – a tactic that has allowed for the congressman to remain visible during a crowded primary.
A pair of recent polls conducted during the same time period show different outcomes. A Siena College poll shows Lance with a 1 percent lead, while a Monmouth University poll shows Malinowski with a lead of 8 points.
A shifting region
Patrick Murray, director of Monmouth University's Polling Institute, said District 7 is still a Republican district in local and state races, but on the national level it seems to be drifting.
"There is a significant number of white, educated women who tend to vote Republican who are really, really upset with Donald Trump," Murray said. "And these seem to be the women who are changing the dynamic in this district."
The two have vastly different stances on health care and tax reform.
CLICK FOR COMPLETE FOX NEWS MIDTERMS COVERAGE
Lance says Malinowski will be too liberal for the district and that Democratic leadership would allow for higher taxes, more expensive health care, and a weakened U.S.-Israeli relationship.
Malinowski said he would fight to restore Medicaid and would focus on protecting social liberties, like Social Security.
"My opponent is running as a moderate," the Democrat said. "But that's not the way he's been governing."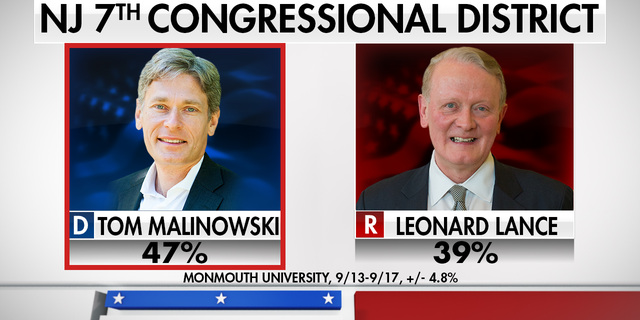 The vanishing middle
Murray said that while the political ideology in the district is shifting – with moderates moving hard right or hard left – Lance still has a good shot at winning.
"[Lance] is still in this race, we still don't know how this is going to end up and that's because of his own personal appeal as a moderate in this district," Murray said.
HUGIN AD RESURRECTS MENENDEZ ACCUSATIONS
How Lance performs could be a barometer for the future of the GOP, Murray said.
"Congressman Lance represents a Republican who is always looking for a common ground – conservative on economic issues, a little more liberal on social issues," said Murray. "And if there is a blue Democratic wave, these are the type of Republican congressmen who are going to be swept up."