New GOP Congress sets sights on Keystone, immigration and jobs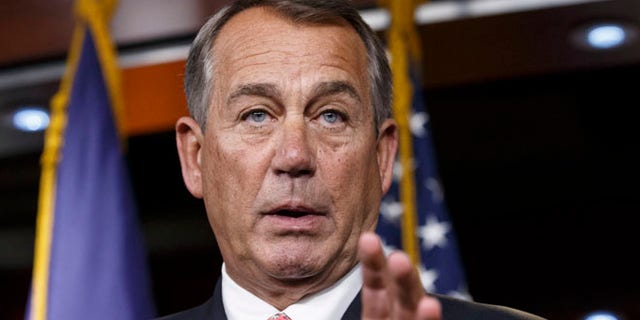 With control of the House and now the Senate, Republicans will return to Congress next week looking for early victories on such key issues as immigration and domestic energy to set the tone for the next two years and position their party to win the White House in 2016.
Incoming Sen. Majority Leader Mitch McConnell has already made clear his first order of business is to pass a bill to build the Keystone XL pipeline.
In the final days of the last congressional session, such legislation was narrowly defeated in the then-Democrat-controlled Senate but easily passed in the GOP-led House, creating the potential for a bill to promptly pass both chambers in the face of Senate Democrats who sat on the bill for years.
The House could vote as early as next week on legislation to expedite pipeline construction, Fox News has learned.
Passing immigration reform will undoubtedly be more difficult for Republicans but would be a major step toward winning the Hispanic vote on the way to taking the White House.
South Carolina Sen. Lindsey Graham recently argued that Republicans winning the 2016 presidential race essentially hinges on the party using its newly-acquired congressional majority to deliver on the issue.
The Senate in 2013 passed comprehensive reform with bipartisan support. And House Speaker John Boehner has said he too wants to pass immigration reform but has not had the votes from his conservative caucus.
However, midterm wins have given Boehner a historic majority and an additional 13 seats, complete with several handpicked winners, which should provide some cushion from far-right defectors.
The House could also vote as early as next week on another Boehner priority -- ObamaCare. The vote would be on a measure to define full-time work as 40 hours a week because some U.S. employers have cut employee hours to avoid the ObamaCare mandate on insuring full-time workers.
Still, Boehner's first couple of weeks could be sidetracked, as in years past, with internal party politics.
The Ohio lawmaker returns to Capitol Hill amid rumblings that his party's conservative caucus will again mount opposition to him being reappointed as the House's top Republican.
The group's most recent complaint is that Boehner caved in by agreeing last month to a $1.1 trillion temporary federal spending bill, which averted another partial government shutdown. Group members complained in part because they think Boehner did not try to punishing President Obama enough for sidestepping Congress on immigration reform.
And he might have to deal with fallout from revelations earlier this week that Louisiana Rep. Steve Scalise, the House's No. 3 Republican, spoke in 2002 before a white supremacist organization.
Boehner has said Scalise "made an error in judgment" but still backs the House majority whip.
Democrats have been measured in their response.
House Democratic leader Nancy Pelosi responded through a statement from a spokesman that in part said the incident is "deeply troubling for a top Republican leader in the House."
But eventual calls to censure Scalise could slow Boehner's legislative agenda, which he says begins with the "economy and jobs" and is expected to also focus on tax reform and energy policy.
McConnell's early legislative agenda remains unclear, considering he has declined to say publicly what will follow his Keystone initiative.
However, Illinois GOP Sen. Mark Kirk told Fox News on Sunday that McConnell has indicted "the second big vote" will be on more sanctions on Iran for failing to reach a deal with the United States and other Western nations on slowing its nuclear-enrichment program toward the apparent pursuit of a nuclear weapon.
"So I would expect that coming up," Kirk said.
Completing the pipeline -- which would deliver crude oil from Canada and the American heartland to Gulf Coast refineries -- has for Republicans become as much a symbolic victory as a win for their political agenda of increasing jobs and domestic energy.
The refined oil would go the international market, not the United States, and the number of long-term, full-time jobs the project would create remains in dispute.
Keystone legislation languished under outgoing Democratic Majority Leader Harry Reid, until the waning days of the last Congress when he called a vote on the bill in a final attempt to help Louisiana Democratic Sen. Mary Landrieu get re-elected.