New Campaign Aimed At Reversing Vast Underrepresentation Of Latinas In National Politics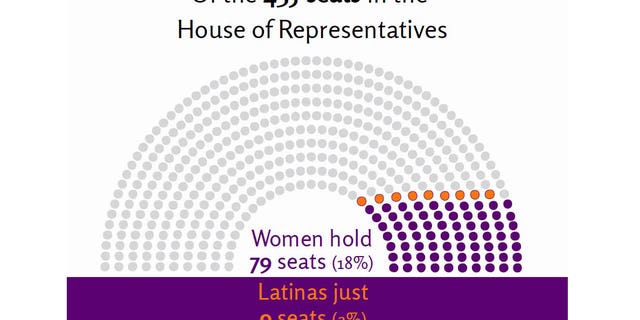 Latinas in national politics have come a long way, but they have such a long way yet to go.
That is the message of a new report by LatinasRepresent, a just-launched project by Political Parity and the National Hispanic Leadership Agenda that looked at Latinas in elected office.
LatinasRepresent officially got off the ground on Thursday at a conference in Denver.
Latinas, the report shows, make up only 1 percent of all elected officials nationwide, even though at more than 25 million, they comprise some 8 percent of the total U.S. population.
The dismal representation cuts across all levels of national, state and local government, according to the report.
The numbers paint a dismal picture: Latinos hold only 9 the 435 seats in the U.S. House of Representatives — just 2 percent — and only 78 of the country's total 7,383 state legislative seats, barely 1 percent.
Only one Latina, Susana Martinez, a Republican in New Mexico, has ever been elected governor.
And no Latina ever has been elected to the U.S. Senate.
"Latinas in particular are largely absent at every level of government," Ambassador Swanee Hunt, the chair for Political Parity, and Hector Sanchez, the chair for the National Hispanic Leadership Agenda, wrote in the report's introduction.
"For a nation that prides itself on inclusion, that's frankly unacceptable. Our very democracy is in question when our legislative bodies look nothing like the diverse constituencies of our country," Hunt and Sanchez wrote.
The report, the product of research led by former Political Parity consultant Katherine Archuleta, who's currently the director of the White House Office of Personnel Management, indicates that barriers based on gender and ethnicity, in addition to the perception among some Latinas that running for – and being elected to – elected office is too ambitious, all factor into the low representation.
"Women I've approached about running for office always think 'Gee, me?'" Rep. Linda Sanchez, a California Democrat, said in the report. "And when you approach men they say, 'Of course I could do that.' There's this confidence gap, and Latinas are more than qualified. They just need to recognize their value."
The report said that the lack of Latinas in elected office has a ripple effect – too few mentors and role models for Latinas who might aspire to holding political office someday.
LatinasRepresent pledged to close the gap through a campaign that will aim to encourage advocacy, promote role models and help establish networks that can support candidates running for office.
While they may be lagging in the political arena, there's at least hope in their increase in educational attainment.
By 2060, Latinas are expected to make up about 30 percent of the total U.S. female population. A record 73 percent of Hispanic high school female graduates are now enrolling in college, 11 percent ahead of Hispanic males, according to a profile of the community by Nielsen.
Follow us on twitter.com/foxnewslatino
Like us at facebook.com/foxnewslatino