'Never Nancy' Dem admits he could vote for Pelosi as speaker, fueling blast from the GOP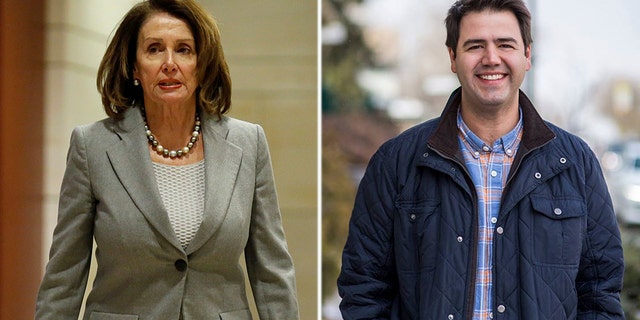 Seven times in a row, Ohio Democratic congressional candidate Danny O'Connor responded to questions about whether he would support Nancy Pelosi for speaker by saying he wanted "new leadership" instead.
Then he cracked.
What if Democrats, during a speakership election on the House floor, needed him to vote for Pelosi to stop Republicans from keeping the speaker's gavel, the TV interviewer asked?
"I would support whoever the Democrats put forward," O'Connor, the Democratic candidate in next month's special election for Ohio's 12th Congressional District seat, told MSNBC's Chris Matthews on Tuesday night.
Republicans seized on O'Connor's comments, saying it shows how the Democrat is telling swing voters he would vote against Pelosi for speaker – even though he'd support her if the party needed him for Pelosi to get 218 votes.
"After last night's pathetic interview by Danny O'Connor, Democrats' talking points disavowing Nancy Pelosi are as flimsy as the paper they're written on," said National Republican Congressional Committee spokesperson Matt Gorman. "Once you get them beyond a noun, a verb and 'new leadership,' they fold like a cheap suit."
He added, "Every single one will vote for Pelosi if given the choice."
The Congressional Leadership Fund, the super PAC of the House Republican leadership, released a new ad about the O'Connor comments on Wednesday, saying it's part of a $2 million ad buy on broadcast and cable.
O'Connor, who has run a television ad calling for "new leadership," is facing Republican State Sen. Troy Balderson in the Aug. 7 special election for the seat vacated by Republican Rep. Pat Tiberi.
In a statement to Fox News on Wednesday, O'Connor insisted that he's still opposed to Pelosi.
"No D.C.-style gotcha politics will change my resolve," O'Connor said in a statement. "I said on TV that we needed new leadership in Congress and I wouldn't vote for Nancy Pelosi for speaker. I said it seven times, and I'll say it again -- I'm not going to vote for her."
The way leadership votes work: each party holds closed-door elections to choose nominees for speaker, among other offices. Typically, the entire party will then vote for that nominee during the floor vote for speaker.
But if Democrats win back control of the House with a slim majority, and don't unite around their nominee for speaker on the floor, it's possible Republicans could still hold on to the position.
It comes as University of Virginia political science professor Larry Sabato's "Crystal Ball" this week said for the first time this year Democrats have the edge in retaking the House.
"Put it all together, and the Democrats now look like soft favorites to win a House majority with a little more than 100 days to go," it said.
Also on Wednesday, a Quinnipiac poll said Democrats lead Republicans by 12 points in a generic House ballot, with Democrats favored over Republicans 51 percent to 39 percent.