Nevada Senate Race in Gridlock at Eleventh Hour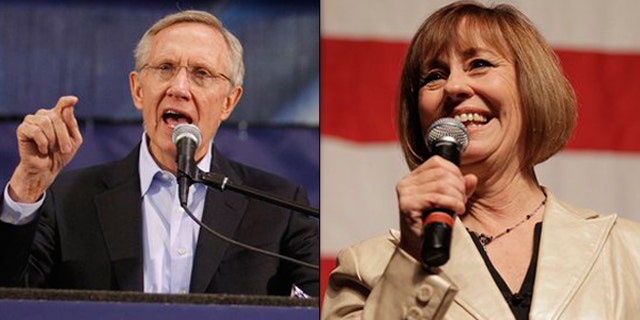 Hundreds of Democratic congressional aides, operatives and lobbyists have descended in Las Vegas seeking to help Sen. Harry Reid pull off an 11th-hour win in a race key to his party's efforts to retain control of the Senate.
Reid supporters, including multiple labor unions and about 30 aides to Sen. Max Baucus of Montana, are canvassing neighborhoods, making sure likely voters get to precincts for early voting and organizing get-out-the-vote efforts to help Mr. Reid in his tight contest against Republican Sharron Angle.
Short of money, the Republican National Committee, which traditionally runs similar efforts, isn't paying for Capitol Hill aides and lobbyists to travel here. Instead, the RNC is relying mostly on volunteers. That leaves Republicans here such as Ms. Angle more reliant on untested operations run by a new political organization affiliated with Republican strategist Karl Rove. The group has sent volunteers with newfangled technology into the Las Vegas suburbs in a dry run for a larger get-out-the-vote drive for the 2012 presidential election.
Democrats' last-ditch efforts are a test of whether the party's Election Day organizational skills in Nevada can overcome Republican momentum and the sour national mood. If Mr. Reid, the Senate majority leader, prevails, Republicans lose what would be a symbolic victory and perhaps any chance to take control of that chamber.
Starting this summer, Ms. Angle has drawn cash and enthusiasm. She raised $14 million in the final major fund-raising period that ended September 30—seven times as much as Mr. Reid.
In addition, conservative groups have pumped almost twice as much cash into TV ads compared with those supporting Mr. Reid, according to figures compiled by the Sunlight Foundation.
Initial results from the state's two-week early-voting period show Democrats with an advantage. In two of Nevada's biggest counties, 18,000 more Democrats voted than Republicans. Statewide, there are 60,000 more registered Democrats than Republicans.