Navy cancels Blue Angels shows for 2013 due to sequester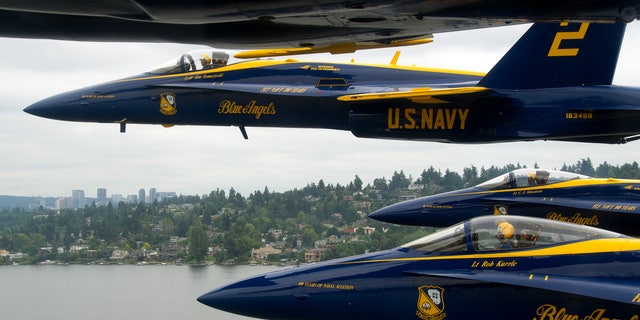 NEWYou can now listen to Fox News articles!
The Blue Angels, the Navy's revered aerial acrobats, have been grounded for the rest of the year due to sequestration cuts.
The Navy announced the cancellation Tuesday of over 30 shows for the stunt-flying team that were planned through November, citing budget cuts imposed by the Department of Defense.
"The Navy has cancelled the remaining 2013 performances of its Flight Demonstration Squadron, the Blue Angels. The Squadron will continue to train to maintain flying proficiency until further notice at its home station in Pensacola," a statement from Navy officials said. "Recognizing budget realities, current Defense policy states that outreach events can only be supported with local assets at no cost to the government."
[pullquote]
The Navy is following in the steps of the Air Force, which last month cancelled all remaining shows for its stunt team, the Thunderbirds, and the Army, which cancelled remaining 2013 shows for its parachute skydiving team, the Golden Knights.
The cancellations are the product of military-wide cuts that also trimmed back on ship and plane upkeep -- and could result in furloughs for hundreds of thousands of civilian Pentagon employees.
Navy officials add that the cancellation is not only due in part to the sequester, but also from a DOD policy to prioritize funding for Armed Forces.
The cancellation of the Blue Angels season, the first since the Korean War, will save the Department of Defense between $20 million and $25 million.
Enthusiasts say that this, coupled with the cancellation of the Thunderbirds season, is a major blow to the air show industry.
"The Blue Angels are the Rolling Stones of the Air Show World and losing them, whether it's a few days, a few months, or a few years, it is a crushing blow, not only to the industry, but for thousands of fans," John Cudahy, president of the International Council of Air Shows, told FoxNews.com.
"The Blue Angels and the Thunderbirds are huge draws for our industry and when they don't participate in an air show it not only hurts attendance -- it makes it less than it was," he added.
Organizers for Seafair, a yearly summer festival in Seattle, Wash., shared the sentiment with a release on their website Tuesday.
"Today we were officially informed by the U.S. Navy Blue Angels that their season has been cancelled, including the Seafair performance, due to federal budget cuts resulting from sequestration," reads the statement. "The Blue Angels have flown at Seafair for over 40 years and are an important part of our history. The team will be deeply missed by Seattleites…"
Also announced in recent days were the cancellations of Navy Weeks across the country. The events, which are similar to New York City's Fleet Week, normally take place from spring through fall in cities like San Antonio, Indianapolis and Salt Lake City.