Napolitano Defends Department After Questions Over DHS At GOP Debate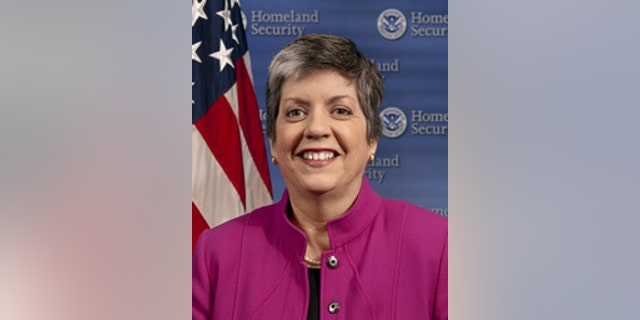 The U.S. secretary of homeland security defended her department Thursday after a series of attacks at last night's Republican presidential debate, though she insisted she did not want to "get involved" in the politics of a debate.
"Part of this is just trying to find things to talk about, I suspect," Janet Napolitano said of Republicans' comments the night before. "But I think that in its eighth year now, the Department of Homeland Security continues to improve [and] coalesce out of the 22 different agencies that it was made of. ... It's the kind of department you have to build the plane while you fly it, and I think it really has begun to gel in important ways."
During Wednesday's 2012 Republican primary debate, which Napolitano did not watch, a question over Texas Gov. Rick Perry's claim that it was "unprincipled" for Republicans to support creating the Department of Homeland Security after the Sept. 11, 2001, attacks began a stream of calls for the department or its components to be "fixed" or replaced altogether.
Former House speaker Newt Gingrich insisted the creation of a homeland security department "hasn't been executed well;" businessman Herman Cain vowed to "fix homeland security," and former Utah Gov. Jon Huntsman said, "The greatest gift we could give this country on the 10th year anniversary (of the Sept. 11 attacks) is a Homeland Security Department that really works."
On Thursday, speaking to reporters in Washington, Napolitano acknowledged "there is work to be done" at her department, but she insisted "significant achievements have been made."
She noted that "a 9/11-style plot would be much more difficult to execute" thanks to "multiple layers of protection that have been built in and developed" in the years since the attacks, including DHS functions such as "better info sharing," "better targeting of passengers and cargo before they even get to an airport or to a loading dock," and "better control over what actually gets through the gate and into the secure area."
Napolitano also took issue with Perry's assertion that when President Obama says the border is safer than it's ever been, "either he has some of the poorest intel of a president in the history of this country, or he was an abject liar to the American people."
The secretary said she didn't want to "respond directly to Governor Perry," but she told reporters she "would simply suggest that you talk to some of the mayors along the border" to "ask whether they agree with that or not."
"There is National Guard at the border, and there's a record number of civilian law enforcement at the border. There's never been more boots on the border than there are now," she said. "Illegal immigration is down significantly, and seizures of drugs and money are up."
The secretary said attempts at illegal immigration, based on apprehensions at the border, have gone down 36 percent in the first two years of the Obama administration, and they are "going down even further now." She insisted places such as El Paso and Austin, Texas, are "among the safest cities in the United States over 100,000 population," and she noted those statistics are developed by the FBI, not her department.
She also pointed to a July report in USA Today, which drew on a decade of detailed crime data and interviews along the Southwest border to conclude that "rates of violent crime along the U.S.-Mexico border have been falling for years" and that "violent crime rates were on average lower in cities within 30, 50 and 100 miles of the border."
At Wednesday's debate, Texas Rep. Ron Paul repeated his calls for the Transportation Security Administration and Federal Emergency Management Agency, both part of DHS, to be abolished.
Instead of TSA or FEMA, he said, "the market effect" could secure the skies and help Americans prepare for and recover from natural disasters. After all, he said, airlines "protect their money."
"Just remember, 9/11 came about because there was too much government," the outspoken libertarian added. "Government was more or less in charge. They told the pilots they couldn't have guns, and they were told never to resist. They set up the stage for all this. ... Private markets do a good job in protecting -- much better than this bureaucracy called the TSA."
As for FEMA, he suggested the nation was sufficiently able to handle natural disasters before the agency was ever formed in 1979, and he said people have been "conditioned" ever since to "build where they shouldn't be building."
"We should have never had it," Paul said of FEMA. "There's a much better way of doing it -- this whole idea that the federal government can deal with weather and anything in the world."
Napolitano said she's "not in a debate with Ron Paul" either, but she touted FEMA's recent achievements.
"FEMA has been extraordinarily busy ... really since early spring when we began to see record tornadoes in the South and in the Midwest, accompanied then by record flooding along the Mississippi, the upper Missouri, the Red River, the Souris River, [and] the Ohio River," she said. "At one point, virtually every river system east of the Rocky Mountains was in flood stage, and I think that FEMA did a great job working with local communities on what they need, and now working with them in the process of recovery."
She said FEMA is "a very different agency" now than it was just five years ago, and governors in states impacted by disasters have been saying that "uniformly."
Wednesday's debate, sponsored by NBC News and Politico, was held at the Ronald Reagan Presidential Library in Simi Valley, Calif.