Move Over Machismo: Latin America Sets A Global Example For Women In Power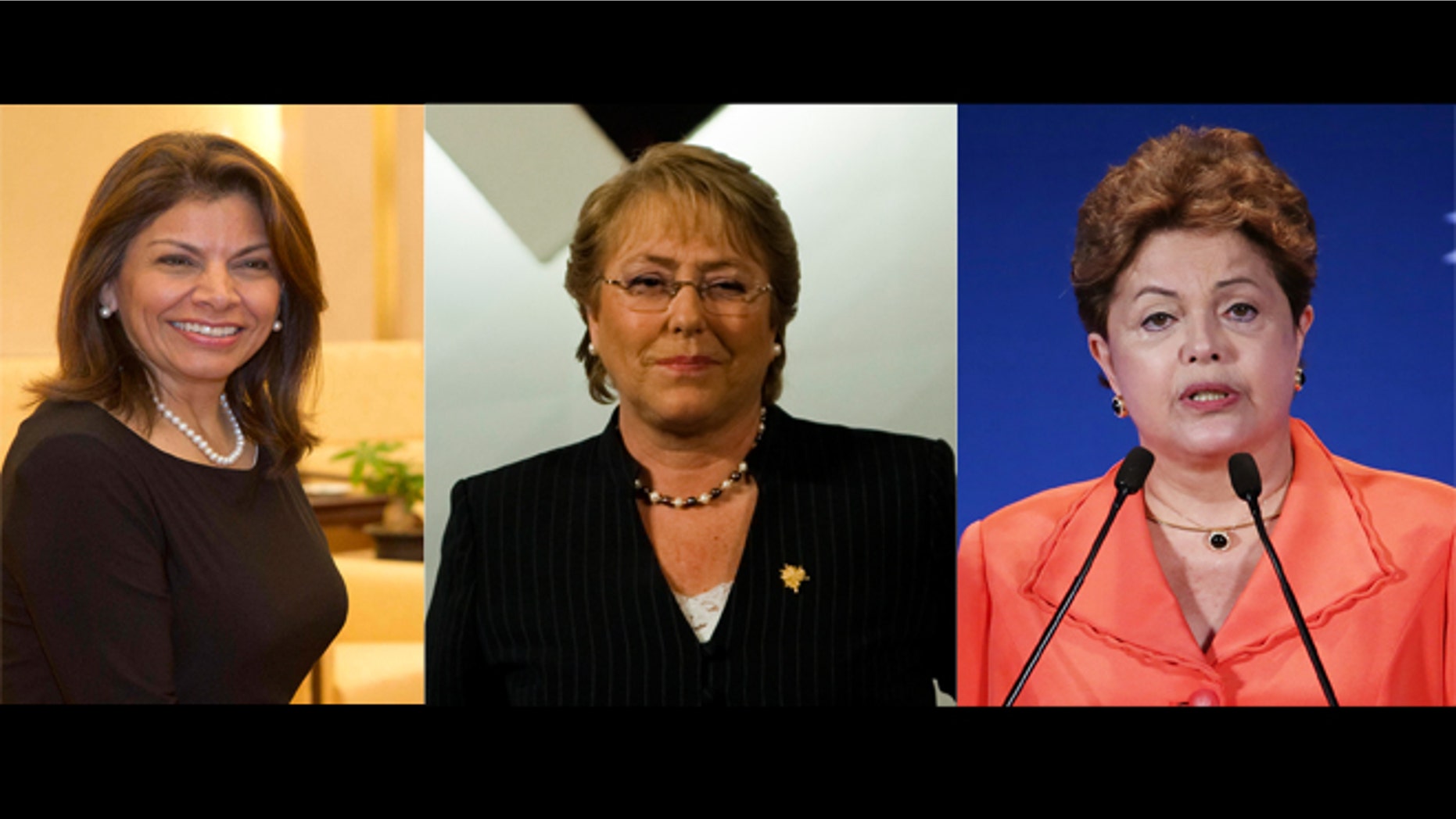 The election of Michelle Bachelet as Chile's new president earlier this month saw the continuation in the rise of women to positions of political power throughout Latin America, garnering praise from analysts concerned with women's rights in the land of machismo, at a time when the world's leading superpower has yet to see a female as its top leader.
Bachelet – a former president and moderate socialist who left office in 2010 with 84 percent approval ratings – has become one of the faces of Latin America's new female political power players. Along with Brazilian President Dilma Rousseff, Costa Rica's Laura Chinchilla and Argentine President Cristina Fernández, Bachelet and company have made Latin America one of the world's leading regions for women in politics.
Since the 1970s, eight of the 29 women elected as president in the world have come from Latin America or the Caribbean, and the Americas has the world's second-highest regional average of women in the lower houses on Congress – about 24 percent – behind Scandinavia at 42 percent, according to the Inter-American Dialogue, a Washington D.C.-based think tank.
"It has been an ironic surprise to many of us watching from the United States that there are so many women in power in Latin America," Joan Caivano, the director of special projects at the Inter-American Dialogue told Fox News Latino. "Especially because we see ourselves as so far ahead in terms of feminist issues from the supposed macho culture in Latin America."
Despite the headlines that the recent U.S. Congress has a record number of women, of the 535 people on Capitol Hill, less than 19 percent of them are women — compared to Argentina and Costa Rica, where slightly over 38 percent of their lower houses alone are female, according to statistics compiled by the Americas Society/Council of the America, a think tank  in New York City.
Analysts point to a number of factors that has enabled women to rise to positions of power throughout Latin America.
A series of quota laws in certain countries have guaranteed that women, at least at the national level, will be in the running for political positions. Argentina was the first country to put in place quotas when in the early 1990s it established a law mandating that 30 percent of legislative candidates be female. Bolivia, Costa Rica and Ecuador soon followed with laws indicating that every other candidate on a political party's election list must be a woman.
"There is a clear correlation between quota laws and getting women into positions in parliament," said Chris Sabatini, the senior director of policy at AS/COA. According to statistics compiled by the group, the countries with quota laws have the highest numbers of female legislators – with Bolivia's upper house leading the region with over 47 percent of the posts being held by women.
Sabatini, however, warned that a similar law would never pass in the U.S. given the supposed overarching conservative nature of the electorate. He also added that for these laws to be truly effective in the Americas, they need to implement them on the local level as well as on the national stage.
"This way political parties get women involved at all levels and can build female leaders from the ground-up," he added.
Women became heavily involved in politics in Latin America during the 1970s and 1980s when the region was suffering through the Southern Cone's "dirty wars" and Central America's civil uprisings.
Bachelet was arrested by Chilean authorities in 1975, two years after the military coup that put into power dictator Augusto Pinochet, and was later tortured before being sent into exile. Rousseff was heavily involved in Brazil's VAR Palmares, a Marxist-Leninist guerilla group, and was allegedly tortured by Brazilian military forces for 22 days by punching, ferule, and electric shock devices after her arrest.
"In more stable situations they would not have had the male support for their political ambitions, but in places like Chile and Brazil everyone faced the same threats," said Lourdes Gil, a poet and professor of Latin American history at Baruch College in New York City. "Machismo would have been more of a hindrance if not for the dictatorships."
While politically coming-of-age during the turbulent 1970s and 80s, leaders like Bachelet and Rousseff truly made names for themselves by holding political positions typically held by men and by bucking the trend of rampant corruption throughout Latin America.
Before making her presidential run, Rousseff held the post as Brazil's minister of energy before becoming the chief of staff to former President Luiz Inácio Lula da Silva.
For her part, Bachelet was appointed minister of health by President Ricardo Lagos and in 2002 she was given the post as defense minister, becoming the first woman to hold this position in a Latin American country and one of the few in the world.
"Before she took the job, there was a big concern about women working in defense, but Bachelet proved her critics wrong," Caivano said. "The region finally seems to be over that hurdle."
Two hurdles that women in Latin America still face involve progress in both the business sector and in the realm of women's rights.
Progress has been made over the last few decades, but the corporate boardroom is still relatively barren when it comes to female representation.
Across the globe, women make up less than 12 percent of corporate boards, and in developing nations – which include many countries in Latin America – women account for only 7 percent of corporate boards, according to AS/COA statistics.
"In the social business networks, it is still frowned upon to have women in that culture," Caivano said. "It's not looked on well to have women go to the bar after work or out to play golf."
Women's rights – especially reproductive rights – have been and continue contentious in Latin America and one that even the female presidents don't typically want to touch. In most Latin American countries, including Chile, there is a total ban on abortion.
Bachelet, who ran the United Nations women's agency after leaving the presidency, is a major supporter of abortion in cases of rape or risk to a woman's health, but hardly mentioned it during her first presidential race. While she spoke out in favor of abortion during her 2013 campaign, she could have a difficult time making any progress on the matter given that her political coalition was made up of a strong contingent of  Christian Democrats and the Roman Catholic Church still holds great deal of sway in the country.
"In this regard, Latin America – and especially Chile – is not very progressive at all," Sabatini said.
Latin American experts admit that, despite the progress, work needs to be done for women to be on equal footing with men, but the fight against machismo seems to be working.
As the U.S. ramps up for its next presidential election in 2016 and Hillary Clinton begins to make some nascent rumblings of a run, Caivano said that Americans should look to their southern neighbors as an example to follow.
"As countries like Chile and Brazil continue to progress, other countries that are lagging behind will see more women coming to power," she said. "And so will the U.S."