Mitch McConnell says protesters who confronted him 'waited' until wife Elaine Chao was gone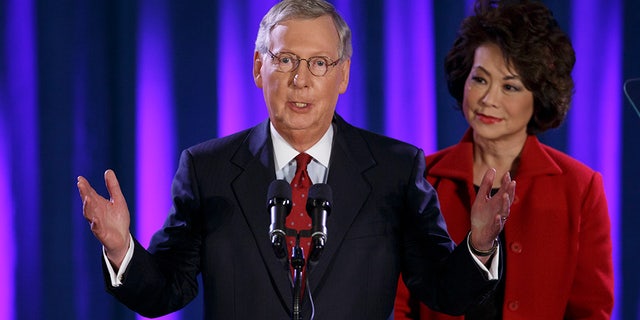 Senate Majority Leader Mitch McConnell took to Twitter Monday to poke fun at protesters who confronted him over the weekend, saying "they waited until" his wife -- Transportation Secretary Elaine Chao -- "wasn't around."
McConnell's "Team Mitch" Twitter account retweeted an article by The Hill that showed a group of protesters shouting at the Kentucky lawmaker as he left the Bristol Bar & Grille in Louisville on Saturday.
Demonstrators were heard yelling "abolish ICE" and "no justice, no peace." McConnell could be seen in the video walking to his car unfazed.
"I see what they did here. They waited until Elaine wasn't around," the tweet that accompanied the article read. The tweet was signed "-MM."
He also included the hashtag "#dontleavehomewithouther."
McConnell seemed to be referencing an incident last month outside an event at Georgetown University where protesters confronted McConnell and Chao.
"How do you sleep at night?" one protester shouted.
"You leave my husband alone!," Chao responded.
McConnell has been heckled a number of times since, including Sunday night when he abruptly left an Italian restaurant in Kentucky after demonstrators played Public Enemy's "Fight the Power" and chanted "no justice, no peace," the Courier Journal reported.