Mired in Gridlock, Obama on Pace to Sign Fewer Bills Into Law This Year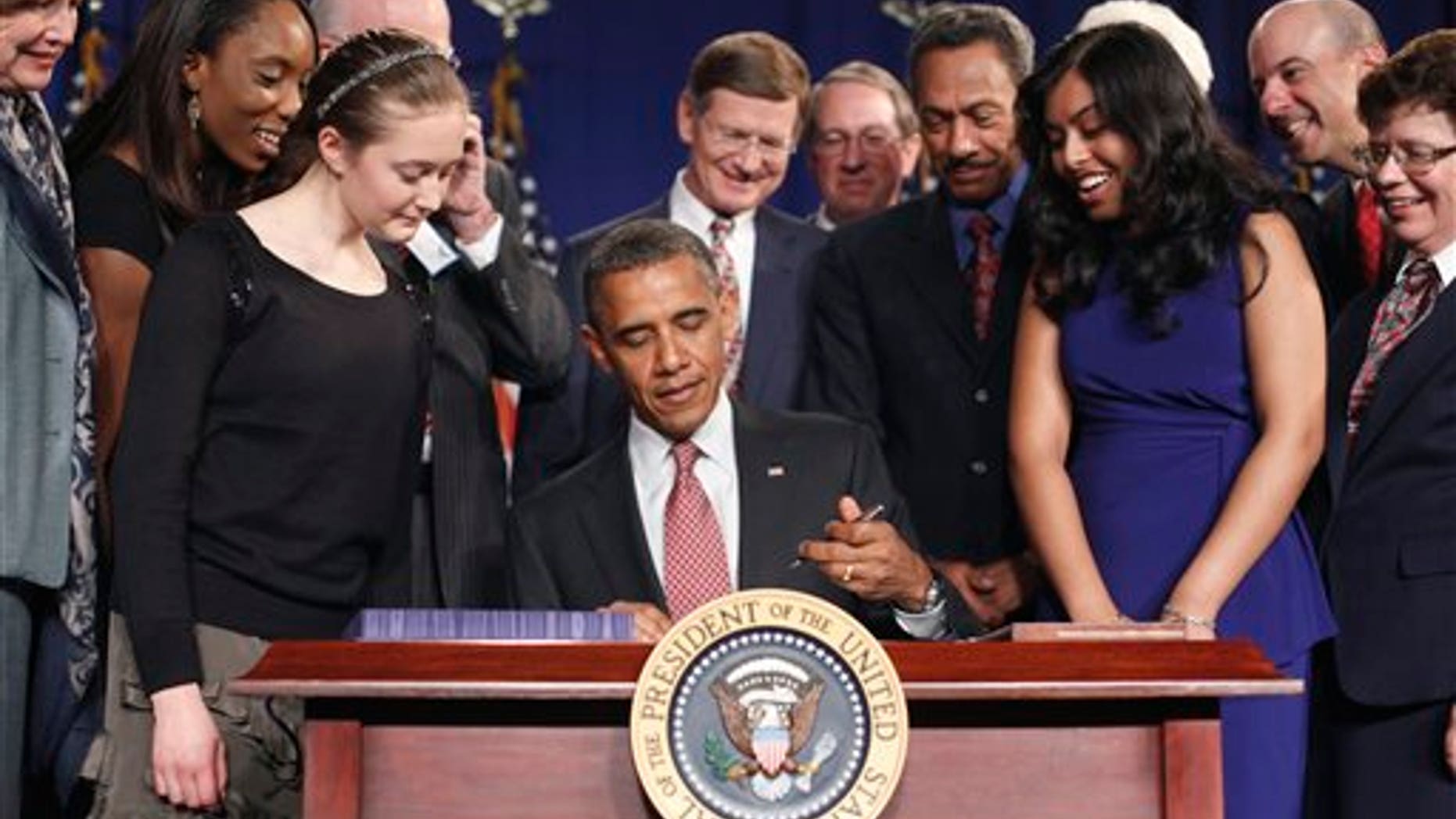 Republicans bent on stopping President Obama's legislative agenda can take solace in the numbers. Obama on Friday signed his 50th and 51st bills into law this year, which means he is on pace to sign about 70 by the end of the year.
Last year, when Democrats still controlled both chambers in Congress, Obama signed 230 bills, including the controversial health care that is now being contested in courts across the country. But a divided Congress can't be the only explanation for the steep drop in bills signed.
In 2007, when Democrats had just regained control of the House, President Bush signed 174 bills into law. And in 1999, when Republicans held majorities in both chambers, President Clinton signed 170 bills.
The numbers suggest that the partisan gridlock in Washington is more intense now and taking a bigger toll on legislative activity.
The lack of action hasn't benefited any political leader in Washington. Both Obama and Congress face all-time low approval ratings. A New York Times/CBS News poll released Friday found that 12 percent of Americans approve of the way Congress is handling its job and 43 percent for Obama. An even lower number of Americans, 34 percent, approve of the way the president has handled the economy.
One of the two bills Obama signed Friday was the America Invents Act that overhauls the U.S. patent system. The president hopes the legislation will "put a dent" in a towering stack of nearly 700,000 applications still waiting to be reviewed for patents, making it faster and easier to turn innovative ideas into new jobs and businesses.
The legislation was passed in a rare display of congressional bipartisanship. The two main sponsors of the legislation, Senate Judiciary Committee Chairman Patrick Leahy, D-Vt., and House Judiciary Chairman Lamar Smith, R-Texas, joined the president at the signing ceremony,
But with no annual spending bills yet to be signed into law and only two weeks until the new fiscal year, the president's next major accomplishment this year could be approving a temporary spending bill just to keep the government running.
Obama is currently pushing Congress to quickly pass his $450 billion job plans that would reduce payroll taxes on workers, cut them in half for most businesses and offer incentives for employers to hire. It would also spend tens of billions of dollars on new public works projects, extend unemployment benefits for long-term jobless and help states and localities avoid layoffs of teachers and emergency workers.
Obama's re-election hopes depend on his success in turning around an economy that is in danger of sliding back into recession. But clearly aware that he hasn't had much luck in getting cooperation from the GOP this year, Obama has gone on the road to pitch his jobs plan in the apparent hope that he can paint Republicans as obstructionists if it isn't passed.
On Monday, Obama plans to spell out a long-term debt stabilizing plan that aims to cut the deficit by about $2 trillion over 10 years. Obama is making his proposal to a special congressional committee that has been tasked with lowering the deficit by $1.2 trillion to $1.5 trillion.
While Obama has claimed that Republicans have supported all of his proposals in the past – in fact, only a few have supported some of them while none have backed others – the GOP has offered a lukewarm reception to the whole package. Republicans fiercely oppose the president's proposal to pay for the plan with limits on tax deductions and closing corporate tax loopholes.
The Associated Press contributed to this report.