Mira Ricardel to leave White House, after Melania Trump's office called for her dismissal
Just one day after the office of first lady Melania Trump issued an extraordinary call for her dismissal, deputy national security adviser Mira Ricardel is officially set to exit the White House, the Trump administration has announced.
"Mira Ricardel will continue to support the president as she departs the White House to transition to a new role within the administration," White House Press Secretary Sarah Sanders said Wednesday, without naming a replacement. "The president is grateful for Ms. Ricardel's continued service to the American people and her steadfast pursuit of his national security priorities."
The Wall Street Journal reported Tuesday that Ricardel had clashed with Melania Trump's staff over seating arrangements on a plane during the first lady's trip to Africa last month. The paper added that the first lady's office suspects Ricardel of leaking negative stories about the first lady and her staff.
LATE NIGHT HOSTS MOCK MELANIA TRUMP'S CALL TO FIRE WHITE HOUSE AIDE
"It is the position of the Office of the First Lady that [Ricardel] no longer deserves the honor of serving in this White House," Stephanie Grisham, Melania Trump's communications director, said in an extraordinary statement on Tuesday.
Sources tell Fox News that National Security Adviser John Bolton and his inner-circle team were caught entirely off-guard by that statement, which a source says was released strategically while Bolton was out of the country in Asia with Vice President Mike Pence and unable to address the fallout.
Bolton was a major supporter of Ricardel and opposed her ouster, sources confirmed to Fox News, and the manner of her dismissal has reportedly frustrated Bolton and his team.
The statement from Melania Trump's office came shortly after reports circulated that the president had decided to remove Ricardel from her post at the National Security Council. Just before the statement was issued, Ricardel was among a group of administration officials and other individuals who stood behind Trump at a White House ceremony celebrating Diwali, the Hindu festival of lights.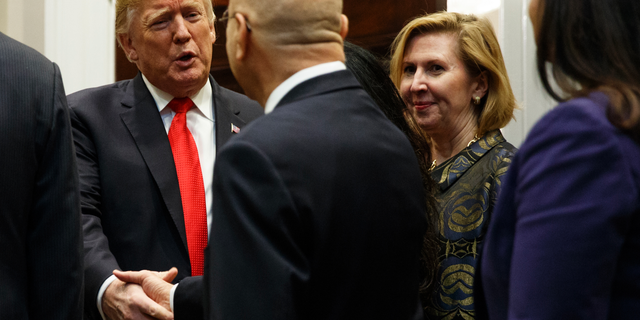 The Journal also reported that Ricardel has sparred with Defense Secretary Jim Mattis over policy differences and staffing decisions. The Washington Post, citing three current and two former White House officials, reported that Ricardel had berated people in meetings and spread rumors about Mattis. The paper also reported that White House Chief of Staff John Kelly has sought Ricardel's ouster for months.
Ricardel, 58, assumed the post of deputy national security adviser in May, one month after Trump appointed Bolton as national security adviser to replace H.R. McMaster.
Melania Trump traveled to Ghana, Mali, Kenya and Egypt last month. During the trip, she told ABC News that there are people in the White House whom she and the president cannot trust. She declined to name anyone but said she had let the president know who they are.
"Well," she said, "some people, they don't work there anymore."
Fox News' John Roberts, Gillian Turner, and Samuel Chamberlain contributed to this report.