Michigan GOP Rep. Bentivolio loses primary, while Tea Party-backed Amash survives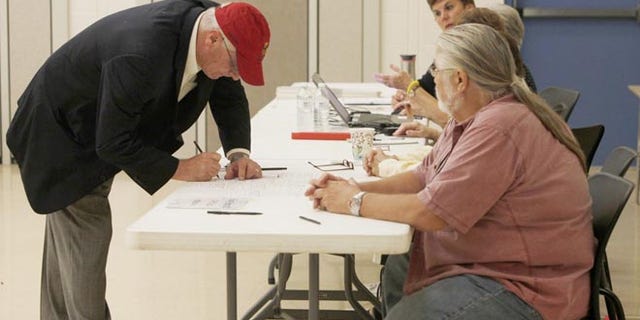 Michigan Rep. Kerry Bentivolio, a Tea Party-backed candidate, was upset by a wide margin Tuesday in a GOP primary by attorney-businessman David Trott in the race for the state's 11th House District seat.
Trott received almost twice as many votes as Bentivolio out of the over 58,000 ballots cast.
Despite Congress' abysmal approval ratings, only three incumbents have lost this election cycle -- Bentivolio and fellow Republican Reps. Eric Cantor of Virginia and Ralph Hall of Texas. Bentivolio, a former teacher and reindeer farmer, was elected in 2012 after a Republican incumbent was knocked off the ballot due to fraudulent petition signatures.
However, fellow Michigan GOP Rep. Justin Amash, another Tea Party-backed candidate, survived his similar primary challenge from a more establishment-aligned candidate, investment adviser Brian Ellis. Amash has been a thorn in House Speaker John Boehner's side during his two terms in Congress, and even voted against him for the leadership post.
The libertarian-minded Amash retained his seat in the state's 3rd Congressional District with 57 percent of the vote, compared to 43 percent for Ellis, with 66 percent of precincts reporting, according to The Associated Press, which called the race.
Ellis and Trott contributed millions to their campaigns and were endorsed by the U.S. Chamber of Commerce, which made good on its vow in January to help defeat anti-business members of Congress unwilling to work within the legislative process.
Ellis loaned his campaign $1 million, while Trott kicked in $2.4 million to his campaign, in suburban Detroit.
Amash and Bentivolio were endorsed by the Tea Party Express.
The primaries begin the shakeup of Michigan's 14-member House delegation, which has its most open seats since 1992 after four incumbents decided to leave office.
The four open seats belonged to Democratic Rep. John Dingell, who has been in Congress for a record 58 years; GOP Reps. Dave Camp and Mike Rogers; and retiring Democratic Senator Carl Levin.
Dingell's wife, Debbie, easily won her primary against attorney Raymond Mullins for a district that covers Ann Arbor and the "Downriver" working-class Detroit suburbs
Democratic U.S. Rep. Gary Peters, who is running for Levin's Senate seat, and GOP candidate Terri Lynn Land ran unopposed Tuesday and advanced to the November race.
And Republican Reps. Fred Upton and Tim Walberg won their primary challenges. The 61-year-old Upton defeated nurse Jim Bussler. He now faces Democrat Paul Clements in the November election. Clements is a political science professor at Western Michigan University.
Walberg beat Douglas Radcliffe North in the state's 7th District, in southeastern Michigan, and will face Democrat Pam Byrnes in the November election. The 67-year-old Byrnes has a law degree and served in the Michigan House from 2005 to 2011.
The Michigan ballot also had scores of legislative races, but no showdown in the gubernatorial race, as Republican incumbent Rick Snyder will face Democratic challenger Mark Schauer in the fall.
Voters also approved a proposal written by the Legislature designed to ensure local governments and schools are fully reimbursed as taxes are gradually slashed on businesses' personal property such as machines. The plan -- which would not raise taxes -- received broad bipartisan support from lawmakers, Snyder, the business community and groups representing counties, cities and townships.
The Associated Press contributed to this report.