Michelle Obama Lunches With King at Family's Resort Home During Spanish Vacation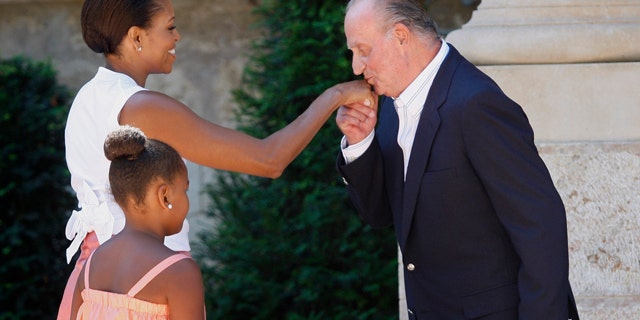 PALMA DE MALLORCA, Spain -- U.S. first lady Michelle Obama and daughter Sasha are having lunch with Spain's king and queen at the royal family's holiday retreat on the resort island of Mallorca in the Mediterranean.
Mrs. Obama and her daughter arrived at Marivent palace shortly before 1 p.m. Sunday and were greeted at the front door of the residence by King Juan Carlos, Queen Sofia and Princess Letizia.
The king, a keen yachtsman, has for decades spent August vacations at the palace with its dramatic cliff-top views of the sea on the Balearic island's southwestern coast near Palma de Mallorca.
The lunch meeting marks the end of a five-day private visit to Spain by Mrs. Obama, who toured beauty spots in the southern region of Andalusia including Marbella, Ronda and the Alhambra palace in Granada.