Mexican officials cross the border to help solve land issues with immigrant countrymen in CA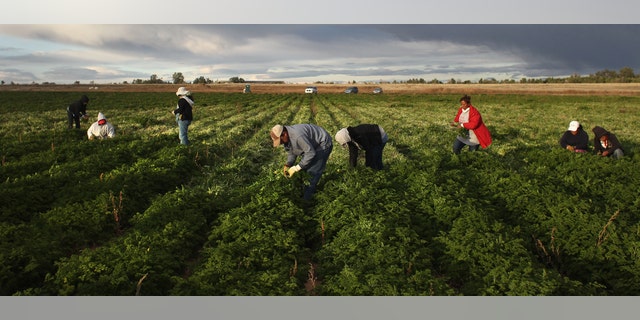 NEWYou can now listen to Fox News articles!
Mexican agricultural officials spent several days last week meeting with a group of their countrymen living in California over a matter that had nothing to do with the typical reasons immigrants turn to their former homeland's authorities — to reclaim or protect land back in Mexico.
Under a program that began last year, Mexico is trying to help its citizens who live in the United States resolve issues relating to farm parcels of communal land known as "ejidos," that people could lose if they do not pay dues, appear to neglect the land, or if relatives who remain in Mexico and owned the property die, leaving the land at risk of being possessed by others, according to the Los Angeles Times.
The ejidos system is an old one, started after the Mexican Revolution.
The system entailed granting peasants communal rights to farm parcels. It was part of a larger agrarian reform, the Times said.
But the rules for retaining those rights are strict, and more people have been at risk of being stripped of their ownership privileges as immigration, particularly without proper documents, from Mexico to the United States has grown since the ejidos system was put into place.
Mexican officials who have been assisting immigrants living in the United States say many do not know what their rights to land back in their homeland are, particularly when that parcel was in the name of a deceased relative, the Times said.
Catalina Rodriguez, who helps resolve disputes and ambiguity involving ejidos, has helped many Mexicans in California sort out their cases.
That has sometimes entailed research into who has ownership rights to a parcel, and other times the help is in the form of putting together the paperwork to document ownership and ensuring that the right people inherit the rights to the ejido.
Mexico also has arranged for officials there to represent immigrants in cases where the land ownership is in question, Rodriguez told the Times.
She said she is struck by how important it is to Mexicans in the United States to own land in their native homeland.
"It's their patrimony," she said.
It certainly was extremely important to Maria Gonzales, who left Mexico 25 years ago. Her parents stayed home, on their four-acre farm.
Although she had built a life here, she envisaged someday going back to Mexico and to the farm. But her parents died, and Gonzales learned that someone else had taken possession of the farm, the Times said.
Gonzales, whom the Times described as undocumented, could not return to Mexico to investigate the matter because she would risk not being able to return to Los Angeles.
Her husband, Ezequiel Becerril, said to the Times: "They're taking advantage because we can't be there."
But she found hope when she went to see one of the Mexican government's agricultural officials who was visiting California last week. The official found that the farm was, indeed, still under her deceased mother's name.
"Legally, it's your mother's," the official said, according to the Times.
She got a copy of the deed from the official, which could pave the way to getting local authorities in her former hometown of Jalisco to evict the person who is there now from the farm.
"Amazing," said an emotional Gonzales, the Times reported. "Amazing."
Follow us on twitter.com/foxnewslatino
Like us at facebook.com/foxnewslatino